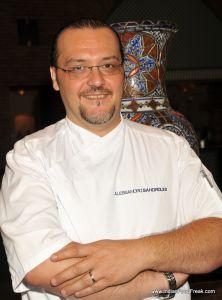 It's been ages that I last visited Hyatt Regency at Delhi. When I heard that Alessandro Sandrolini has re-joined La Piazza at Hyatt Regency Delhi as Sous Chef, and there is a wine paired special promotion that is currently on, I just could not resist. Alessandro is a renowned Italian chef and has worked with Hyatt Regency in 2009 too as chef de cuisine. With his fascination for chaat, this is like a home coming for him.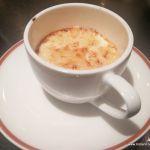 Wine sommelier Viraj Sawant was present to welcome the guests with his notes on wines that were being paired with the special menu. We start with Parmesan crème brulee whose saltyness is perfectly balanced by the sweetness of Luna Argenta Brut. A good start!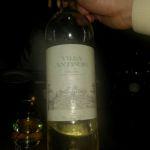 The next course seats me thinking. Warm asparagus soup is served with cold Vila Antinori bianco. This is a white wine that has three different grapes – Tribiano for dryness, Pino Grigio for sweetness and a local grape of Italy – Malvasia. The asparagus soup is well paired with the earthy, grassy notes of the wine. My predicament was that I have so far not experienced pairing of soup-wine and especially a warm soup and relatively cold wine. Personally I would have changed the kind of soup that would go well with the red that is served at room temperature. Viraj patiently heard my query and told me that while it is not very common to have wine-soup pairing in India and globally it is well accepted. The same was echoed by another of my sommelier friend –
Kriti Malhotra
.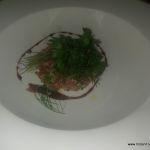 The next course is Tuna Tartar with red wine reduction. It is paired with Blackstone Chardonnay. This is an oak fermented chardonnay from California and the fruit and creamy notes of the wine goes well with the tuna tarter. The evening is so far like an orchestrated play of music by Chef Alessandro and Sommelier Viraj.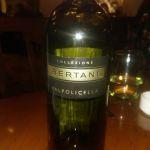 The mushroom stuffed tortellini in brown butter sauce has a earthy flavor which is complemented with the Italian Bertani Valpolcella wine from the cooler region that has low tannins with red cherries and fruity notes.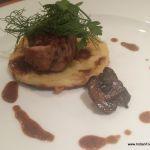 In the main course I chose oven roasted pork tenderloin with potato gnocchi. The gnocchi was perfectly done but I would have liked a little more jus on the side for pork. Else both the dishes are dry on their own. But as said in the orchestrated event, a flow of one instrument can get camouflaged with other, the same happened here. La Braccesca from Italy is a more robust wine with higher tannins and it not only compensates for the dry texture of meat but also lifts the flavors.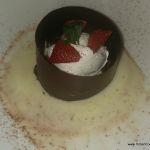 We end the meal with white chocolate mousse with strawberry ensconced in a chocolate shell. Excellent light dessert, however for such a brilliant meal wish it was paired with dessert wine too. Overall, the special menu is a good way to experience the Italian wines with many flavours of the region with two options in each course that can be enjoyed by vegetarians too.
Promotion dates: 2 Feb'16 to 15th February, 2016
Food: 4.0 | Wine: 4.0 | Ambience: 3.5 | Service: 4.0 | Overall: 4.0
Meal for two: Dinner Menu at INR 3.950 plus taxes per person (3500 for Hyatt Club Members)
Alcohol: Yes | Credit Card: Yes | Timings: 7:00 PM to 11:30 PM
Address: The Café, Hyatt Regency Delhi, Bhikaji Cama Place, Ring Road, New Delhi – 110 066 | Telephone: + 91 11 6677 1306 | 99580-96570