TAKEAWAY: It's finally here, after seven months of work between the Garcia Media team and that of La Nueva , today, readers in Bahia Blanca welcome the new chapter in this regional daily's history.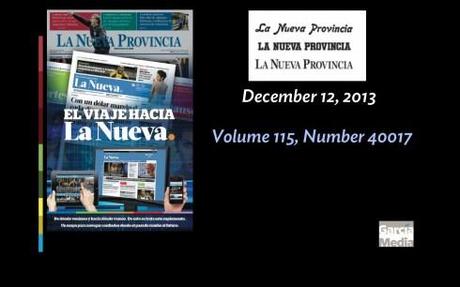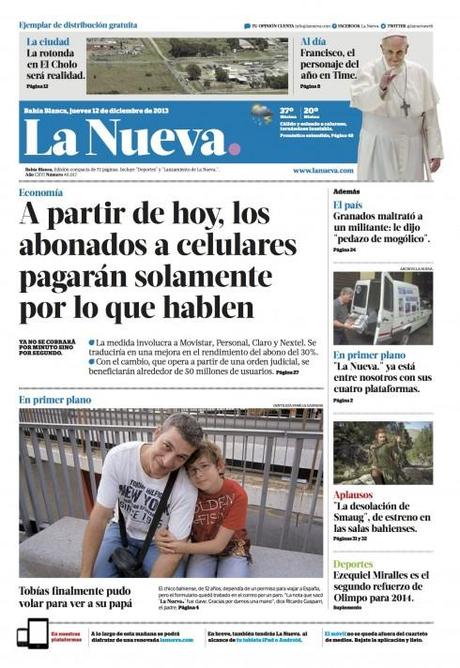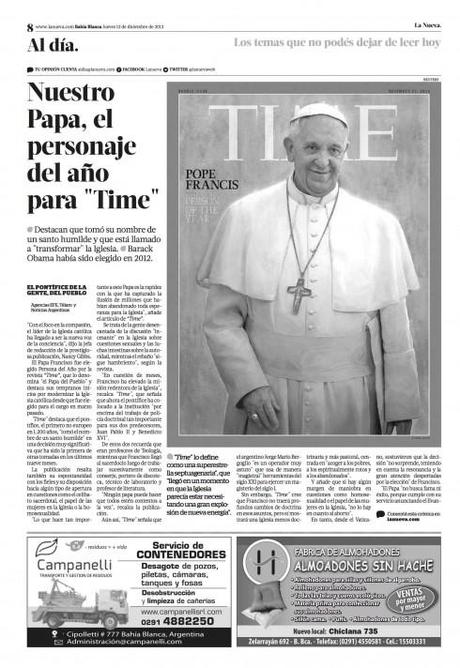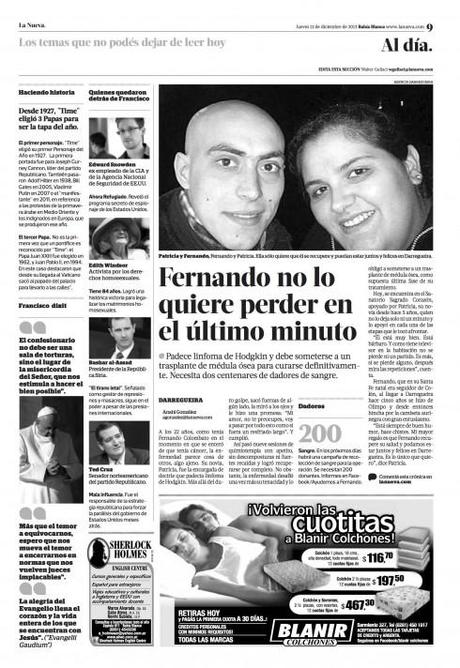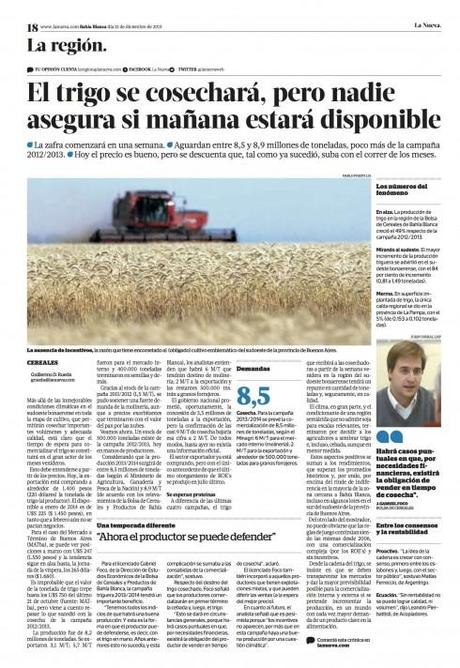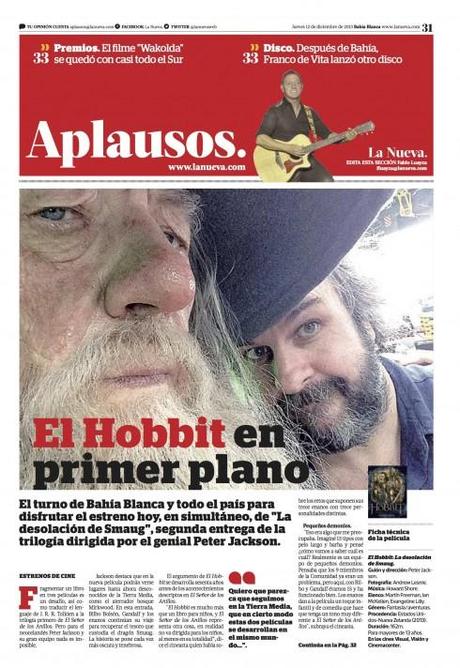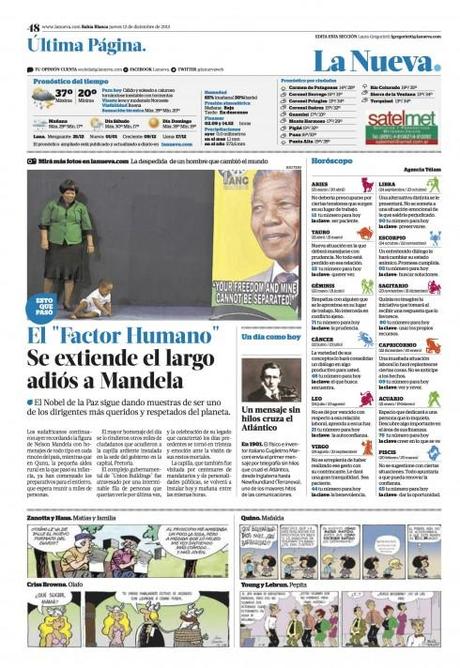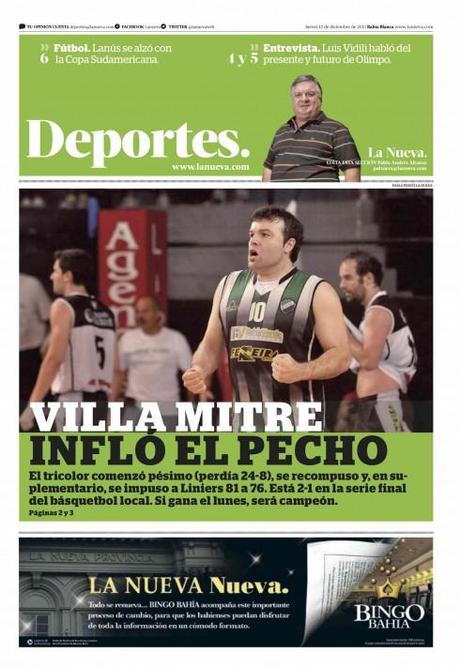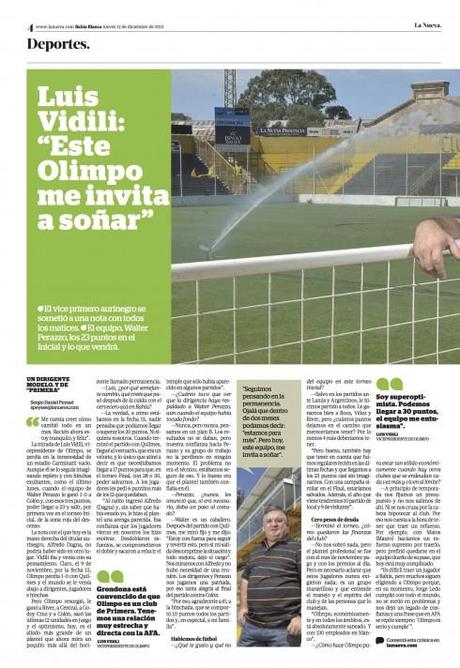 Here is a selection of pages from the first edition of La Nueva as a tabloid, sporting a new name and logo
It's a historic date for La Nueva Provincia: it opens a new chapter today, with a new format (tabloid), a new logo, and, you may say, a shortened name: La Nueva.  As the folio on Page One reminds us: This is Volume 115, Number 40017.
For this 115-year-old newspaper, one of Argentina's most prestigious regional dailies, which publishes in the port city of Bahia Blanca, south of Buenos Aires, between the Pampas and Patagonia, the redesign represents a new chapter.
Last night in the newsroom, the typical combination of excitement, a little nervousness, editors wondering what could or would go wrong, and writers asking questions about how their stories would appear in the new format.
One of the top stories today: Pope Francis has been named TIME Person of the Year, a story that resonates with people from around the world, but, especially, with Argentineans, where **Papa Francisco comes from.  Yes, there is the Pope on the Al Dia section (Theme of the Day), reserved for that which editors think will be the conversation piece of the day.
Project nostalgia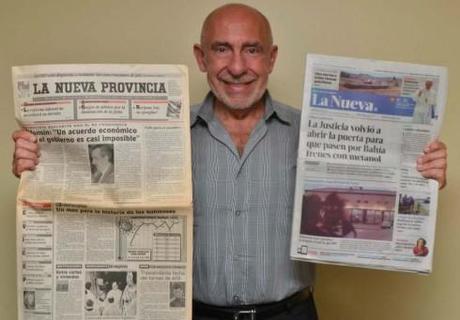 Last night I discovered a front page of La Nueva Provincia with that look from the 1980 redesign. Quite a contrast to the one published today.
For me, at times a bit emotional, thinking of the same day 33 years ago, when La Nueva Provincia made the big change for that era: switching from a serif to a sans serif font for headlines, using bigger photos, and introducing a Monday Sports supplement. It was all new. It was all scary for the people in the newsroom, so deep rooted in their traditions.  Many of those colleagues have died, some very young, and most noticeably, Federico Massot, the young editor whose passion for everything journalism had taken him to Columbia University's Graduate School of Journalism, from where he returned with many ideas to keep his family's newspaper advancing.  He invited me to do that redesign.  As I look at his portrait in the newsroom, I know that he is smiling at what is taking place today. I can only imagine how this change would be if Federico was among us today.
"

A desire for innovation

"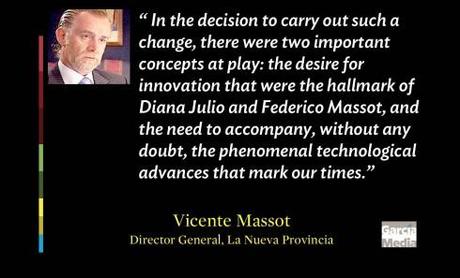 In the decision to carry out such a change, there were two important concepts at play: the desire for innovation that were the hallmark of Diana Julio and Federico Massot, and the need to accompany, without any doubt, the phenomenal technological advances that mark our times. If we had to define what we have done, we could say that the traditions that come from the past are accompanied by the novelties brought about by progress.
Flower wrappers of the broadsheet format variety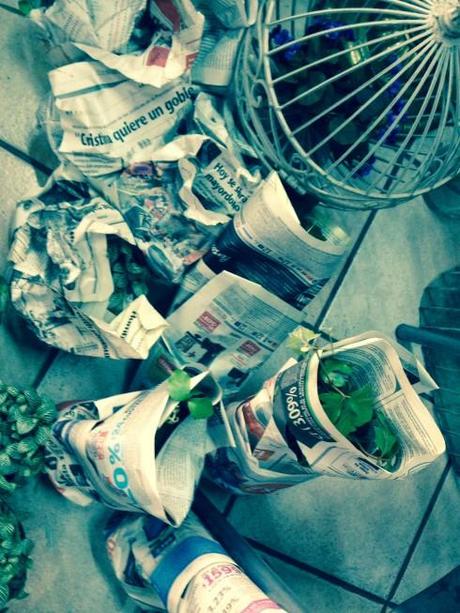 While running thru the streets of Bahia Blanca Wednesday, I could not resist the temptation to take a photo just outside a florist shop.  Several plants were wrapped in those huge La Nueva Provincia pages, the likes of which will not be seen in Bahia starting today.
How the switch to tabloid made a difference to a group of scientists
It appears that the local florist will not be the only operation slightly affected by the switch of La Nueva from broadsheet to tabloid.
A faculty member from the department of biology at the local university in Bahia Blanca telephoned the newspaper on the eve of the switch with a dilemma:
We have created aluminum plates that we use to dry plants used for scientific research in our green house, and the change to a smaller format creates a problem for us.
The managing editor, Fernando Monacelli, was a bit surprised at first, then continued to reassure the caller that the newspaper would cooperate with them, including the idea of providing the university with leftover editions in the broadsheet format.
Obviously, those editions will not last forever, so this may be the first case of a tabloid conversion that created a bit of havoc for a group of scientists.
I admit that in our own Garcia Media conversions of now 23 broadsheet newspapers to tabloid, we never encountered the process impacting scientific research. Live and learn.
About Bahia Blanca
In Spanish:
http://es.wikipedia.org/wiki/Bah%C3%ADa_Blanca
In English:
http://en.wikipedia.org/wiki/Bah%C3%ADa_Blanca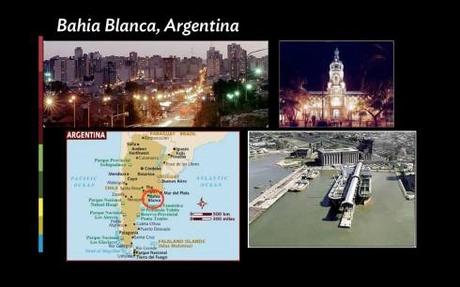 Our previous blog posts on La Nueva's redesign
Monday:
Argentina's La Nueva Provincia: it's a new look across platforms
http://www.garciamedia.com/blog/articles/pargentinas_la_nueva_provincia_its_a_new_look_across_platforms_p
Tuesday:
La Nueva Provincia: The Styleguide
http://www.garciamedia.com/blog/articles/pla_nueva_provincia_the_styleguide_p
Wednesday:
La Nueva Provincia: the media quartet comes to Bahia Blanca
http://www.garciamedia.com/blog/articles/pla_nueva_provincia_the_media_quartet_comes_to_bahia_blanca_p
I tell the complete story of my first visit to La Nueva Provincia in one of my 40 Years/40 Lessons installments:
http://garciamedia.com/blog/articles/40_years_40_lessons_7._abroad
About the new typography: Acta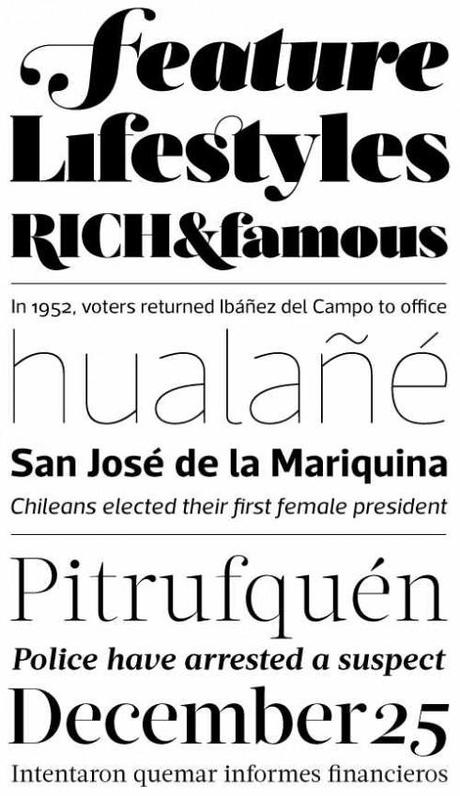 http://typographica.org/typeface-reviews/acta-acto/
http://www.myfonts.com/fonts/dstype/acta-display/
Acta Display is part of the larger Acta super-family, including Display, Text, Poster (very black weights), Symbols, and the sans-serif complement Acto. It was designed by Portuguese designer Dino dos Santos of DSType in 2010, originally for the Chilean newspaper La Tercera. Acta Display is elegant, with very high contrast and sinuous curves. It could be categorized as a Didone like Bodoni and Didot, but is less rigid than most in that genre. Acta Display Black is the heaviest weight of Acta Display and makes a strong statement.
Watch the promotional video for La Nueva
The concept starts with the question: How is your day?
The star of this promotion is basketball star and Bahia Blanca native, Juan Espil , well known by all, and a good way of attracting those younger readers.
http://es.wikipedia.org/wiki/Juan_Alberto_Espil
TheMarioBlog post #1396