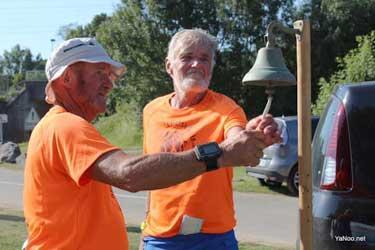 Don And Gerard Photo by Christophe Yanoo,net
La Loire Integrale 2012
Upon finishing Trans Gaule last year – I was given a post card announcing a new race along the Loire river. The Loire being the longest river in France. It was a 17 day stage race 1025k long. I have always said "the best way to train for a multiday race is to do multiday races". I was desperate for a race as Transe Gaule was not being organized in 2012 (the race director was/is entered in TransEurope – 3000 mile race across several European countries).
Background. In 2011 I had actually won "The Last Annual Vol State Road Race" on my 4th appearance primarily due to a great crew person Donald Brown. A few weeks later I started Transe Gaule IX. I finished Transe Gaule for my 9th time but was basically in last place every day. The winter/spring I did my usual races with poor results.
I wanted to reward Donald Brown for his dedicated crewing and it seemed La Loire Integrale would be perfect. I began the long process of entering the Loire race. First I had to get permission to have a crew person. Race rules prohibited crew so I offered to run a non-competitive journey division. Race directors agreed so all was set.
Donald and I exchanged many e-mails as the race approached and it finally came time to get airline reservations. Donald found he had been committed to teach a class with dates that conflicted.
Now to find a replacement crew person. I had a second person lined up who suddenly backed out. It began to look like this race was simply jinxed. On the third try – with basically no time to spare – Tyson Tyler from Corpus Christi agreed to crew me. He had sent his passport for renewal and there was no time so he had to get expedited service in Dallas. Expensive airline ticket later, I finally had a crew?
This latest search for crew was very hard. Locating crew is difficult but I have been so lucky over the many years. I prefer girls (somehow more fun to run toward a girl) but I have had some great guys as crew. There are crew exceptional – Donald being one of the super ones.
What I did all winter is a mystery to me. All I am sure of is that I did not train very much or very well. I ran 2 marathons and failed to break 5 hrs. Hoping it might help, I ramped up my training the last two weeks before leaving for France. To finish La Loire Integrale would require running 2 and a half weeks of 260 mile weeks. My usual training of 60 mile weeks was not quite what is needed.
In my ramp-up – disaster looms! I was chasing Jackie in some hill repeats, we usually did 5 or 6 but this day Jackie decided to do 10 repeats. I chased Jackie up the little hill 10 times. After the workout suddenly I was limping with plantar fascitis. I know this injury well as I spent 3 years running in the water at Collier Pool during my previous bout with this injury. Following the usual practice of ice and ibuprofen as well as ramping down my training – the foot felt sort of OK.
Now for a test – the 4 for the 4th – a little 4 mile race in Corpus. I raced with little foot pain but my training partners really whipped up on me. But worse yet, upon finishing, I could barely walk to the car, my foot was really angry. Not a good omen when I was leaving for France in 4 days and the race start was July 11th. So I had one week to heal up.
The airplane trip was uneventful and I met Tyson in Paris without any problem. We picked up the rental car at the airport and immediately drove to the race start. We arrived at the start and found a hotel, the only hotel in the town. We had 2 evenings to relax before the race began. As a result of rest and ibuprofen – only slight foot pain.
And we are off. My plan was to basically walk the race and I find there is a girl Mireille who I had previously met. She walks faster than I but if I waddle a bit I can easily keep up. So Mireille becomes the rabbit and path finder. Tyson has a real job crewing me as the paths taken by the runners are often closed to cars or just that – paths. Tyson continuously has to find streets that intersect our paths in order to reach me with diet Pepsi. I am surprised to find that the race organizers have discovered diet Pepsi and have it available at the aid stations. Aid stations are about 15k apart so everyone carries water except I. I hate to carry anything being the spoiled American.
I pop lots of ibuprofen each day and the foot injury goes into remission. In hindsight the foot injury may have just been a convenient excuse. Actually I am not sure I could have run any faster even without any injury problems due to my poor training/conditioning – but who knows.
For the first two stages 51k and 59k I pace off Mireille and we make cutoff times. Mireille seems to slow so I pick Gerard Dennis to be my pacer stage 3 and 4.
What happens in stage 5 will forever be remembered as long as runners and crew involved in La Loire integrale are still telling tales around a campfire.
Stage 5 We run thru our first big town and going out of town I remember the instruction to run on the levee leaving town. I find the levee and proceed. The levee seems to continue forever and the trail/path becomes less and less traveled. What started as 4-5 ft wide trail becomes a single file rut. Finally there is a section – that to pass requires a machete – the path is totally overgrown. Then the path basically ends.
By this time I have run for a couple of hours – haven't seen any race markings and realize I am basically lost. The Loire is on my right and it seems I am running downstream so if I can keep it that way I should eventually cross the correct course. I exit the machete path onto a paved rural road. There is almost immediately an intersection. I take the road on the right hoping it will parallel the Loire and lead me back to the path or trail.
By some miracle of Godly proportions I see a race marking on an intersecting trail indicating I should turn right. I am sure I should go left but follow the race marking and turn right. Now I am really out of water. There is a canal lock house and the girl is kind enough to let me get all the water I need. I continue to find race markings and eventually there is an aid station. All are worried about me as they scramble all over the countryside looking for me. It will be my first day to miss the cutoff pace of 3.5 miles/hr as my pace that day was 3.38 miles/hr.
The French race report "Don Winkley se perd dans la ville de Roanne, première grosse agglomération traversée depuis le départ : no roadbook, no telephone, no money, donc évidemment ça dure un moment à tourner en rond… Après de longues recherches, on finira par retrouver l'Américain qui, tout sourire, reprendra son chemin en déclarant : "No problem !".
Translation Don Winkley is lost in the city of Roanne, first big urban crossing from the outset: no roadbook, no phone, no money, so obviously it takes a while to turn around … After extensive research, we eventually find that the American, smiling, resumed his way, saying: "No problem". Oh yes, this tale will be told and retold.
It was in reality absurd. I knew no French, had no turn sheet, had no water, had no money, carried no ID, had no cell phone, had no phone numbers for the race organizers. "No Problem" What was I thinking?!!
From stage 6 to the finish stage 17 – I never let Gerard Dennis out of sight. He spoke French, carried a turn sheet and ran a pace I could handle without exhausting myself. We shared duties finding course markings but as he was always leading he did most of the path finding. I did start to carry some euro's and phone numbers of the race organizers.
Each stage ended at a campground. Race organizers carried two big tents that were dismantled each morning and reassembled each afternoon. One tent was for eating and had tables and chairs while the other tent was for sleeping. It was fun being what I have termed upscale homeless. Since I began my wonderless running lifestyle I relate more to the homeless than any other part of society.
Our cook made great stew, each day was different. Reminded me of visions of army life from the movies. We marched up with our plates and got a dishing of stew.
The days on the road were long. Eight of the 17 stages found me on the course for about 12 hrs. Those stages were about 70k in length.
I enjoyed trailing behind Gerard, at least I had company. It was very fortunate that I had Tyson as crew as few who were in the race as runners or organizers had any English skills. And I with no French. Tyson got good at finding me every 2-3 miles. Tyson began parking ahead and running hard back to me. Then he would waddle/walk with me until we reached the car. He became proficient at finding great boulangerie patisserie that had almond croissants. Tyson had his first almond croissant – "there was never to be a better almond croissant."
The best part of stage racing is the beer at the finish. I always look forward to the congratulatory beer celebrating another finish. Unfortunately? we began to change the tradition. Tyson and I had observed Gerard going into a pub mid-stage. My immediate idea was that he was refilling his water bottle. Then one day he waved me into the pub and he bought me a demi beer. This started a bad habit of 2 or more pub stops mid-stage were we took turns buying each other a beer. Even worse – we began to be offered a can of beer at the aid stations. So beer became the electrolyte/carb replacement drink of choice.
It doesn't end there, there was still the congratulatory beer at the finish, then endless 1 euro beers from the cooler. Then of course the mayor had to give a speech each evening with many bottles of red or white wine emptied during and after his speech. Then with dinner – all the box wine you could drink white or red. I retired early each evening feeling "no pain".
Thus ends my race report. I completed the distance. I was not an "official finisher" – being crewed and missed cutoff times for two stages.
This became my 10th race across France. I have now run 7061 race miles during my ten French stage races. Sort of a record in a small way.
In hindsight. I question, was this the best use of my limited race budget. It was a very expensive race – multiple airline fares, rental car, race entry fee. But stage racing is in my blood and at 74 years old – someday it will end.
Next year. The 10th edition of Transe Gaule will give me a chance to become the only 10 time finisher of all editions Transe Gaule. Date of Transe Gaule X is 8/13 to 8/31, 2013. I can't wait but there is training and racing to do during the next year. Hope to see all on the roads.
Best UltraDon
Don Winkleys Race Report
Resources
1ère Loire Intégrale & Orléans-Océan : Mission accomplie All the daily updates on Yanoo.net
Race website: www.loireintegrale.fr/
Photos: By Yanoo.net on Picasa