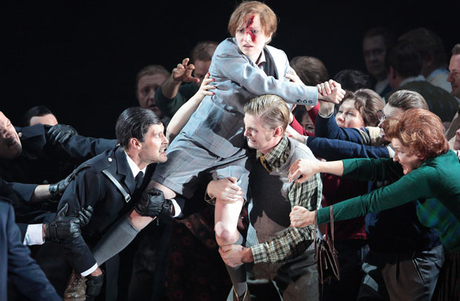 Fighting over the future: Guillaume Tell, Act III. Photo © Bayerische Staatsoper
A confession, with apologies to those whose opera-related obsessions center on bel canto: thrillingly-sung Rossini is not a phrase that ordinarily trips from my tongue. For Wednesday night's performance of
Guillaume Tell
 at the Bayerische Staatsoper, however, no less a word than thrilling would do. I went in with few concrete expectations, but I'd never heard Michael Volle live before, and having heard Bryan Hymel live once, I couldn't pass up the chance to do so again. So, after a morning on a train and an afternoon in the archives, I found myself directly under the ceiling of the sold-out house; following the example of fellow-students in the last row, I clambered up on the railing in front of our seats in order to see (disclaimer: my view was partial due to the angle, and occasionally interrupted due to the fact that my calf muscles could not handle constant rail-balancing.) Despite a production more impressive in concept than in execution, it was a musically and emotionally engaging evening, in which all the principal singers gave performances of remarkable passion and precision.
If I had seen Antú Romero Nunes' production at the Met, I'd most likely have gone out in raptures about its sensitivity to the ambiguities and ironies of the text (available 
here
,) its coup-de-theatre intermission, and its heightening of emotional tension through a refusal to take sentimentally-declared ideals at face value. However. I know that the BayStaats can do better. Despite the production's strengths, I never got a clear sense of what, precisely, was at stake in the factions' competition to define liberty; in the growth of Mathilde and Arnold's relationship; among the not-always-compatible visions of an ideal society articulated by, well, just about everyone. I liked the late-60s look of the costumes; I just would have liked more specificity (it may be worth repeating that my view of the stage was distorted; suggestive images may have been lost on me.) There were some fine visual touches--the marriage ceremony multiplied 
ad absurdum
, the villagers crowded by the banks of the raging river, waiting for sight of Tell, Jemmy and his father surrounded by a close ring of soldiers, or terrifyingly isolated on the square. It is this relationship--of paternal tenderness and filial adoration--which is positioned at the heart of the piece. The bloody overthrow to which Tell eventually incites Arnold and the rest of the population results in the men of the populace--whether previously among Gesler's nervous conscripts, or the deliberately insulated villagers, it is impossible to tell--being reduced to physically and psychologically damaged survivors. In the face of such a reality, the hymn to the reestablishment of peace is either perilously naive or criminally disingenuous. The audience is left with the question: what horizon of the future is envisioned by the adolescent boy who idolizes his father not despite, but for, the latter's single-minded dedication to violence in service of his own ends.
Dan Ettinger
 led the orchestra in a performance both energetic and nuanced. The warmth of the strings was expressive, and the fateful brass fanfares were given with lush sonority. I appreciated the orchestra's sensitivity to tempo, matching the pacing of the on-stage drama well, and making repetitions a dramatic heightening, instead of a pause in the proceedings. Dynamics were also handled well, from the fragile longing of woodwinds accompanying lovers' vows to the great crescendos of tempest and war. Supporting roles were competently, and often more than competently taken. Kevin Conners sang well and was suitably smarmy as Rodolphe, bullying conscripts with great enthusiasm and a secure, strong tenor. Goran Juric somewhat dry, vocally and dramatically, as Furst. Bass 
Christoph Stephinger
made a fine Melcthal, giving a nuanced dramatic performance. In the libretto, it's not clear that Melcthal ever actually does anything to earn everyone's respect and affection; in this production, it's clear that Melcthal himself is much more moderate than those who use him--in life and death--as a symbol. 
Jennifer Johnston made me wonder why I had never before thought of Rossini's Hedwige as particularly important. Not only was Johnston's Hedwige pleasingly self-assertive both within her family and the community of villagers, but she sang with a rich and expressive mezzo, and made much of the role's dramatic potential. The Jemmy of
Evgeniya Sotnikova
was also excellent. She sang not only with impressive precision across her range, but with great emotional vividness, and her body language was expressive of Jemmy's development through the events of the opera. I was pleasantly surprised by the elegance of
Günther Groissböck
's Gesler, who represented a very civilized cruelty. He sang with stylish phrasing, and was genuinely commanding (I have trouble taking gravelly-voiced tyrants seriously.) As Mathilde, who got a marvelous Sissi hairdo to indicate her imperial connections, 
Marina Rebeka
gave the best performance I've heard from her. She sang with pure, rounded tone, and used virtuosic coloratura effectively as a vehicle of emotional expression.
Bryan Hymel
's Arnold, whose socially radical pursuit of romantic love is limited from all sides, gave a performance of great fervor and beauty. I've been wondering since whether melting ardor is a contradiction in terms, as he combined resolve and tenderness in unusual measure, in singing that was both polished and passionate. Perhaps the greatest praise for his handling of Rossini's challenging writing is that the tour de force "Asile héréditaire/Amis, amis" was integrated seamlessly with the rest of his performance. 
Michael Volle, in the central role of the revolutionary Tell, gave a charismatic and unsettling performance. He at times sacrificed vocal beauty for dramatic effect, but never seemed less than in control. Volle used his impressive range of vocal resources to create a portrayal of a complex and ambiguous freedom fighter, far more interesting than a secular saint whose struggles are retroactively hallowed by tidy historical narratives. (Rossini's Tell is far less conflicted and scrupulous than Schiller's; I appreciated his re-nuancing.) The passion of Volle's Tell was unmistakably sincere, his rhetoric unmistakably calculated. Volle rose to the challenges of Rossinian heroism admirably, but was never more effective, nor more human, than in the scenes surrounding the fateful shooting in the square. Tell's horror and rage in the face of the act, and his no less elemental tenderness, became, in Volle's hands, emotional truths far removed from sentimentalism. The finale, with all disunity temporarily quieted, the orchestra and all voices raised in proclamation of a society's future, was made the counterweight to the scene before the curtain's first fall, in which the consequences of violence are faced in the terrifying intimacy of silence, in the moment when a crossbow creaks, a father sighs--and shoots.