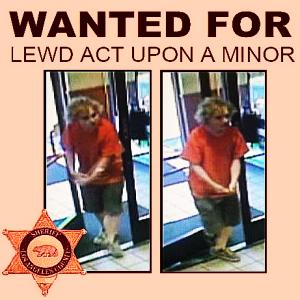 Photos of suspect captured on surveillance – courtesy of Los Angeles County Sheriff's Palmdale Station
The assault took place on Jan. 1 at 4:30 p.m. at the Denny's Restaurant located on the 37000 block of 47th Street East in Palmdale, according to a Los Angeles County Sheriff's Palmdale Station release.
"He attacked a young girl who was also in the restroom and sexually assaulted her as she exited one of the stalls, according to a Sheriff's report at nixle.com/alert. "The suspect stopped his assault when another person entered the bathroom, and fled the location."
According to the staff report for Antonovich's motion for the reward offer, the suspect is believed to be a local panhandler known as "Shrink" who was captured on surveillance cameras from the restaurant. He is described as white, probably 18 to 20 years old, 5-feet and 8-inches tall, weighing approximately 150 pounds and with blond hair.
At the time of the incident, the suspect was wearing an orange shirt and
dark colored shorts, the report stated. The suspect also walks with a noticeable limp, and may be a transient.
The Sheriff's Special Victims Bureau is seeking the public's help in solving this crime.
A news release from Antonovich's office encouraged anyone with information to contact Detective Eliott Uribe at 877-710-5273.