La Bomba de Tiempo or "The Time Bomb" is one of the hottest musical acts here in Buenos Aires.  It is held every Monday night, so after you finish your classes here at Expanish, head on over to the show.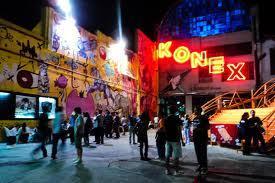 The show is hosted at the Konex Cultural Center in the Abasto neighborhood of Buenos Aires.  La Bomba de Tiempo es unique because it is a large (almost twenty member) percussion performance.  For those of you who have had the pleasure of seeing the Blue Man Group live in Europe or the United States, the show is something along those lines.  However, La Bomba de Tiempo focuses more on the rhythms and music of Latin and South America.  They also specialize in "chacera" which is a type of local folk music native to Argentina.  They utilize all major types of percussion instruments in their show, including bongos and cymbals.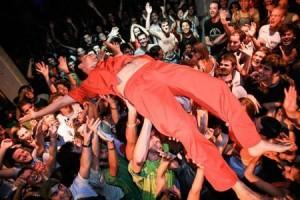 The show starts around 8pm in the Konex Center.  Close to 2000 people attend the weekly show.  Beer and food is on sale by the Konex Center.
Since recording an album in 2007, the group has become a staple of the Buenos Aires cultural scene.  Make sure to get to show on time because (unlike many things here in Buenos Aires) the show ends relatively early at 10pm.
La Bomba de Tiempo will also be playing at Lolla Palooza, coming to Buenos Aires in April.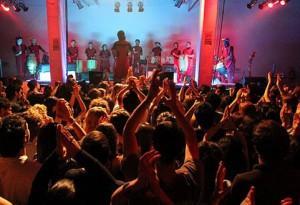 Important Information:
Time and Location: Mondays at 8pm at the Konex Cultural Center
Cost: ARG 50 pesos
Address: Sarmiento 3113
Transit Directions from Expanish: Take the Subway Line B to the Carlos Gardel.  Get out and walk approximately four blocks.