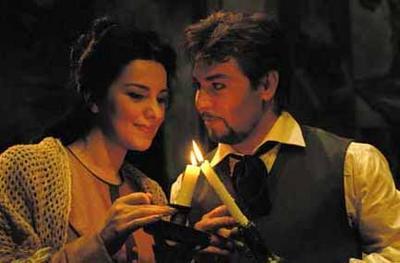 Angela Gheorghiu and Roberto Alagna
Found it on the internet. I won't put all my bets on this, but it should be from ROH's 1992 performance of
La Boheme
.
May 16, 1992
, to be more precise. Is it?  Which brings me to the long waited, sold out  performances of the same opera starring Angela Gheorghiu and Roberto Alagna at Royal Opera House next week (June 19 and June 23), celebrating 20 years from the first one.
The production is a classical, premiered at ROH on February 6, 1974 with Katia Ricciarelli as Mimi and Placido Domingo as Rodolfo. It was produced by John Copley. Over the years many other brushed it up a little bit. This production had 112 performances mentioned in the
Archives of the Royal Opera House
 that stops in 2010.
This production had a grandma, the one premiered on October 15, 1948. Back then Elisabeth Schwarzkopf was Mimi and Rudolf Schock was Rodolfo. 
Coming back to the present times, Angela Gheorghiu is Mimi, Roberto Alagna is Rodolfo, Nuccia Focile is Musetta and George Petean is Marcello. The Orchestra of the Royal Opera House is conducted by Jacques Lacombe (replacing the previously announced Maurizio Benini). If you haven't bought your ticket yet, keep on trying as returns come and go. And there's always the day queue.
Have fun everybody. Remember that somebody out there is waiting for your texts. Don't by shy :)
. Sunny weekend and safe flight/journey to all those traveling to London!