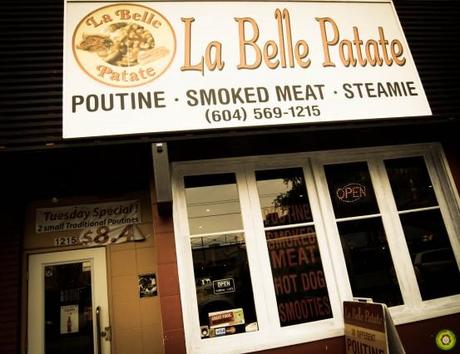 TGIF! After a gruelling week of work and midterms, Joanne and I decided to kick off the weekend with some good ol' poutine at La Belle Patate on Davie St! Ever since I started studying nutrition, I've been pretty hesitant toward eating fried foods. The constant bombardment of health scares associated with eating anything other than celery can kinda make a guy paranoid after awhile. Still, what's life without balance? So it's always nice to unwind and dive into a pool of rich gravy.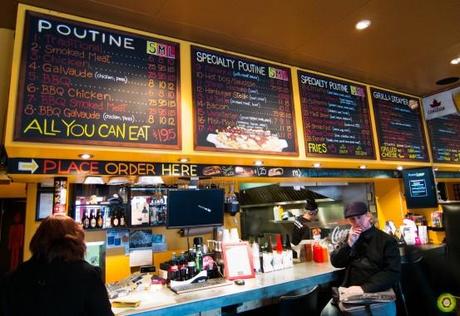 Since La Belle Patate is a casual restaurant and all, you have to step up to the counter to order. When the food's ready, though, a server brings it to your table so you don't have to stand and wait. You would think that there's not much variety to a poutine, but you would quickly realize that they have 26 different poutine creations! Joanne and I stood there for a while, heads tilted up at the menu and pondering on what to order…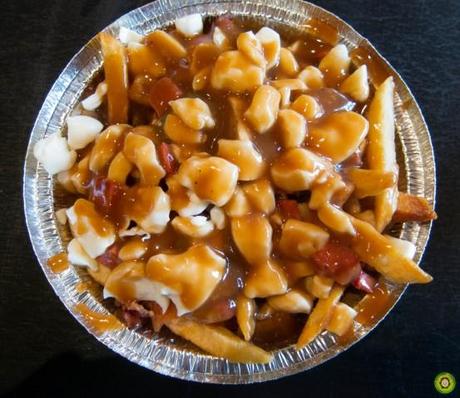 Finally, we settled on a medium-sized Mish-Mash Poutine ($11). Of course, there's the fundamentals: hand-cut double-fried fries, fresh cheese curds and rich gravy. Also, there's pepperoni, bacon, onion, mushroom and green pepper.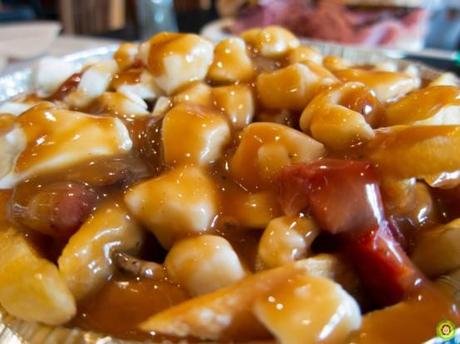 Although the gravy coated each fry, the plate didn't turn to mush. In fact, the fries retained its robustness and were delicious to eat forkful after forkful! On the other hand, while most of the toppings tasted okay, I did find that the pepperoni was a tad too salty.
A thing to note, La Belle Patate boasts about utilizing authentic Québécois cheese curds, which are notorious for being squeaky. And that they are! Although they are fun and chewy to eat, I didn't like how they're not supposed to melt. I guess after years of eating melty cheese, I have grown quite fond of such an amazing characteristic.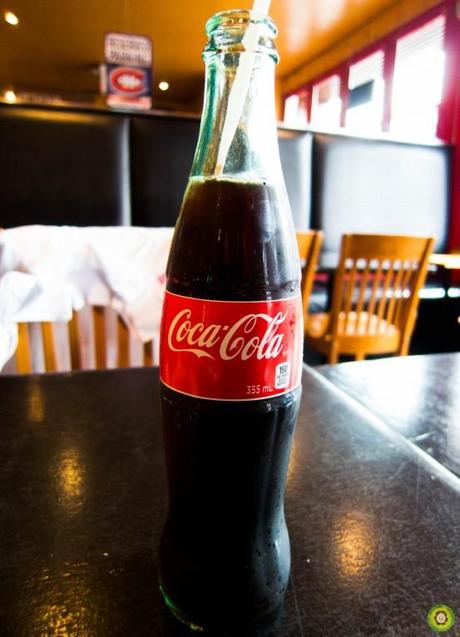 What goes better with a poutine than Coke? It also has to be in a glass bottle!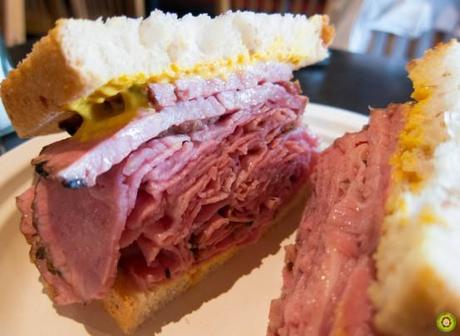 Besides the poutine, we ordered the Montreal Smoked Meat Sandwich ($9) as well. Obviously, it's a pile of meat stacked up high on soft white bread, brushed with mustard.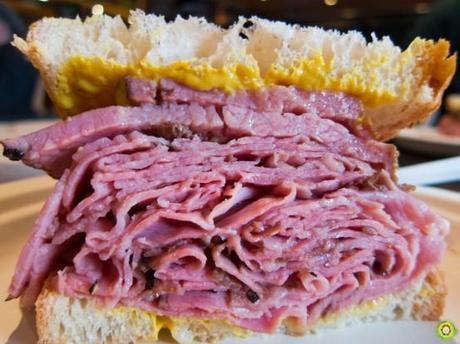 However, the flavours and textures were much deeper than its simple appearance. The meat was wonderfully juicy and slightly bouncy, lightly kissed with smoke. There was also a modest sprinkle of black pepper that gave it more body. Moreover, the mustard complemented the meat very well and helped keep it glued to the bread. Yet, Joanne still had trouble keeping all the fillings from spilling out. With that being said, she is a very messy eater…
Inarguably, La Belle Patate provided a nice kickstart to our weekend. The hearty poutine warmed us up for the cold weather outside. Although, I'll probably pick the Smoked Meat Poutine next time because I love the smoked meat and it has a better price point.
Final Bytes
1.  Some poutines can be a bit expensive… The Montreal Smoked Meat Sandwich is great value though!
2.  Poutine gravy is vegetarian!
3.  There's All-You-Can-Eat for $19.5 so you can stuff yourself to your heart's content!
Foodobyte's Rating

---