Hi beauties!
I hope you all know that L'Oreal has recently launched this new hair care range which claims to give 72 hours of fresh hair! I was in need of a range that could keep my scalp clean and oil free. In such a humid and hot atmosphere, a good and refreshing conditioner is really important to keep my hair healthy and clean. So when I heard about this launch I was pretty excited. Today I will be sharing my experience on the conditioner from their new range-L'Oreal Paris Extraordinary Clay Conditioner
What L'Oreal says
Introducing the New Extraordinary Clay Haircare Range from L'Oreal Paris! Now Revitalize oily hair with dry ends using the Extraordinary Clay Re-Balancing Conditioner. For the 1st time, L'Oreal Paris laboratories have infused the extraordinary power of pure clay in a conditioner.Enriched with extraordinary power of clay that deeply purifies and hydrates your hair. Tailor made care to resolve the problems of oily roots and dry lengths. Scalp and hair feel fresh and clean even 3 days after shampoo. For best results, indulge in the full Extraordinary Clay ritual: Shampoo, Conditioner and Hair Refresher.
Ingredients:
Aqua / Water / Eau, Cetearyl Alcohol, Behentrimonium Chloride, Glycine Soja Oil / Soybean Oil, Cetyl Esters, Parfum / Fragrance, Isopropyl Alcohol, Glycerin, Phenoxyethanol, Bht Linalool, Hexyl Cinnamal, Benzyl Alcohol, Benzyl Salicylate, Chlorhexidine Dihydrochloride, Citric Acid, Citronellol, Argilla / Magnesium Aluminum Silicate, Salicylic Acid, Kaolin, Montmorillonite, Geraniol, Alpha-Isomethyl Ionone, Sodium Hyaluronate.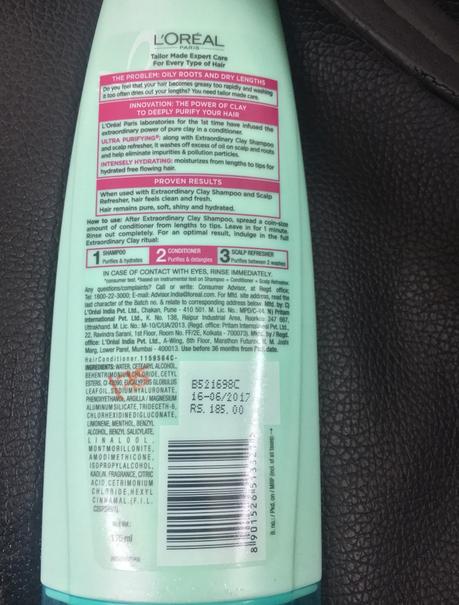 Price: INR 185 for 175ml.
My take on L'Oreal Paris Extraordinary Clay Conditioner:
Packaging:
The product comes in the typical shape like the other L'Oreal hair care shampoo. The color of the bottle is aqua blue in color. Conditioner comes in a plastic bottle with a flip flop cap. The cap seals the tube well and prevents any leakage. All in one- packaging is very sturdy and travel-friendly.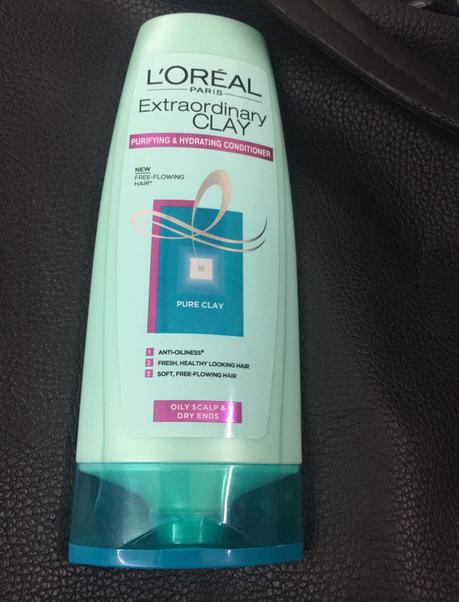 Texture and Consistency:
It has a creamy texture and spreads easily. The conditioner has some amount of silicone content in it but it is definitely less than the other conditioners. The color of the conditioner is white with a tint of blue in it.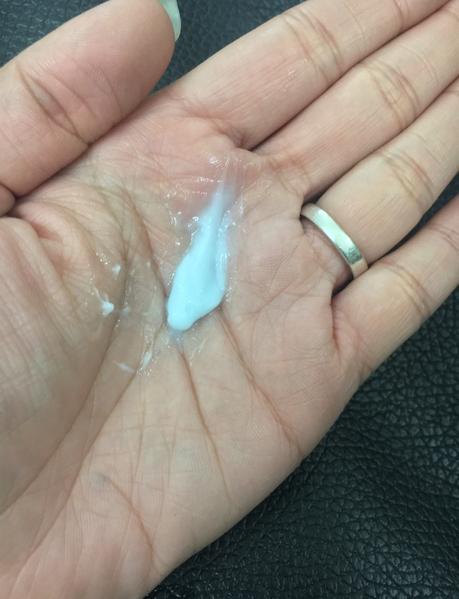 Fragrance of L'Oreal Paris Extraordinary Clay Conditioner
It has a strong aqua smell- my hair smells like I just had a refreshing hair spa! It completely refreshes my scalp and makes me lively on a Monday morning. The only problem is that the fragrance lasts only for 2 hours maximum.
Hydration:
I have long hair so I require a little more than the coin-sized amount as written on the packaging. Using a conditioner is a must especially during changing weather. I massage the conditioner well on the lower half of my hair, particularly at the ends. It gets easily washed with warm water and immediately I can feel the softness it imparts to my hair. For me this is the best conditioner in terms of hydration. I can actually observe the natural shine of hair coming back!
So it claims to give 72hours of fresh hair, but I did not feel much difference in comparison to any normal conditioner. It definitely makes my hair manageable; I can immediately feel the freshness! Also I didn't observe any hair fall issue after using this one.
Amazing things about L'Oreal Paris Extraordinary Clay Conditioner:
1. Refreshing fragrance.
2. Cleans hair well.
3. Imparts freshness and makes hair manageable.
4. Leaves hair soft and smooth.
5. Spreads easily on hair.
6. Washing off is easy.
7 Travel friendly.
8. Shell life is long.
Cons of L'Oreal Paris Extraordinary Clay Conditioner
1. The effect didn't last long as claimed(72hours)
Ratings:4/5
Would I recommend L'Oreal Paris Extraordinary Clay Conditioner?
Well yes, I definitely recommend this conditioner. I think it will work better in terms of longevity of the freshness, with the L'Oreal Paris Extraordinary Clay Shampoo.
Review: Rhea Dadra                           Editor: Khadija
Also Read
MamaEarth Argan hair mask |Reduce hairfall| Silky hair
Mamaearth Happy Heads Hair Shampoo Review
Satthwa Argan Oil Shampoo review | Sulphate free| For all hair type
Top Home Remedies To Prevent and Stop Premature Graying Of Hair| DIY Hair masks for Dry hair
Fenugreek Hair mask for dandruff, hair loss, smooth shiny hair & split ends
Hair Smoothening at Home| Get straight and soft hair naturally
Easy ways to use cold pressed avocado oil for skin and hair| Speaking tree