Hello Ladies!!!!! How many of you think makeup is bad and can spoil skin, beauty is without makeup blah blah and some cliche myths. Well!!!! To each his own. In today's post I am going review the very first step for getting a flawless base for makeup base and a something that is important for good skin care. Well, I am talking about Some of you know primers as some liquid applied on walls so that the wall colour spreads smoothly leaving a good finish for home walls. A face primer does the same, it protects your skin, provides a smooth base for makeup, leaving skin looking fresh and moisture locked it . I am going to review a primer, L'Oreal Paris Base Magique Transforming Smoothing Primer Review that i have been using for a while and my experience has been really good with it.

Product Details
Create the perfect base for your makeup routine! The L'Oreal Paris Base Magique Transforming Smoothing Primer instantly smooths pores and creates an even surface, so that you get a more flawless make-up result that lasts. The silky, lightweight formula glides onto skin and minimizes the prominence of pores and fine lines to transform your skin surface.
Thanks to a high concentration of elastomers, this Smoothing Primer gives skin an incredibly even surface with fine lines and pores erased.
The formula also contains soft powders to help absorb sebum, thereby mattifying the skin to reduce shine.
Smooth to touch and with a silk-like feel, silicon oil enables easy-gliding application with no greasy residue.
Base Magique will guarantee a more perfect and longer-lasting make-up experience every time.
INR 899 for 15ml, I got this for Rs 799 as some offer was going on. I got this from nykaa.com.
Dab onto skin gently. Spread evenly over the entire face for a perfect, workable base
The L'Oreal base magique transforming smoothing primer comes in a small pet glass jar. It is pretty sturdy to carry around. The primer is light pink in colour and is thick in consistency like a paste. The primer is thick and once you apply, it feels powdery on the face. It's not all liquid for sticky, it's just a powder base. Although the primer is light pink in colour, once you apply it looks colourless and gives a flawless base for makeup.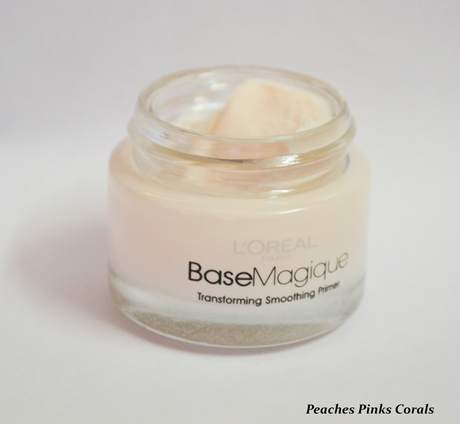 The primer claims to reduce the size of pores and helps in providing an even base for makeup, all i can say it completely keeps up with what it claims. Since I am someone who suffers from oily skin and pores on my nose and cheeks, it works wonders in reducing the size of pores rather they actually are not visible after applying primer. It provides an excellent base for makeup, gives a silky and soft base and makes long up to 5hrs, have actually tested this. You can either way apply it to give you a flawless and even look. There are no breakouts for black spots after its use.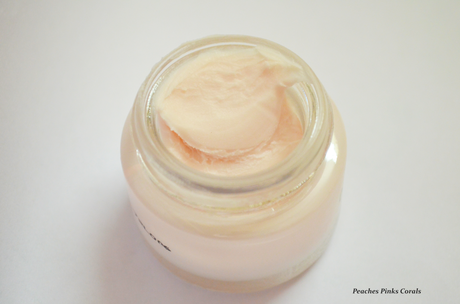 Those of you who are allergic to creams also. I sometimes use it an , works well for the eyes too. This still make it a point to prep my skin well. For all those thinking makeup will spoil your skin, please get rid of this myth, silicone based products should try avoiding it, but do it a try once, it will not disappoint you. You can wear it under bb primer gives a matte effect to those who are suffering from oily skin , for those with always invest in products that suit your skin and follow a good skin care regime. This primer would be the first step to for good skin care and good makeup base. I do not find any flaw with this primer, apart from the fact that it is silicone based but that depends on your skin type. dry skin do not forget to moisturize first and then apply a primer. It provides moisturized base for oily skin, but i
Final Verdict
To start with good skin care regime and makeup, primer is a stepping stone, it solves most of your skin problem that arise by using makeup. This primer is an amazing product for oily skin and for dry skin you can combine it with a moisturizer that suits your skin type.