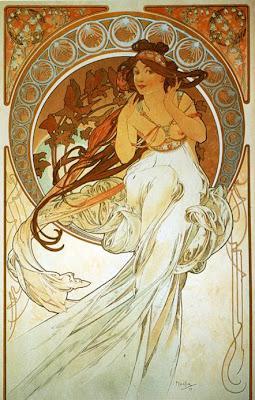 Mucha, "Music"
After several days of cooler temperatures, New York City is poised to plunge back into baking, exultant heat. Much as I love the summertime, there seems to be, in the city, a disturbingly fine line between weather that is glorious and weather that has you sticking to things and wishing you weren't. To accompany hours of delicious languor, or to sweep through sticky afternoons like a cool breeze, my listening of choice this summer has been French art song. I'm not sure why, but it seems to fit. So here, without further ado, a brief commentary on a selection of discs old and new.
The most recent album I found was Clair De Lune, Natalie Dessay's disc of Debussy songs. Dessay's intelligence and sensitivity are great assets to the interpretation of these vivid, romantic songs. The playing of Philippe Cassard made the piano part always wonderful, and sometimes breathtaking. I was not without reservations, though: the distinctive characteristics of each piece seemed a bit flattened by Dessay's approach. The longer selections on the disc shone: the "Chanson d'Ariel" and "La Demoiselle Elue" (the latter with Karine Deshayes) were highlights. Bonus points to those responsible for the cover design reminiscent of Alphonse Mucha's paintings.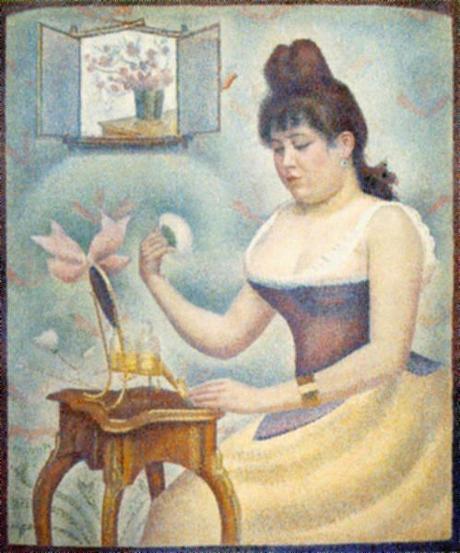 Seurat, "Young Woman Powdering Herself"
Susan Graham's La Belle Epoqueis similarly dedicated to the songs of a single composer, in this case, Reynaldo Hahn. Graham is partnered by Malcolm Martineau on the piano, and the album is a thing of beauty. Graham and Martineau exhibit mastery of both subtlety and passionate intensity (and sometimes, both simultaneously.) Graham's French is lovely, and she gives the songs with a sensuality sometimes languid, sometimes unmistakably purposeful, and always charming. On the cover, clad in aubergine-colored lace, she looks as though she could fit into a Seurat painting. 
Francis Poulenc, writing a generation later, created a richly varied corpus of song; baritone Michel Piquemal recorded an impressive selection on the 2000 disc Melodies. Piquemal's technique is assured, and his depth of musicianship impressive. Christine Lajarrige matches him in finding moods from febrile flirtation to deep disillusion. Piquemal sings throughout with a great tenderness, melancholy and exultant and dreamy by turns. His diction is of a theatrical precision which seems utterly natural to him, if perhaps just a bit more exalted than the utterances of mere mortals. I was reminded of Ronald Colman or Greta Garbo, by this as well as by the old-Hollywood glamor of the cover photo.
The two discs I found which programmed music from a number of composers were very different from each other, and each, I thought, quite successful. Philippe Jaroussky's Opium: Mélodies francaises is both seductive and interesting. A generous mixture of favorite selections and unfamiliar melodies is given with lots of variation of vocal color, and impressive vocal agility. The equally committed pianist is Jerome Ducros. Jaroussky is deeply invested in the poetry of each of the songs, and unfailingly sensual; it is easy to imagine him in the slightly disreputable company of Cezanne's gamblers. Lastly, Marie-Nicole Lemieux' L'heure exquise is a treasure trove in itself. In addition to Debussy and Hahn, the album features Enescu and Chausson. Lemieux gives them all with voluptuous tone and radiant confidence. She and pianist Daniel Blumenthal take notably swifter tempos on a number of the Hahn songs than either Jaroussky or Graham, creating a sense of eager tenderness. Chausson and Enescu, less frequently heard, are a delight here, and Lemieux' vocal coloring brings beautiful expression to the poetry they set. The cover art could be a depiction of Renoir's wife or Lemieux herself.
I realize that this is a far from comprehensive list, and Les nuits d'été is another topic altogether; your suggestions for further listening, Gentle Readers, are eagerly solicited.