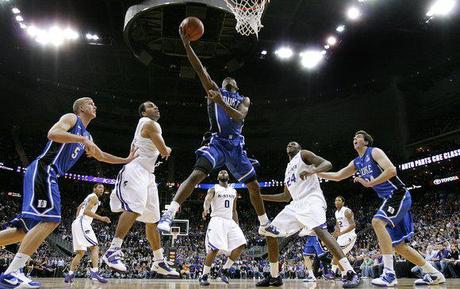 This could be a game-changer. It is practically the first buzzer beater of March Madness – before any games were even played.  Kyrie Irving, Duke's freshman phenom point guard with a cursed toe, has been cleared to play. Just in time to defend a national championship. 
To use Coach K's words, "there is a chance" that Kyrie could be ready for Duke's first-round game on Friday against Hampton, an apparently not fictional university in Virginia. I looked it up, it is a real place – but more on that in a later post. For now, I will parse Coach K's complicated lecture for you. By "there is a chance," he meant: Kyrie Irving is back, motherfuckers, so prepare to crown me the winningest coach in basketball history, because this shit is REAL. And not only is he back, but after watching basketball from the bench for months, he is smarter than ever:
"I think I had a high basketball IQ when I was playing, but now it's increased, tremendously."
You, non-Duke fan, should be wetting yourself. Right this second in your swivel chairs.  Especially because
Nolan Smith added: 
"If [Kyrie] does happen to come back and play, I think it would be very easy for him to fit right in and help us win games.  He's obviously that talented. He wants to be part of winning, more than anything. If he gets back on the court with us, we'll just keep on rolling."
DAMN RIGHT. Granted, Coach K
did
say that if (when) Kyrie plays, he will only come off the bench in a limited role. Even Kyrie himself warned on Twitter last night that "[t]here's still no guarantee…" Such a cocktease.  
We don't play such tantalizing mind games here. CDTF
guarantees
that Kyrie will be dishing backdoor passes to Nolan Smith at some point before the end of the season.  Hell, I guarantee we will see him this Friday.  And here's five reasons why: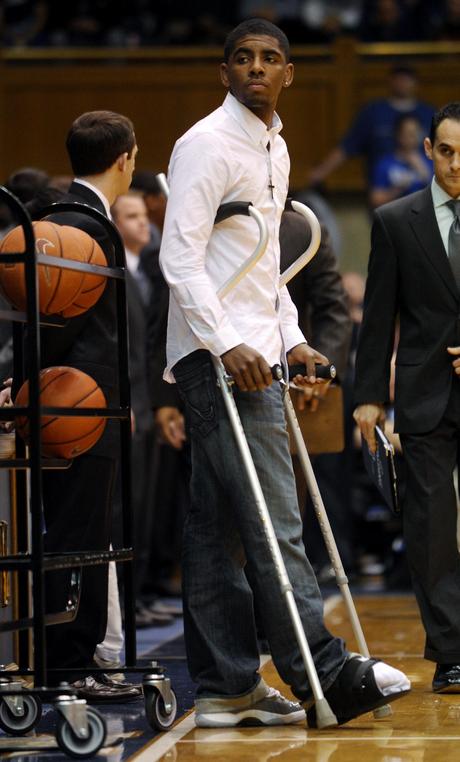 1.  This is the Big Dance, not some song-and-dance.
Why go through all of these shenanigans? Why practice on the court for hours before the nationally televised ACC championship – just to prove that, you know, your foot works and you are progressing along accordingly – if you did not intend to actually come back? As a scare tactic? No, that is ridiculous. If he was really at risk to permanently damage his toe, we would not even be talking about this right now.  Why would Coach K bring this unnecessary drama to his team if it was just a pipedream?  He is too smart to offhandedly mention it in a media-day press conference. Kyrie Irving is back.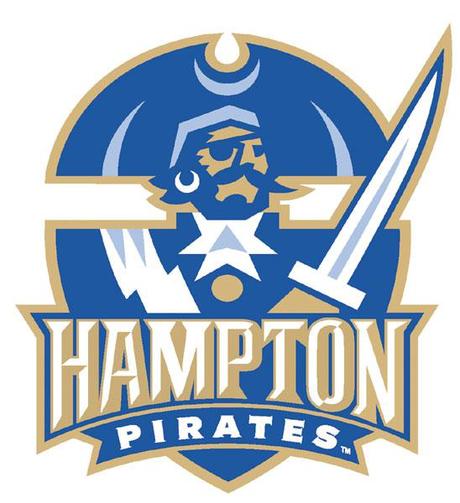 2. Hampton Who?
There is no doubt that Kyrie will be a bit rusty when he returns, which is why a game versus Hampton, a 16-seed, is the perfect time to get his feet wet again.  Before we have to take on a brutal Texas or San Diego State (what will amount to an Elite Eight home game).  The Hampton Pirates played only one game against an ACC team during the regular season - Wake Forest. And they lost.  To the dungeon dweller of the Atlantic Coast Conference with a 1-15 record. So, um, yeah. It only makes sense for him to play on Friday. Kyrie Irving IS back.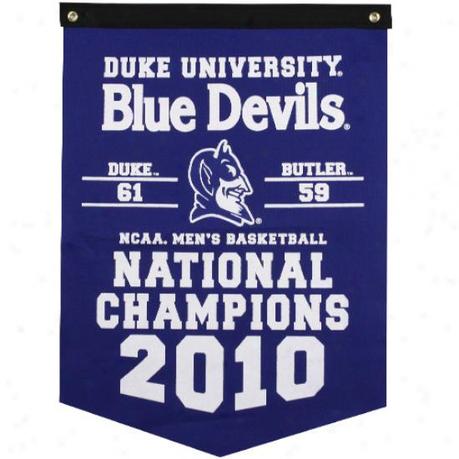 3. Back-to-Back is worth coming back for.
He was one-and-done to begin with, and then he had his whole season hobbled by a toe. Do toes even count as body parts? But more importantly, how many times in your life do you have the opportunity to win a national championship? To be part of history? What would any of us give for the chance to BE there, let alone play in this tournament?  Here is a competitor who has worked his entire life for this.  He is like an individual-version of the 2010 Celtics; he sort of just sat back and relaxed for the entire regular season, and now he will return, healed from injury, to dominate the playoffs.  But Kemba ain't Kobe, so I'm not concerned.  Kyrie Irving is BACK.

4. This is not exactly Coach K's version of "The Decision."
You have 17.4 points and 5.1 assists per game sitting on the bench, now available to play.  You are going to call Tyler Thornton's number and his overabundance of 1.6 points and 1 assist? No. You are going to call Kyrie Motherfucking Irving. He is back.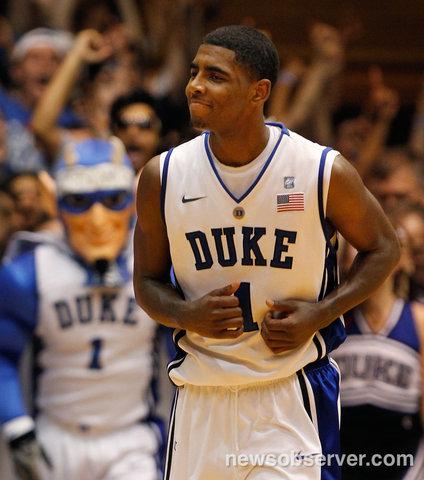 5.  "I have a dream . . . that one point guard was created unequal..."
In full disclosure, I actually expected him to return for the ACC Championship.  I imagined this incredible moment, where the Duke crowd would give him a raucous, deafening welcome to thunderous chanting, as he slapped the floor, before breaking Kendall Marshall's ankles for a ridiculous reverse layup that would bring down the house. My dream did not transpire.  I always confuse Charlotte and Greensboro anyway. So, like? This still works.  While Hampton has never entered my fantasies, it has now.  KYRIE IRVING IS BACK.
Moral of the story? It is time to assert ourselves as the pinnacle program that all fledgling teams aspire to be; time to defend what is rightfully ours, what we are entitled by natural law to possess as the most elite member of the collegiate basketball hierarchy.  The National Championship. May as well FedEx that trophy to Durham now.
Kyrie Irving is back.