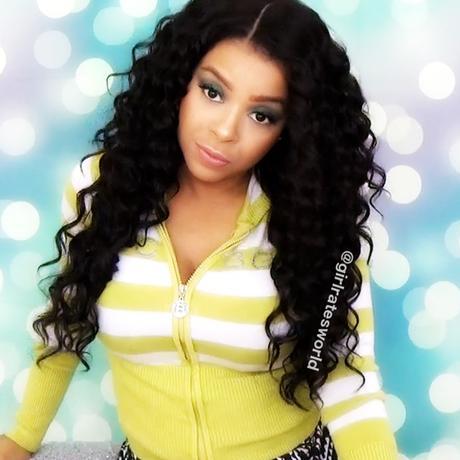 This is Freetress Equal Kylie Wig. Perfect, easy to wear deep waves. Great everyday, anywhere density. Amazing parting. Layers frame the face nice. Only issue, this style is prone to tangles and shedding. I saw tangling as I fingered through the waves — especially at the ends. The kylie wig will need maintenance if you want her to last. I do have a tutorial on wig storage that will be helpful.
Freetress Kylie wig retails for about $29. This unit was provided for review by SistaWigs online beauty supply store. Use code GIRLRATESWORLD for 10% OFF any purchases on their site.
Don't forget to watch my live, video review of Freetress Kylie wig below. You will be able to see the style from many angles as well as the length and thickness.
Similar styles: Yucera wig, Freetress Equal Talia wig, Outre Amber wig, Zury Sis Cantu Wig

FREETRESS EQUAL KYLIE WIG REVIEW

WIG SPECS:
BRAND:
Freetress Equal
NAME:
Synthetic Equal Deep Invisible L Part Lace Front Wig – KYLIE
COLOR SHOWN HERE:
2
DARKENED ROOTS :
N/A
HEAT SAFE:
Yes – Up to 400ºF / Heat resistant fiber
MATERIAL:
Synthetic – Heat resistant fiber
TYPE:
Lace Front Wig
LACE:
French
EAR-TO-EAR LACE:
Yes
LENGTH:
Layered 20 – 22 inches
PARTING:
5-inch Lace Part
ADJUSTABLE PARTING POSITION:
No – right only
WIG CAP:
Larger size with 2 combs at front and 1 in back; adjustable straps.
RATING:
4 stars by GirlRatesWorld

TIPS FOR STYLING:
– use fingers to separate curls
– add water and/or mousse to define curls
– add a little hair serum to ends to help minimize tangling
– add a cream concealer or foundation powder to parting
– add okay colored edges or ebin edge tamer to smooth, shape and/or darken your hairline
– detangle hair gently with a wide tooth comb or tangle teezer
– store unit in wig bag or on a wig stand to keep tangle free

I'M SOCIAL!
I hope you found this review on Freetress Equal Kylie Wig helpful. I have dozens of wig reviews posted on this site. Stay up-to-date by following @GirlRatesWorld on all your social media sites. YouTube | Pinterest | Instagram | Facebook.
Related Post
JORDAN – Model Model Deep Invisible L-Part W...
Sensationnel Empress L Part Crystal Wig Review
Saga Remy Human Hair Wig Yaki Cap 22
Model Model Seven Star Premium Martina Wig

About GirlRatesWorld
Beauty and style lover with an addiction to wigs, pups, french toast and neon polish. Hundreds of reviews under my belt with new ones added weekly. Be sure to swing by often ♥︎.