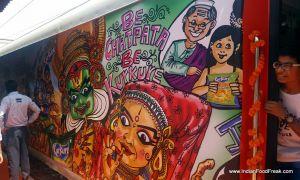 As I sat in the beautifully decorated train after a warm welcome of flower petals being sprinkled on all the guests and musical bands playing all around us led by some Russian cheer leaders, I knew that I am not on an ordinary train ride. This train ride will become historic. After all, I have never heard of any other instance where a private company has hired the entire train to cover the length and breadth of country in a 6-day fun-filled journey with celebrities.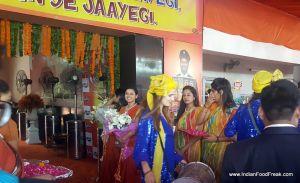 The train, aptly called Kurkure Family Express, was hired by Pepsico for its namkeen brand Kurkure. It selected 40 families (10 for each leg) through a national contest. The idea was simple – a train journey is fun and gives families enough time to spend with each other without bothered by distractions in the form of TV, surprise visits by family or pending office work. The family that travels together, bonds together. And Kurkure is a brand that is best enjoyed when shared with family and friends.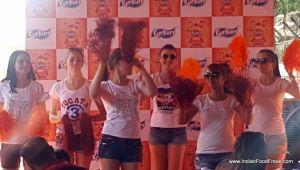 Having said that, it is easier said than done. Hiring an entire train, managing all logistics on the moving train, setting the schedule, engaging with families and railway authorities to get all clearances as one can understand, is a mammoth task. Especially when celebrities like Rocky and Mayur will be the host for all days and TV programs have to be shot in the train. Other celebrities like Anu Kapoor, Boman Irani and many others would join on the way to engage with the families and play games with them to make this the most memorable and revered train journey of their lives.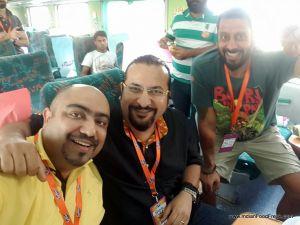 I myself was traveling in an overnight train journey after 15 years. In a work stressed life, air journey has become a way of life. Gone are the days when I used to look out of the train window and it felt as if the trees are going back, the home packed poori-aloo with aam ka achaar used to be the staple, anytime anyone else opened their tiffin in the compartment, the entire coach will look at the dabba and most people would be kind to share their meal with you. The landscape would keep changing and one could hear someone play antakshari in the background or someone trying to finish fat novels in a moving train. The sound of 'cha le lo cha' or someone selling soap, chain or namkeen forced one to quickly buy some stuff from these vendors. And as trains halted at any of the stations, the rush to fill water bottles or buy hot pakoras would become the normal sight. Those days and fun is never possible in an air journey and this trip was reminiscent of my childhood days.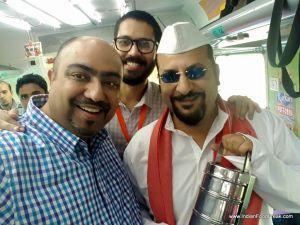 The Rocky and Mayur duo are not only great foodies, they are great presenters, very natural and fun company to be with. I have spent time with them on various occasions but this would be the longest time I would have spent with them thanks to being closeted in a train all together. Inspite of a tough schedule, they did not throw starry tantrums (unlike a few others without naming them) but ensured that they made everyone smile where ever they passed. Such traits differentiate an achiever from a common man and my love and respect for the duo only increased post this journey. While everyone sees success, this journey made me see the hardwork that goes behind success.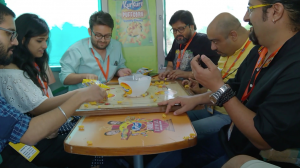 Simple games like kurkure carom or kurkure recipes with simple ingredients kept us on our toes. We also tried but amongst some real talented families we knew how tough it is to beat them. I heard that the winners would also be getting a fully paid trip to Europe and you don't have to guess how jealous I am about losing the game.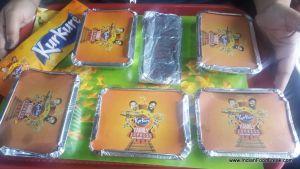 Kukure Family Express took real good care of all the passengers on board. Not only everything including the pillow, serving trays, consumables, etc. were branded, the food that was served was also not of railway quality. The food was served in an unlimited quantity in bone china crockery. I only wish that as a food train, they could have served us the local delicacies of the areas by which we passed. This would have further accentuated the experience.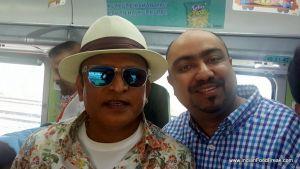 No train experience is complete without Antakshari and Anu Kapoor joined us to sing songs and share his experiences of the film industry. He is a walking encyclopedia of information on the film industry and whatever time he spent with us, it made it a 'Suhana Safar' for all familes.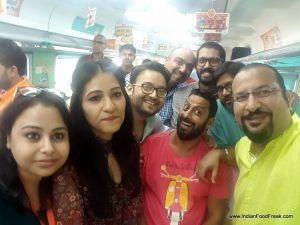 This is the first instance of anyone hiring an entire train As also the first time someone has thought of a food train. With the growing food tourism in the country, I do hope that Railways take note of the growing trend and starts a food train soon. This will further fuel the tourism in the country and of course give more time and reasons to families to bond together.