Our time in Penang ended very early in the morning. We woke up to the alarm at 3:30 AM to prepare ourselves for our flight to Kuching at 7:10 AM. Kuching is the largest city on the island of Borneo which is in a completely differently part of the country. Borneo itself is the third largest island in the world and three countries share it's land (Malaysia, Brunei and Indonesia). This island is home to some large rain forests that contain a variety of plant and wild life. We spent our first day on the island seeing one animal in particular, the cat.
Kuching is the city of cats. In fact, Kuching means 'cat' in Malay. Throughout the city you can find a number of cat statues, including the Great Cat of Kuching which sits near a traffic circle with its paw raised.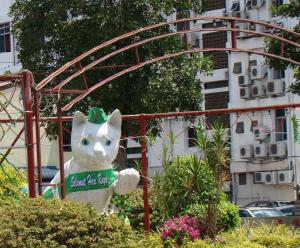 The Great Cat of Kuching
Other cat statues do not have the privedge of stadning alone but in their own little groups. Including the family of cats pictured below.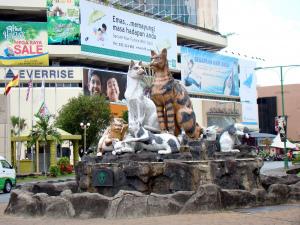 Cat Family
This city of cats even has a Cat Museum, where you can see pictures of cats (both real and cartoon). You can see pictures of famous people with their cats. There's a large collection of cat ornaments that you can gawk at and enjoy. There are even large cats dressed in traditional clothing.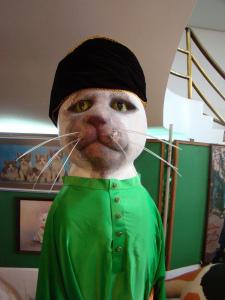 All dressed up and no where to go
By the time we we left the cat museum, I wasn't sure if I was a cat or not.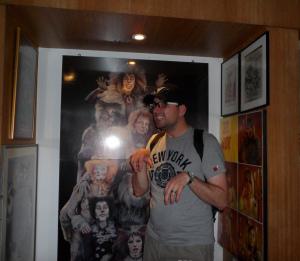 Pete the Scary Cat
By the time we left the Cat Museum, we were "catted out". It was time to see if this city had anything else to offer other than the feline family, and it did.
We made our way through the city streets stopping off at various temples to explore, including the small Tua Pek Kong temple, which is one of the most popular temples amongst the residents.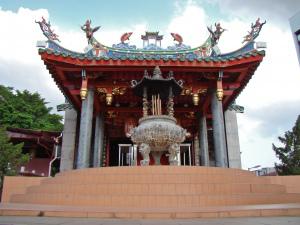 Looking up at Tua Pek Kong temple.
Temples are not the only fascinating buildings in Kuching, however. The Square Tower sits alongside the river and at one time helped to protect the city. Over its 125 year history, its purposes have changed several times. It was used as a prison, a mess hall and even a dance hall. While we were there it contained an art gallery.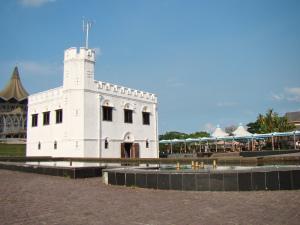 Square Tower built in 1886
We ended our day walking alongside the river. This activity is not just popular with tourists but, also with locals. Families could be seen playing together, couples sitting on benches and people taking photos. Other residents and tourists waited beside docks for small boats to taxi them across the river.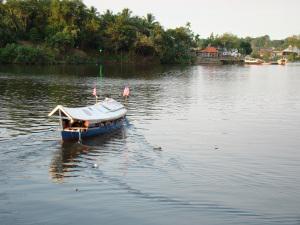 A small boat carrying passengers to the other side
Kuching is definitely the city of cats, from its name, to the museum, to the cat statues that can be found throughout the city. Kuching has more than cats to offer to its tourists. It's a nice city with temples, historical buildings and a peaceful river which all should draw your attention.