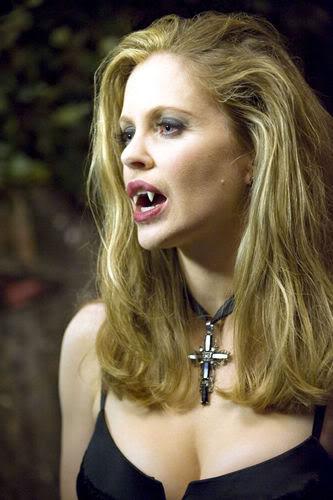 Once Upon A Time…on November 26, 1973, a little girl was born – who eventually became a brilliant actress. This little girl loved animals and music. She loved to help animals because they are defenseless, can't speak for themselves and all they ever want or need is some TLC. This little girl grew up to be Kristin Bauer van Straten, who plays Pam on True Blood!
In honor of her birthday, our good friends over at True Blood Fan Source and Eric Northman.net came up with the idea to celebrate Kristin's birthday, by donating funds to a charity of her choice! What's a better gift to give someone who is so committed and caring about her causes, than to give something back to something she cares about most?
We, here at Eric & Sookie Lovers – along with other great sites (besides the two mentioned above); KristinBauer.net, SkarsgardFans.com, A-Skarsgard.com, Allan Hyde News.com and Kristin Bauer Fans are supporting this cause – which is to help spread the word about this charity drive!
Kristin would like us to make our birthday donations to The Amanda Foundation! The Amanda Foundation would benefit tremendously from any funds that we raise. The Amanda Foundation (for those who don't know), rescues dogs and cats from city facilities in Los Angeles and keeps them until they can find homes for them with new families.
The goal of this charity event is to raise $5,000 from October 26 and end on Kristin's birthday, November 26th. To encourage you to donate, we've arranged to give away some fabulous prizes!
Here are the list of prizes;
Kristin (herself) has graciously donated autographs and copies of her husband Abri van Straten's fabulous CD "Sunlight and Shadows" for three lucky donors.
(I don't know about you…but if Kristin is donating…so should you!)
VMODA is donating a pair of ReVamp Earbuds as well as a pair of V-80 headphones for two donors!
FMCG Manufacturing will be donating two cases of Tru Blood; one glass and one plastic that will be split up for several winners to share.
HoneyCat Cosmetics will also be giving away two sets of their vampire beauty products which will consist of a Blood Sudz Shower Gel, Heme Dream Pomegranate Bath Fizzy, and Don't "B" Negative Body Scrub!
Check out the prizes below!









Image Credits:
Tru Blood:  FMCG Manufacturing and HBO, Inc.
True Blood Headphones: V-MODA
Sunlight and Shadows: Abri van Straten
HoneyCat Products: HoneyCat Cosmetics
This is how it works:
For every $10 you donate, you'll get one entry into the raffle and for every $20 you donate, you'll get three entries. This will go on all the way through November 26th, Kristin's birthday! Starting October 26,  fans will be able to enter our raffle for the Amanda Foundation using the Paypal Widget to the left on the home page, the button at the bottom of this post, or on any of the participating sites listed above.
As you can see,  there are many prizes so there are multiple chances for people to win! And just in case you're not convinced yet, at the end of the donation period we will sign the names of EVERYONE who has donated to one giant birthday card and give it to Kristin to remember this birthday!
We're celebrating Kristin for an entire month in honor of all the good things that she does on a daily basis. We think she deserves it, don't you?
Please consider donating! It's for a very worthy cause, you have a chance to win some pretty cool stuff, and Kristin will have a giant card telling her just how great her fans are!
If you have any questions, please feel free to contact me at: erika@ericandsookielovers.com
Donate here: ($10 increments)


How about a little bit of competition? I want to see us raise as much money as we do for Alexander Skarsgard's birthday! I think we can do it, don't you?
Please pass this on to everyone you know!
Thanks Eric & Sookie Lovers!