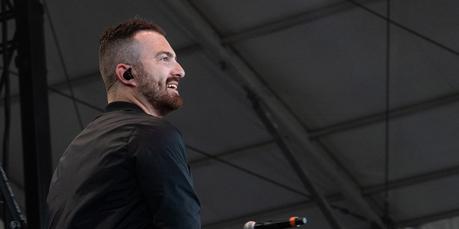 2018 Boots and Hearts Emerging Artist Showcase winner, Kris Barclay opened up the 2019 Coors Banquet Kick-Off show on Thursday night, making a triumphant return to the stage that gave him his big break.
The Ontario native worked the crowd, told them about his win last year, and sang songs for the early festival attendees at the Front Porch Stage. It was clear that this was a big moment for Barclay. Last year, he was the Wild Card entry in the showcase competition, but this year, his name stood alone on the schedule. This was his chance to shine, and he did everything in his power to make that happen.
The Thursday crowd at the tented stage showed the love to Barclay as he and the band played. His energy and talent made it easy for them to get involved and invested. The music brought them all together.
Barclay's spot on the schedule was also fitting. Before him, the eight finalists in this year's Emerging Artist Showcase played. He sat on the judge's panel, watching and listening, and we're sure also thinking about his own experience over the last year. We haven't had the chance to talk to him about it yet, but we're betting that it was a surreal experience.
This slideshow requires JavaScript.
After Kris on the line-up, The Cadillac Three and Chase Rice took over. So there he was, in the middle, bridging the gap between up-and-comers looking to make their mark, and established stars and fan favourites, ready to rip up the stage.
Barclay played through a set of originals and covers. The song selection allowed him to give the Boots and Hearts crowd a taste of what he's got coming in the future, and some songs they know and love to party to. And when he got to his debut single, Loved You Like That, everything came together as the crowd had a chance to show Kris that they'd heard it and knew it just like those other radio hits.
We know we'll be seeing more of Kris Barclay in the future. Be ready for it!