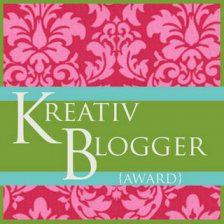 Not only have I been too busy to post to my little bloggity blog, tweet, update my FB status or anything resembling modern normalcy, I've also been too busy to follow simple directions (boo!).   But it's not too late.  Right?  I mean better late than sorry.  Don't judge me, I got kids (okay that I know that was weak, but I'm running out of excuses).
Wait, what was I supposed to be doing again?  Oh right!  The Kreativ Blooger Award.  
Okay, so my friends Aisha and Christine over at Hartlyn Kids nominated me for the 
Kreativ Blogger Award
 and I really am very thankful and surprised, and a little scared because now I have to tell you seven interesting things about me and um, well, not that I'm not interesting, I mean if being overworked, and sleep deprived is interesting to you, then you'll love it.  
But no really, I kid, I kid.
Here goes it ...
1. I was born in Georgetown, Guyana and came to the United States when I was 5 years old.
2. I just recently changed careers in the last 12 months and I'm now a certified tech geek. 
3. I planned my wedding in 45 days (no joke, I got engaged on 8/28/07 and was married on 10/14/07).
4. I have no idea what my name means because my mom made it up.
5. I  have been writing short stories and poetry since I was in elementary schools and have had my poetry published in literary magazines when I was in High School.
6. I just launched my website for my consulting business Zonica Inc.
7. I enjoy watching Japanese Anime (don't judge me).
And now, I have to nominate 7 other great blogs for the award.  And the nominees are (imagine the drum roll, I did):
1. 
Parenting By Dummies
2.
The Young Mommy Life
3. The Life and Times of a Self-Proclaimed Saucy Bitch
4. Nice Girl Notes
5.
philZENdia
6. Chocolate Hair Vanilla Care
7. Putting the FUN in DysFunctional
Thanks again to awesome moms of HartlynKids for the nomination and we hope you learned a little more about me.  Now go visit these other cool bloggers and show them some Kreative blogger love.
Bloggers above! Please share seven interesting things about yourselves and nominate seven other blogs!! It's painless fun!