Even though some of us might prefer to forget, we all remember growing up. Coming of age is a journey and it can be a difficult journey. If we knew when we were growing up what we know now, we would do things differently.
K.P. Smith urges us to share what we have learned with the generation currently coming of age. She shares her own journey as a work of fiction in "Growing Pains: Kendra's Diaries".
In Growing Pains, Kendra Foster is on a mission to inspire, encourage, and entertain her readers through the voyage of growing up. Her motto is to Stay Positive, Keep it Moving and Never Ever Give Up. She is smack in the middle of dealing with a myriad of challenges, decisions, and changes. If you're caught in the "maze" of growing up too, Kendra wants you to know you're not alone.
Growing Pains Author, K.P. Smith, has a Bachelor of Science in Business Administration from Xavier University in New Orleans, Louisiana, and a Masters in Business Administration with a Concentration in Marketing from 
Loyola
University in Chicago, Illinois.  K.P. Smith also has a successful 13-year career in the Insurance Industry and she currently resides in New Orleans with her two sons.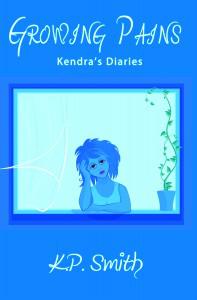 I asked K.P. Smith some questions so we could get to know her just a little bit better:
Growing up, which were your favorite authors/books to read? 
Judy Blume, V.C. Andrews (Flowers in the Attic Series) and Sweet Valley High books.

When did you know you wanted to write more than post cards and letters?

There was no specific moment; mine was more of a gradual path. I have always loved to journal. I used to hope for an essay format test and loved writing papers in school. From there, I wrote my first book. It has been a journey.


What inspired you to write Growing Pains?


My childhood was challenging as I am sure a lot of people can relate to. I realized a few years ago that some situations and experiences, without me realizing it, took root and negatively impacted how I lived in my adulthood and some of the decisions I made.


Who, living or dead, real or fictional, would you like to meet and discuss books with?


On the lighter side, I can't really think of anyone I would want to discuss books with but I would love to talk to Denzel Washington, Brad Pitt and George Clooney about anything!!

What are you working on now? 

I am working on the sequel to the Growing Pains; "A New Beginning".

Links to K.P. Smith and Growing Pains:

www.kendrasdiaries.com

http://www.amazon.com/gp/product/0615390307/ref=cm_cr_mts_prod_img

http://www.barnesandnoble.com/s/growing-pains-kendra-s-dairies?r=1