Buenos Aires is well known for its cultural diversity, since its population is a mix from a variety of comunities that emigrated during the wars in the twentieth century. I bet you didn't know that Argentina has the second biggest Jewish community outside of Israel. A vast majority living in Buenos Aires whilst the rest living in Rosario, Santa Fe and Córdoba. That being said there are some great Kosher places to eat in the city:
Kosher Meaty restaurants:
Al Zein, Arce 488, Las Cañitas
For those who love middle eastern cuisine, this place is for you! Al Zein has great falafel and shwarma (Kebab) and is Kosher too!
Asian Steakhouse, Cordoba 5300, Palermo
Asian Fusion with Parrilla, two of the best cuisines put together. Perfect spot for a nice dinner, its a little pricey but definetly worth it!
Parrilla Al Galope, Tucumán 2633, Congreso
You can´t leave Buenos Aires without trying meat, so there´s always good to know some Kosher options!
Mcdonalds, Abasto Shopping, Corrientes
Did you know the only Kosher Mcdonalds outside of Israel is here in Buenos Aires? In the heart of one of the traditional jewish neighbourhoods, you will find it in the third floor of the Abasto Shopping.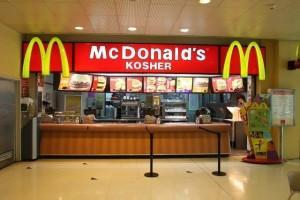 Dairy and Fish Restaurants:
Dashi, Salguero 2639, Palermo
Yummy Sushi! This is the only branch that is kosher!
Munieka, Charcas 4480, Palermo
In the heart of Palermo Soho this place is a dairy restaurant, they do smoked salmon and cream cheese bagels and challah too!
Kokush,  Tucumán 2663, Balvanera
Kosher bakery! For those in need of some fresh challah!
La Crespo, Thames 612, Palermo
Whilst this place is not kosher it does specialize in Jewish style deli food! Those in need of a good old Smoked Salmon Bagel or Salt beef!
Have you tried Kosher food in Buenos Aires? Let us know your thoughts!