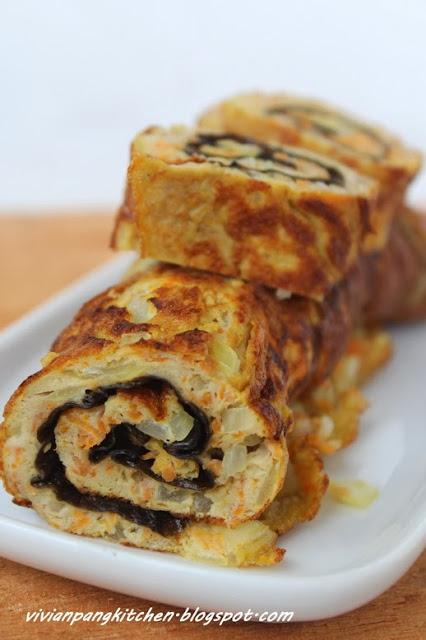 This is an easy and nutritious dish. The ingredients are simple eggs, onion, carrot and seaweed. My kids love it and asking for this Korean Rolled Egg Omelette the next day :)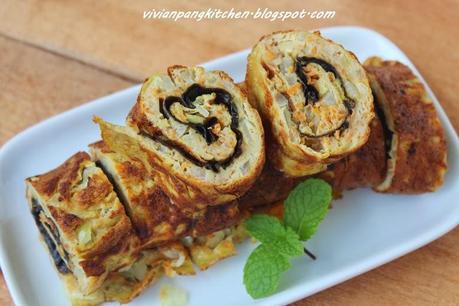 Read from

Joyce, Kitchen Flavours

and Mui Mui, My Little Favourite DIY
source from

koreanfood.com
Gaeran Mari (Korean Rolled Egg Omelette)
Ingredients:
3 eggs
½ small onion, finely chopped
½ small carrot, finely chopped (shredded instead)
1 sheet Korean roasted seaweed (Gim)
1 teaspoon salt (used 1/8 teaspoon)
dash of pepper
½ teaspoon light brown sugar (my addition)
Methods:
1. Mix eggs with whisk or fork. Add onion and carrots until well combined.
2. In a lightly greased pan/ wok, pour egg mixture and heat slowly over low heat. Heat the egg mixture slowly for few minutes until almost cooked through, then place seaweed sheet on top of omelet.
3. Roll omelet into a tight roll by lifting side with spoon or baking spatula.
4. Let omelet rest for few minutes to cool. Slice into 1 inch pieces and serve.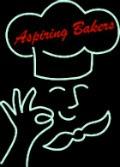 I'm submitting this post to

Aspiring Bakers #37:Korean-Feast of Hansik (Nov 2013) hosted by Grace of Life Can Be Simple