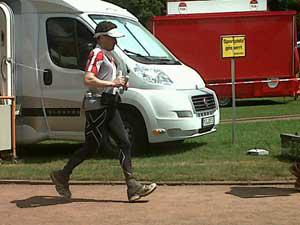 William Sichel Koln 2011 photo by Alan Young
The Koln 48 Hour Race is underway in Germany and at the time of writing are at the 26 hour point. After the early withdrawal of two contenders for the win, Wolfgang Schwerk and Hans-Jurgen Schlotter, Dutchman Jan van de Erve is leading Nobert Ebbert by 3 km. Finlands Maria Tähkävuori is leading the womens race with a 31 km advantage.
Men
1 van de Erve,Jan NED 211,36
2 Ebbert,Nobert GER 208,27
3 Flick,Markus GER 200,23
4 Sichel,William GBR 198,07
Women
1 Tähkävuori,Maria FIN 186,64
2 Becker,Barbara GER 155,12
3 Schroeder,Christine GER 152,65
Hourly updates are posted on Step's great website, www.Steppenhahn.de
Alan Young is sending occasional updates to William Sichel's blog.