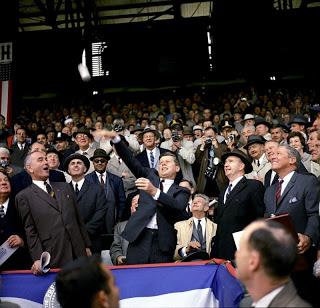 Trivia will be happening this Wednesday night, May 24th at 8:30 PM, with "Kennedy Family Trivia" as the Special Category, in honor of John F. Kennedy's 100th birthday next Monday. I will ask you seven questions not just about the former president, but also about other famous members of his family. (And no, Arnold Schwarzenegger will not be a part of this quiz.) The Q Train lightning round will be "True or False Trivia."
The Sneak Peek question for this week is:
"The Ryder Cup is awarded to countries that compete in what sport?"
We will be back on the main floor of Professor Thom's for Trivia this week, and barring the Celtics making it to the NBA Finals, we should be back there to stay. We shall see. Hope to see many of you for a great night of Trivia on Wednesday night!