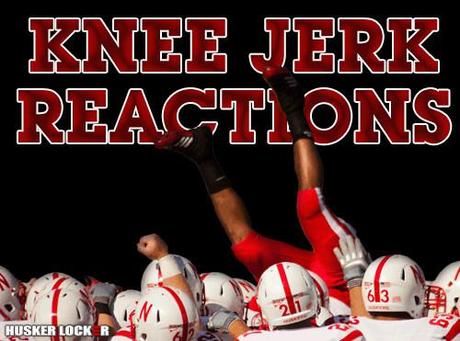 Share this story
By Brandon Cavanaugh
- Tim Miles passed the first press conference test with flying colors.
- Unless you're hated with a passion coming in, you always pass the first press conference test with flying colors.
- He has the right mindset, now let's see if he can coach with the big boys.
- Enjoyed chatting with CBS' Gregg Doyel about the future of Nebrasketball.
- Dropping the first B1G baseball game to Illinois seemed appropriate considering football's loss to Wisconsin. Nice rebound on Saturday, though.
- Hoping PJ Smith gets the opportunity to show what he can do at safety. He's not the most cerebral guy, but he makes up for it in athleticism.
- The Capital One Bowl wasn't good for much, but if it drives Brett Maher to be even better in 2012, doesn't that make it closer to a wash?
- Pelini's guys have lofty goals, and that's respectable, but their words don't seem like those of guys who've been told about a process repeatedly.
- They talk too much about their destination rather than the journey, at least for now.
- Looking forward to see what Ameer Abdullah and Aaron Green can do during the Spring Game.
- Agree with Brian that Green should redshirt unless needed, but likely won't.
- For your KJR wrap up:
Follow us on Twitter:
Brandon:
@eightlaces
Official Husker Locker Feed:
@huskerlocker
Like us on Facebook:
Official Husker Locker Page
Permanent Link to this Blog Post