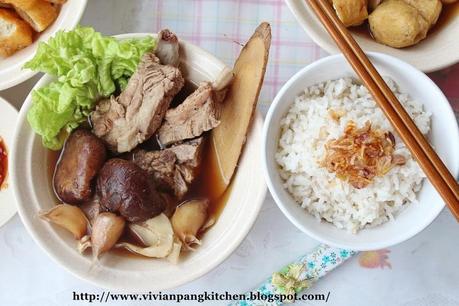 Occasionally, I will cook Bak Kut Teh for my family. Like other household I used the package of pre-mixed Bak Kut Teh herb for the stock. But not for todays' recipe. Thanks to MFF KL & Selangor and Alan of Travelling Foodies for sharing the basic herb and spice concoction used in the Bak Kut Teh soup base. And methods of preparing Klang Bak Kut Teh too. The soup base just as good as the pre-mixed herb. This recipe is a keeper for my family. There is no reason why not gather the Bak Kut Teh herbal from Chinese pharmacy instead of buying the pre-mixed package. It is a lot economy!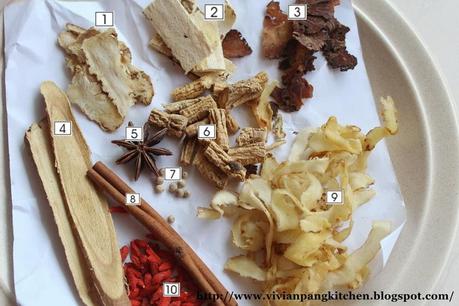 These are the herbal for Klang Bak Kut Teh that recommended by Alan. 1.Dang gui  2.Bei qi 3.Chuan xiong 4.Chinese licorice 5.Star anise 6.Dang shen 7.White pepper 8.Cassia bark (chinese cinnamon) 9.Yu zhu, 10.Wolfberries (only added when the dish is near its finishing)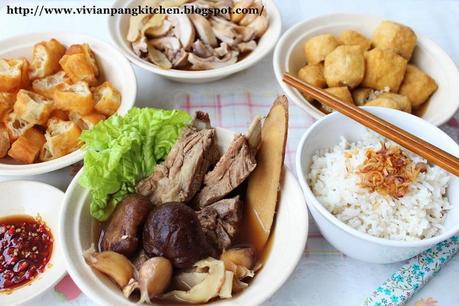 I'm using pork ribs and stomach in my Bak Kut Teh. I do not like to eat animal's organ neither handling them. Since my hubby love to eat I decide to add. Initially I plan to add sweet intestines (粉肠) which I believe I will take it. But when I consult my neighbor on how to clean the organ she said pork stomach is easy to clean and more nutritious. Therefore I bought one and clean it with the methods taught by her.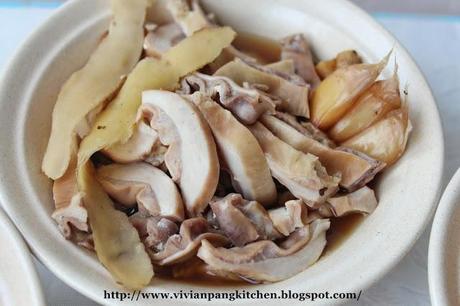 This is my 1
st
time handling pork stomach. When I holding it..Ewe! Slimy..Smelly.. no choice have to carry on since I had bought it! At first scrub and wash with salt..then corn flour then vinegar. After 30-40 minutes of repeating cleaning ...at last ready to be cooked. I add in the whole stomach into soup base and cook for about 30 minutes. I check by poking chopstick into the stomach for doneness. I fish out when I think is done. Due to lack of experience the stomach ends up chewy to eat! :P I should cook it longer... I don't think I will handle it again in future :D Type of meat used is up to individual so just used whichever pork portion you prefer. 
Adapted with minor modification from
Alan,Travelling Foodies
Klang Bak Kut Teh 巴生肉骨茶( for 4-6 servings)
Ingredients:
(A)
1kg prime ribs (肋排) 1 set of big bones (大骨), optional; for more flavor stock
1 pork stomach (猪肚), optional
4-6 bulbs of 老蒜 old garlics
(B) Herbs and Spices
5-8g 当归, dang gui Angelica sinensis aka female ginseng
15-20g 玉竹 yuzhu Polygonatum odoratum aka Solomon's Seal
5-8g 甘草 gan cao Glycyrrhiza uralensis aka Chinese licorice
5g 黄芪 huang qi Astragalus propinquus aka milk-vetch root
5-8g 党参 dang shen Codonopsis pilosula aka poor man's ginseng
5-8g 川芎 chuan xiong Ligusticum wallichii
1 stick (3g) 肉桂皮 gui pi Cinnamomum cassia aka cassia bark or Chinese's cinnamon
1 (1g) 八角 ba jiao Illicium verum aka star anise
5-8 白胡椒粒 bai hujiao Piper nigrum aka white peppercorn
5-8g 枸杞子 gou qi Lycium barbarum aka wolfberries or goji berries
(C) Condiments and Seasoning
1 teaspoon salt
2 tablespoons black soya sauce (adjust to taste)
1 tablespoons light soya sauce (adjust to taste) Some rock sugar (adjust to taste)
(D) Other ingredients
6-8 chinese mushrooms 香菇, soaked
6-8 deep tau pok (fried beancurd puffs ) 豆薄/豆皮, rinsed and squeezed repeatedly to remove as much excess oil and water as possible.
(E) Other sides
Cooked rice (I used scallion rice; Add some fried shallots into rice cooker and cook rice as usual)
chopped red chilli with dark soya sauce as a dip
2-3 deep fried 油条 youtiao aka chinese dough fritters
vegetables
Methods:
1. To a pot of boiling water add big bones and blanch for 10-15 seconds until the exterior just turns pale. They may continue to ooze some blood but that is normal. Drain and set aside. Repeat the blanching process for prime ribs. Discard blanching water.
2. Rinse all the herbs and crush peppercorn. Place the herb and spice mixture into a muslin bag if using. To a large pot, add 6-8 bowls of water. Bring to a fast boil and add the herbs and spices except for wolfberries. As it come to a boil again and then lower to medium low flame and let it simmer for 10 minutes with lid on. This is to allow the flavours of the herbs to infuse into the water.
3. Add pork bones, pork ribs and garlic. Bring to a boil again before lower to medium low flame and continue to simmer with lid on for 30 minutes. Add more boiling water if necessary. Periodically use a ladle or small wired sieve/tea strainer to remove any scum or blood clots on the surface of the soup. This helps to keep the soup clear.
4. After 30 minutes, add Chinese mushroom and pork stomach. Season the stock with salt, soya sauce and rock sugar. Adjust taste and color with amount of dark soya sauce used. Let the pot simmer with lid on for another 20-30 minutes or more till the meat done.
5. During the last 10 minutes of cooking, ladle some soup into another small pot to cook beancurd puff. Add wolfberries at this point (I forget to add!).
6. Serve Bak Kut Teh with chunks of you tiao, chopped chilli and dark soya sauce dip, and cooked rice.