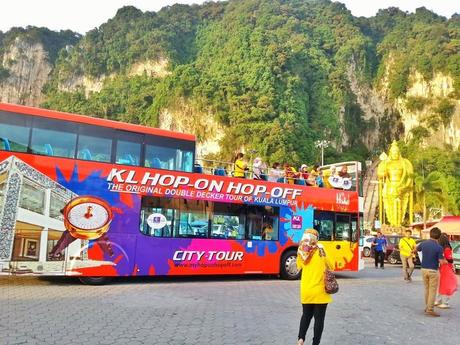 Waiting for the sunset at Batu Caves
You have just booked your flight to Kuala Lumpur and the next thing you should do is to fix your itinerary and glue yourself in front of your laptop in researching the best attractions to visit in KL. Good thing is you don't need to stress yourself anymore because the Hop-On Hop-Off Double Decker Bus Tour comes with the most convenient and relaxing way to explore the city of Kuala Lumpur.
It provide a complete package of fun and unique approach to enjoy your KL experience whether you like it in Day Tour or Night Excursion on an open deck bus. Hop-On Hop-Off Day Tour is good choice but nothing could be more fun than seeing KL skyline ablaze at night.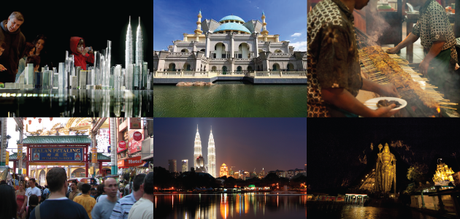 Photo Credit: Hop On Holidays Official Website
Hop – On Night Excursion will take you through the historical and suburb landmarks of the city. Attractions not to be missed are the Kuala Lumpur City gallery which has a marvelous 40ft x 50ft KL City Model and where you can shop for souvenirs too. Pass by the Federal Territory Mosque and proceed to the Batu Caves, a Hindu Shrine which house the tallest statue of Hindu God. Climb in a 272 concrete steps to reach the complex of caves on top.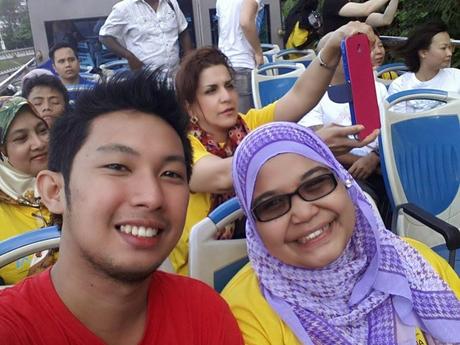 enjoying the breeze on the deck with my bubbly kak jue, Juliana.
Dinner is included in the Night Excursion at "Taste of Malaysian Satay Restaurant". Feast in the delicious Malaysian delicacy called 'satay'. I think the chicken and beef satay here is one of the best satay I've ever tasted.
After the sumptuous meal, you'll proceed to Ampang Saujana Look Out Point and be amazed at the panoramic view of Kuala Lumpur and the brightest lights of Petronas Twin Tower.
Sustain the journey back to the city and pass through KLCC, Jalan Bukit Bintang before tour end at China Town night market. 
Hop On Night Excursion Rate: 
Adult - RM 170
Senior Citizen - RM 150
Children - RM 120
*for

Day Tour

rate and other special offers, please check it at Hop On Holidays and at 
KL Hop-On Hop-Off City Tour.
Booking Inquiries:
HOP ON HOLIDAYS Sdb Bhd (853400-D)
NO 66-2 Jalan 1/76D, Desa Pandan
55100 Kuala Lumpur
Tel: 03 8932 7690 
   019 667 1988 / 017 598 4995 / 017 619 779 / 010 536 2380
Email: [email protected] | [email protected] | [email protected]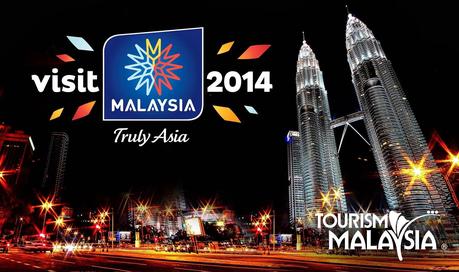 Disclosure:

This fam tour was made possible by Tourism Malaysia 
in partnership with Gaya Travel Magazine
Visit Malaysia Year 2014 | Celebrating 1 Malaysia Truly Asia 
is this year theme.