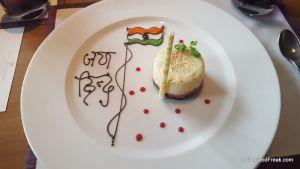 Colour has always held significance in food. Tomes have been written both ancient and modern on how colours influence varied aspects of our lives. Dusit Devrana attempts to entice us with a special Independence Day package that includes a tricolour menu for the coming weekend when the nation is set to celebrate its 70th Independence Day.  The package offers guests exciting opportunities for a perfect, long weekend getaway to help relax and unwind. Starting at INR 17,000 (plus taxes) per room per night for a minimum two nights from August 13, 2016 till August 15, 2016, this tailor made package includes a scrumptious breakfast spread for 2 at Kiyan along with free WiFi.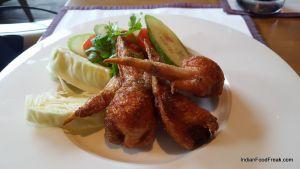 For the non-resident guests the hotel has come up with a special
brunch menu
boasting of 20 dishes, eclectic choices that balance the subtle and nuanced occidental palate with the vibrant and lively oriental one.Luckily for the hotel, the orange, white and green of our national flag make its job easy as the colours abound both in nature and its produce, namely food products.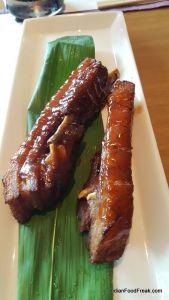 Thus we have crispy
Chicken Wings
stuffed with fiery Thai chicken mince that kick starts your palate with a zing while the home made
Burrata
with sundried tomato and black garlic dust seduces you with its creamy freshness.
Quinoa salad
is a refreshing smorgasbord of flavours dressed in a light and tangy mirin sauce bedecked with garden vegetables and fruits. The excellent
Pork ribs
glazed with smoky, tamarind sauce is delightful, the silken
Tofu
drizzled with miso sauce, makes this ordinary vegan dish, delectable.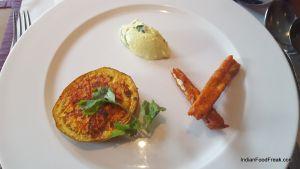 Pungent, mustard flavoured
Egg Plant
(
Baiganbhaja
) tastes fabulous with yogurt, tempered with mustard seeds and curry leaves not unlike the MorKuzhambu (tempered buttermilk) of South India, the deceptive
Soy Chicken Bao
which tricks me into thinking that I am nibbling at juicy pork bits.
Thai Chicken steamed in banana leaf
and
Shrimp cake
spiked with hot
chettinad
spices are sure-fire hits with spice lovers while
Lasagna with Parmesan foam
and tomato sauce appeals to cooler palates.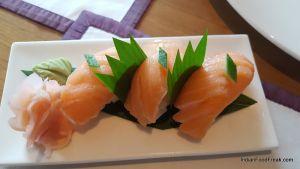 Likewise the
Salmon maki roll,
oily
Yellow fin tuna
and crunchy, smoky
Asparagus roll.
The last could do with a bit more texturizing as I find it uni-dimensional with just asparagus. A bit more of creamy cheese or avocado would balance it.
Scallop
in a striking, fragrant
moily
sauce with interesting bits of fried Idlis (steamed rice and lentil dumplings) could have been served with some mini rice bread like aapams to polish off the sauce. Similarly, a bit of crusty bread to wipe the tasty tomato sauce off the
Lasagna
.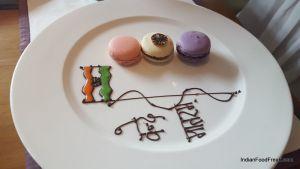 After a hugely satisfying repast when one feels that one cannot have anymore, come the tantalizing
Chef's Special desserts
–
Macaroons
– Raspberry, bitter strong coffee and blueberry-rhubarb; a superlative
Crème Brulee
and a magnificent Chocolate, rose flavoured
Cheescake
. The national flag artwork on the plate may summon one to stand up and pay respect both to the flag and the artist but alas that is a difficult thing to do when one is brimming with such good food.
August 15th being a dry day, Kiyan has plans to surprise patrons with a specially concocted Tri-colour drink.
Ratings (Out of 5)
Category: Multi cuisine, Special Brunch
Food: 4.5 | Service: 4.0 | Ambience: 5.0 | Overall: 4.5
KIYAN, DusitDevarana. Samalkha, NH-8, New Delhi 110037 | TEL: +91 11 33552211
Timings: 07.00 am-10.45 pm
Special Independence Day brunch without alcohol:12.00am – 03.00 pm @ Rs. 3500/++
Alcohol: Dry day as per government regulation | Disabled friendly: yes

(Disclosure: This review was done on the invitation of the restaurant)