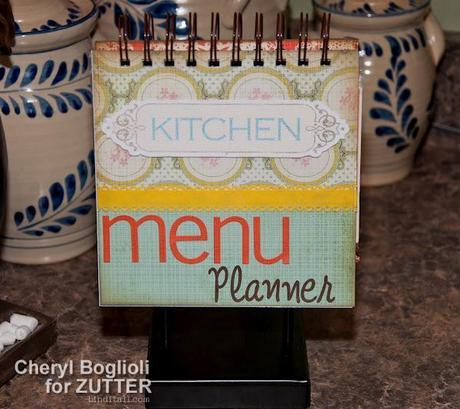 When we get really busy around here at my house, we find ourselves eating out much more than we should be, which kills our food budget, not to mention our diet. So, my daughter and I have started back at planning our menus. 
This really helps when everyone is on the go and coming home later at night. 
 To help keep these organized, I created this Kitchen Menu Planner for Zutter and am so excited to share this with you today.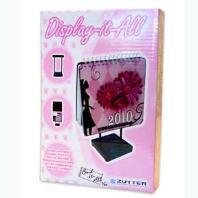 I wanted my menu planner to be on display and easily accessible, so I knew Zutter's Display-It-All would be perfect, and it was.  And, I love that I can change it out if needed.   I went searching the web for a great weekly and a great
monthly planner
.  I found ones that I liked at
Picklebums
.  Thank you, Kate!  Kate has a lot of great ideas on her blog too. I downloaded her free copies, shrunk them down, and printed them so that they would fit in 4 x 6 Zutter Pre-punched Page Protectors.  These Zutter Page Protectors keep my cards protected from any splatters in the kitchen.   I dug out BasicGrey Nook & Pantry paper from my stash, which was the perfect color and theme for my kitchen project.  I've been saving these papers for a cooking project and never found a great use for these until now.  I love the colors and they work in my kitchen.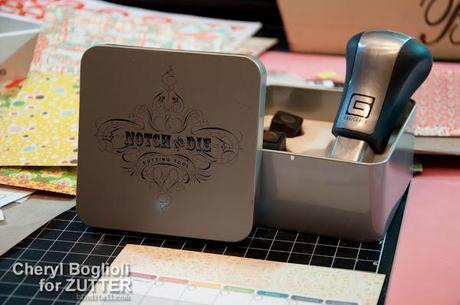 I even used my BasicGrey Notch & Die set that I haven't used in a while.  I love using products I already have. Do you have this set?  What other ways have you found to use it?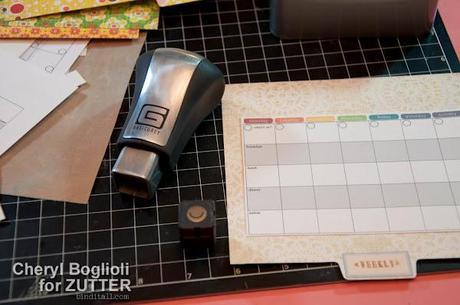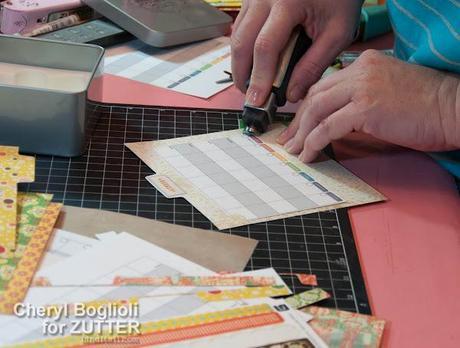 I used the rounded die to create a notch to slide each week's and each month's planner card. After determining where I wanted my mark by lining up my card and resting the die, I removed the card and rolled the die up to cut into the paper.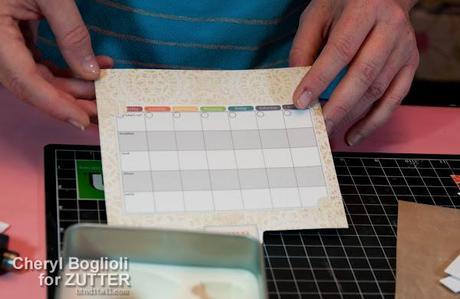 Now I can just swap these out each month and/or each week.  I did ink up the edges with Ranger Distress Inks just a little afterwards to make it easier to see the notches.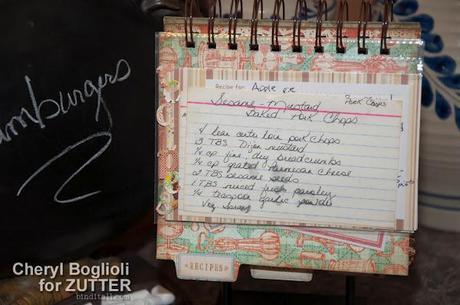 I chose to use the Zutter Page Protectors to store the extra planners as well as a place to store the recipes for the week.  By using the page protectors, this also gave me a way to display whichever recipe we are cooking and protect it from any spills or splatters.  For that same reason, I chose to use a Zutter 6×6 Acrylic Cover to project my entire project.  If something does splatter on it, I can easily just wipe it off.   Since it is going to be in my kitchen, I did not add lots of ribbons or embellishments, although it was really hard not to.  I even wanted to decorate the base, but I know how hard it is to keep things clean and wiped down in my kitchen, so I kept it plain…for now. I think I'm going to go back and paint the base.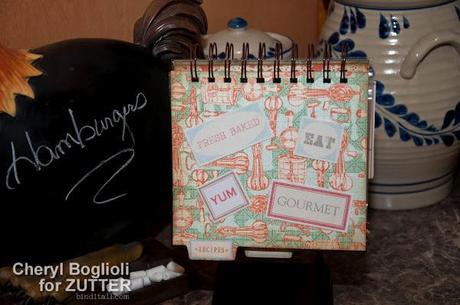 I used Tim Holt's Alterations File Tabs On The Edge dies to cut the page edges for my Recipe, Weekly, and Monthly tabbed pages.  These add just a great touch.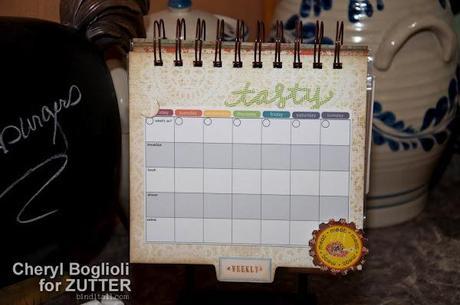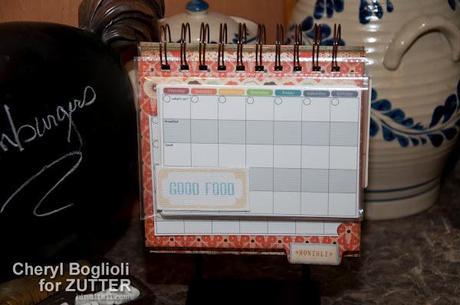 The extra planners are stored in Zutter Page Protectors behind the weekly and monthly file tab pages.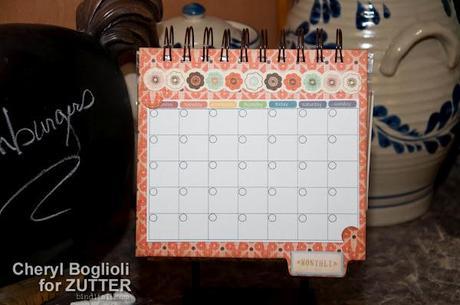 See how I can just slide in a new page each month?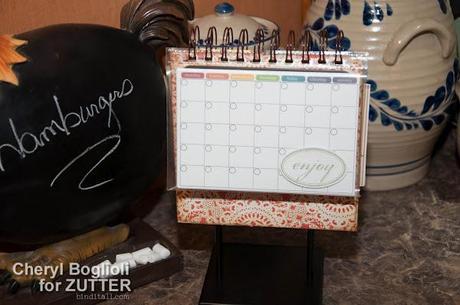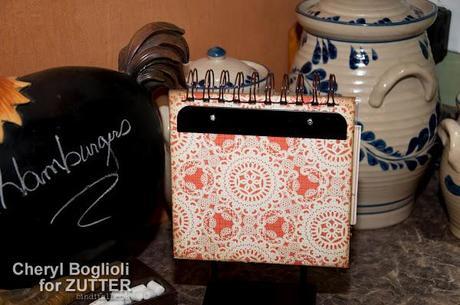 And, here is the back page.  I used Zutter Clipboard to provide a good sturdy back to my planner as I hope to use it for a long time.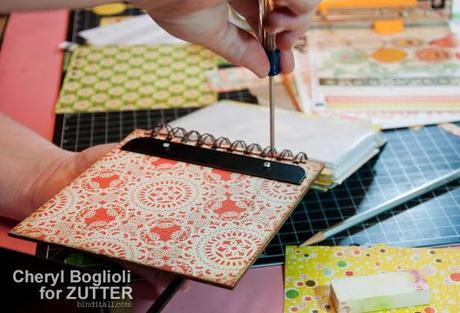 The Display-It-All was easy to use.  Of course, I could have just rested the wires over the stand, but I decided to actually mount mine onto the display.  After punching the covers and pages, I used the Display-It-All bracket to mark where to punch and then punched holes using my Crop-A-Dile.  Then I inserted the O-wires and used my Bind-It-All to bind my album.  All I had left to do was screw the back cover between the display stand and the display bracket.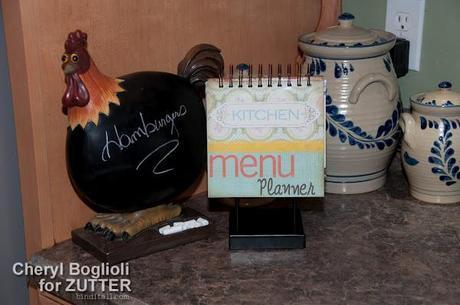 The Display-It-All looks good on my kitchen counter and is not so large as to get in the way or clutter my countertop.  Now I need to go plan this month's menu and this week's grocery list.  Do you have any recipes you want to share with me?  Please do, if so.  I need more healthy, tasty, and easy recipes.  Thanks for stopping by today,