Nothing beats having a lazy lie-in on a Sunday, cuddled up with the paper and a cup of tea. The dream is to shuffle into the kitchen and settle into a breakfast nook (with breakfast waiting for me, of course!). It's half term next week and I'm hoping that hubby will help me out with a few DIY ideas I've been having for our kitchen - although I think he has his own ideas about what to do with the time off, mainly revolving around 'chilling out' and 'watching the football'.
Here are a few inspirational areas I'm lusting after :
via Comfree
This one taken from a home in Calgary, Canada is missing my favorite feature of a window seat, but I think that the exposed brick walls more than makes up for it – I love the brick walled loft apartment look. The location allows for the missing curtains (although I'd probably DIY some anyway), because the windows let in so much natural light.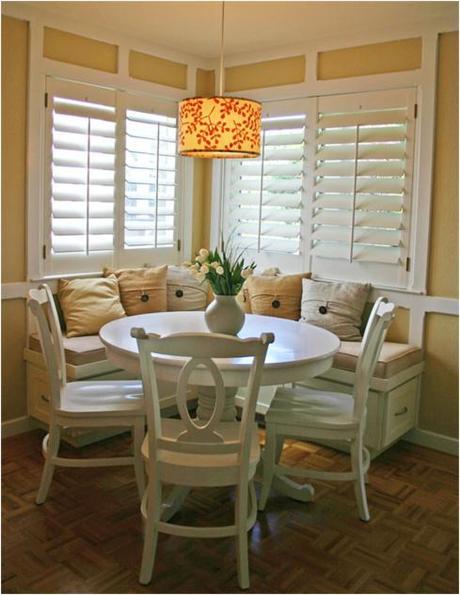 via Pretty Little House Things
This cozy little area is just adorable. Very snuggly for this time of year and the earthy colours are very autumnal. The pillows look easily dupe-able, sure to be done with some extra fabric scraps and buttons that I've got lying around. I bet you didn't notice the secret storage underneath the window seats! If I could build a little breakfast area myself, it would probably look exactly like this!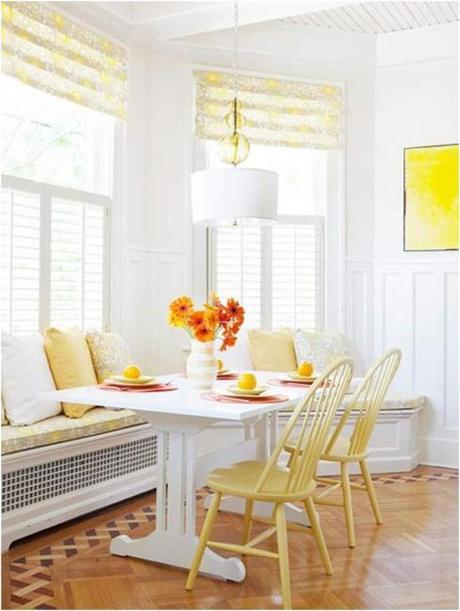 via Better Homes and Gardens
This color palette of yellows and oranges is sunny and perfectly bright enough to get me out of bed and ready to face the day. The chairs can easily be found at a boot sale and covered with a fresh coat of paint on the cheap. Market fresh flowers always spruce up an area, too!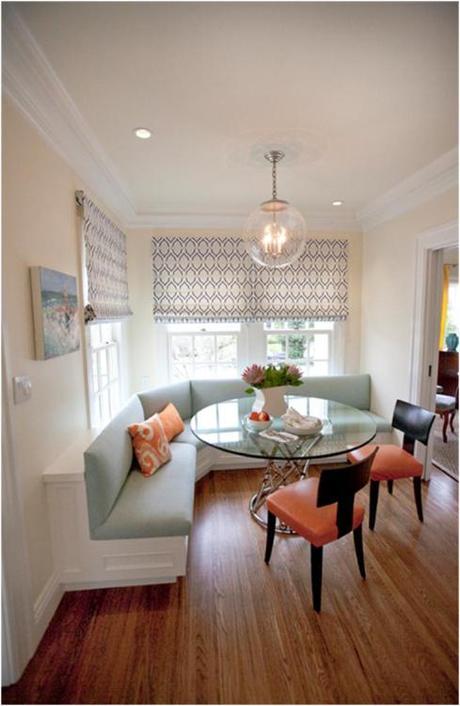 via Cardea Building
I love the look of a glass table top, it just looks so neat and fresh (especially after a fresh scrub with Windolene). The roman curtains are something that have been on my radar for some time, and I've got some fabric from Abakhan Fabrics to make some, so seeing them in this setting makes me feel good about my choice! We'll just have to wait and see whether hubby find the energy to help me with my DIY plans, or whether we both stick to the original plan of lazy lie-ins instead!