There was a third DIY task that I accomplished in the kitchen over the weekend and it was without a doubt the simplest task of them all, even though I suspect some people may not be as accustomed to to this kind of job as others…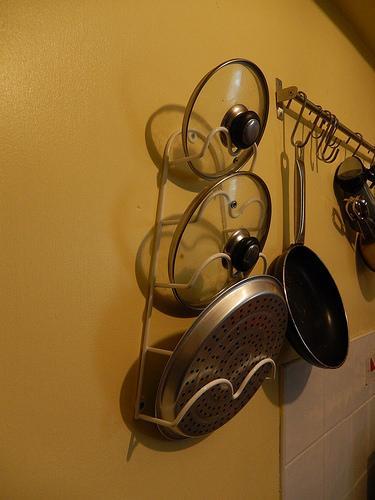 I installed a simple wall rack for hanging saucepan lids.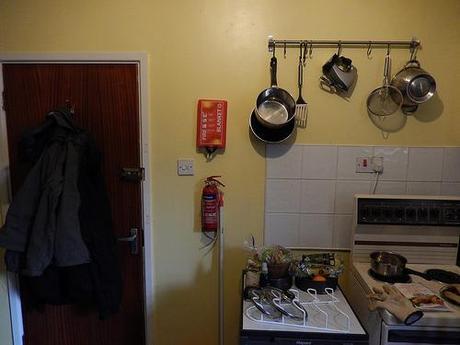 My 'once-blank canvas' for decluttering the kitchen.
I shopped around, I looked online and I trawled around Ikea for 40 minutes even after exhausting their website. As far as wall-mounted lid racks go, there was only one I could decide to go for and it with quite a staggering price from Amazon.
There are similar products that are designed to be fixed to the inside of the cabinet door only but I could forsee the expected issues with the action of opening and closing the door – not to mention the interference of a shelf, which was also frequently mentioned within the customer reviews.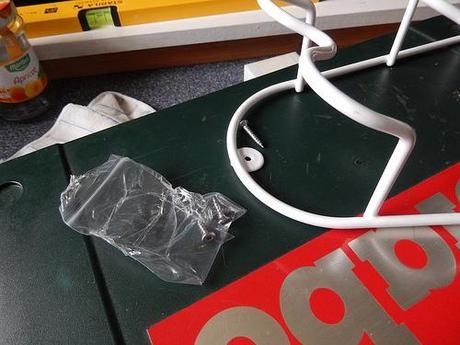 It comes with a set of three tiny screws (in the small bag to the left, above) which would allow you to fix it internally, if you really had no other option. My alternate preference would be to mount it inside a unit but on to one of the end panels (assuming you had the space and no interference from a shelf).
Installation was simple: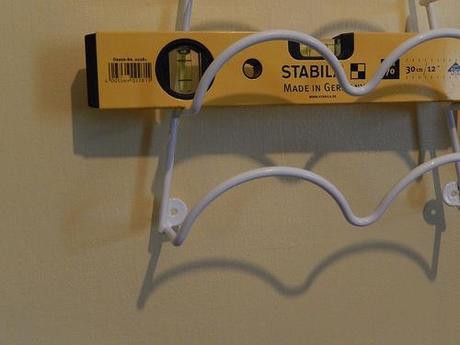 I started with the central screw at the very top. Once this was fixed, I placed a level across the second-to-last rung (see above) and then marked out for the two lower holes.
You see, it's not possible to drill straight through these holes positioned on the rack, as the lowest of the five rungs would interfere with the line of your drill (look carefully, above). I had to swing the rack to one side, drill both holes, fit the wall plugs, re-align and then screw.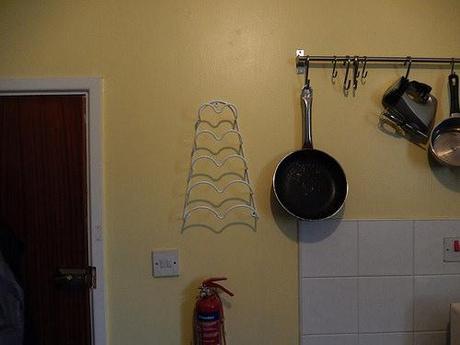 I had to reposition the emergency blanket to suit my own preference.
I don't currently have enough lids to fill the rack and I hope that fact never changes (at least, while I live on my own).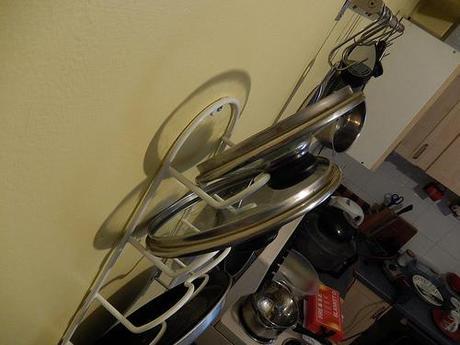 It was pleasing to notice that this rack holds my style of lids (with round knobs) rather well. What may help to answer other people's questions is that there is sufficient clearance between the knob of one lid and the inside of the one beneath it (hopefully, the photo above helps to illustrates this). I'd be very disappointed if they were touching, after spending £17 on a piece of bent wire painted white!
I even found that I can stack at least two 260mm diameter round baking trays, which I frequently use within my halogen oven. There's sadly no room for a cake tin, for which I'll have to designate some space elsewhere.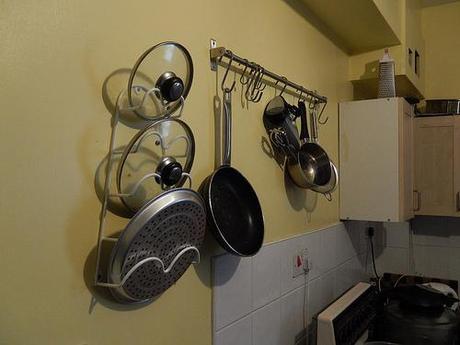 As a stand-alone purchase, it did cost me more than the combined total for my other rack from Ikea but I've payed for a designated place to store something (as opposed to just anything) and for a reduction in clutter and mess.
My kitchen is far from clutter-free. It's an ongoing process. But my cooking and food-preparation areas are looking quite vastly improved.
Following on from a previous post, I did also remember [this time] to take a couple of photos from beneath my sink: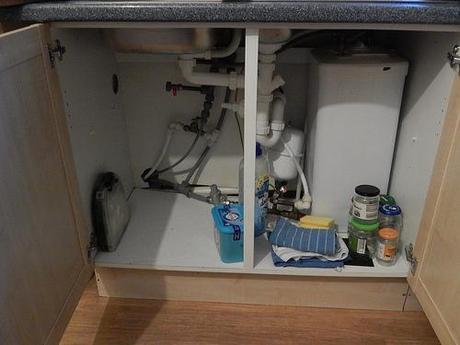 There's the water heater on the right. I don't keep an awful lot in here and there's no room for a shelf.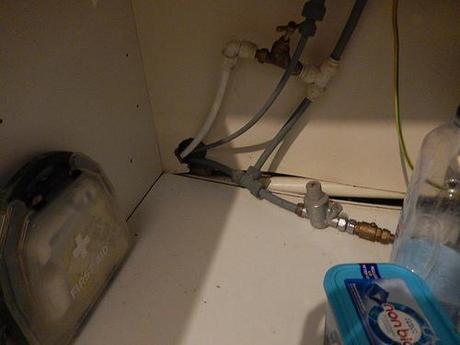 From the left corner, you can see where the back panel's been forced out by the falling pipes. Most of the sag is from the center to the right of the unit, where the water heater resides. I think I should be able to carefully slide some timber/ply underneath to prop it back up.
Thanks for reading.