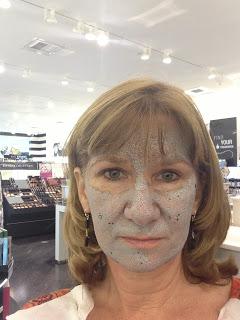 H

ave you ever been to Sephora or Mac or a department store makeup counter and seen a woman sitting in a highchair getting her makeup done?  What an idiot. Right? I am more envious of the women in line who are buying gratuitously overpriced makeup than the chick who's getting the good stuff put on her face for free. Because in order to get the makeup put on you by the expert, you have to do it in front of everyone in your tri-county area.

So of course I did it.

My husband and I were at Sephora (yes, they let him in) to buy our daughter a gift card for Christmas when the makeup sales lady told us that if we bought her a $125 gift card, she would get a free makeup consultation/demonstration/application/makeover for free. 

It was a week before Christmas and my husband possibly had just realized he didn't have a gift for me yet, so he said, "Maybe you would like one of those thingydoodles, too." 

So I said, yes, sure, I'd love to have a makeup consuldemocation. 

The day of my appointment was the same day my husband sliced open his finger on a new knife. I had to race to Sephora from the Urgent Care. During his stitches, whenever I looked at my watch, my husband would say, "Oh, I'm sorry if my nearly amputated index finger of my right hand - and I'm right-handed - is keeping you from your important appointment. What is it again? Oh, that's right. Getting your makeup done."


Other than racing there and starting late, it all went swimmingly. I got over my humiliation of sitting embarrassingly close to the busy checkout line and even snapped a photo of myself with the mud mask on. Or was that the GlamGlow Super Sexy Super Radiant Tingling & Exfoliating Mud Mask ($69)? 

Yes, I believe it was.


I humbly sat still while my makeup expert told me how I could make my nose look smaller and thinner, my 54-year-old crevices look more like 45-year-old crevices, and how my fear of black mascara is irrational.

"So are you going anywhere special tonight?" she asked me as she was applying what felt like way too much blush. Or was that too much Nars Glimmer Blush Orgasm Peachy Pink With Shimmer ($28). Yes, I'm sure it was.

I was embarrassed to say I was planning to stay home and watch a Netflix movie about Sigmund Freud and Carl Jung and finish the Williams-Sonoma peppermint bark.

"Well, depending on how I look, I might have to go to dinner. Or something," I said weakly.

I called my husband on my way home from the mall and suggested we go to dinner. Or something. He had sufficiently recovered from the stitches, the local anesthetic hadn't worn off yet, so he suggested we hurry up and get the first glass of wine in, as to kind of dovetail on the numbing.

My daughter snapped a picture of us before we left for dinner and it wasn't until the next day when I saw the photo that I realized I had on way too much makeup. Maybe too much Dr. Jart + Water Fuse Smart Gel BB Ultra Hydrating + Memory Activated Formula ($36) and definitely too much BareMinerals Remix Ready Eyeshadow 4.0 ($30). Also, my fear of black mascara was well founded, as it turns out. It reminded me of the time I made the mistake of telling my haircut guy that I was going to the Football Hall of Fame induction ceremony that night and he did my hair. As in getting your hair done. As in I got my hair done for the Football Hall of Fame induction tonight. 

As I looked at my makeup demo face in the mirror, I was grateful I hadn't had a hair appointment on the same day. This kind of makeup might be fine for '70s bands and some other women, but not me. I thought about at least wiping off the lipstick. But it was Buxom Fully Loaded Lip Plumper ($19) and I couldn't afford to waste it.

What an idiot.