Leaving Thomas has got some hot irons in the fire, and we caught up with the Calgary duo at Boots & Hearts 2018 to talk about what they've got coming.
The Waiting Kind Of Girl singers came to the festival as surprise additions to the SiriusXM stage in the VIP barn. It was a welcome bonus to the weekend and meant that all three of the Top of the Country contest finalists were in attendance and ready to play for the B&H audience.
Along with Andrew Hyatt and Jason Benoit, Leaving Thomas is vying for the Top of the Country grand prize that includes $25,000. Annika and Bryton were getting ready for a mentorship workshop in Toronto right after Boots & Hearts with their fellow finalists. They'll also have taken part in songwriting trips to BC and Nashville - and will get up on stage in Hamilton during Canadian Country Music Week, where a winner will be crowned.
They're also Top 12 finalists in the 2018 Project Wild competition in Alberta. The project is administered by Alberta Music (Alberta Music Industry Association) and funded by WILD 953 - Calgary's New Country. Past winners and finalists include The Dungarees, Brad Saunders, Nice Horse, Sykamore, Tanya Ryan, and Ken Stead. It's a big program, with more than $225,000 in prize money handed out every year.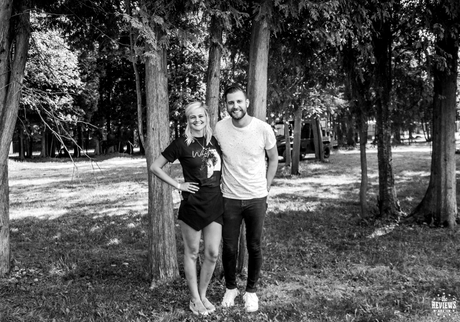 We talked to Leaving Thomas about Kiss About It, the song they entered in the contest, and that will be released to Canadian country radio on August 20. They told us that they wanted to submit something new fresh for the contest. And as they've found their pop and 80s style influences finding their way more and more into the music, it was a perfect fit. In our New Music Spotlight notes for Kiss About It we said, "Their pop influences can be heard on the track, with their countrified voices shining through as the track bops and grooves from start to finish."
On stage, where the pair spent a bunch of time this summer, Annika and Bryton have started to notice a change and growth in their crowds. They've started to see more fans singing along with them while they play their show. With the radio play and streaming of singles like Waiting Kind Of Girl, Best Adventure, and Blame It On The Neon, it's a little less of a surprise to know that fans have learned the words and are eager to sing along during the show. But the country-pop duo said that it's been very cool to see members of the audience singing along to the non-singles like Shame On Me and Call It A Night.
Their happy place. @LeavingThomas #SiriusXMHouse 🎤 #BootsLife #BootsFam pic.twitter.com/QFn7TXVsAH

- SiriusXM Country (@SiriusXMCountry) August 12, 2018
Behind-the-scenes, Leaving Thomas has a lot going on that we aren't seeing out in the open. They told us that a new album is in the works and that they're looking forward to sharing those new songs with the country music world when they're all ready.
We don't know what the tracklist is going to look like. But whether we get more stripped down ballads with big voices or uptempo bops like Kiss About It, we believe that Canadian country fans will be ready to sing and dance along.
Leaving Thomas has a lot to look forward to. With three nominations at the upcoming Canadian Country Music Association awards, they're excited for the weekend in Hamilton, ON. As always, they know it's a great opportunity to see friends in the industry that they haven't had a chance to hang out with for a while. And whether they win or not, we know that these up and comers are really just getting started. Keep your eyes on 'em.