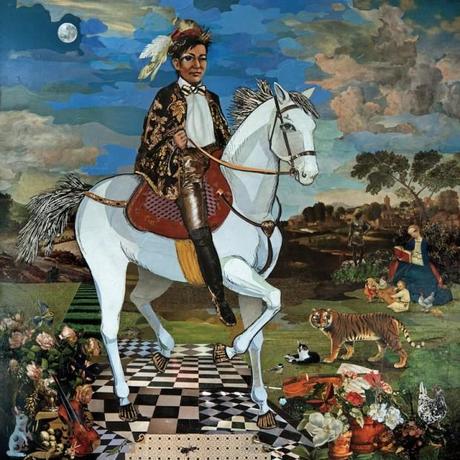 Kishi Bashi – Philosophize in It! Chemicalize with It!
SoundCloud
Here at The Wild Honey Pie, we've become rather fond of violin maestro turned cosmic conductor, Kishi Bashi – and for good reason! Reasons which are not so much further explored on his second album as they are exploded into compact, far-reaching microcosms of joy! With his sophomore outing, Kaoru Ishibashi has forged a body of work that even the most steadfast of naysayers will find hard to reject.
Lighght starts quite fittingly with its creator performing a violin solo, named "Debut-Impromptu", before unlocking the door to a wonderful universe of sounds, sights, colors and positive expressionism. His blending of organic elements such as his violin, acoustic drums and guitars with more synthetic instruments and digital techniques not only allows him to venture further into the realm of indie pop, but also allows him to cross over into some really unexpected and exciting territories. Alongside the sounds created, both the compositions assembled and the lyrical and thematic nature of Ishibashi's songwriting are empathetic, understandable and accurately asses what it is to be human.
Running alongside those elements, though, is a feeling of something much grander and fantastical. There's an almost mythological vibe to a lot of his songs, the kind which lends itself wonderfully to the more sonically psychedelic moments that float throughout the album. As mentioned, Lighght sees Kishi Bashi enter some really exciting creative chambers, one of which is very reminiscent of 70s prog rock. That's right, I said 70s prog rock! Tracks like "Once Upon a Lucid Dream (in Afrikaans)" and the insatiable "Carry on Phenomenon", for example, use soaring melodies, driving rhythms, evolving structures and sci-fi synth sounds to illicit a mental diorama of mystical lands and magnificent beasts from far-off worlds. All of this not only plays into the growth and color palette of Kishi Bashi's sound as it happens, but also gives you so much to uncover over multiple listens.
Lighght is not just a great follow-up from a promising talent — it's a triumphant, stand-alone achievement. It's an audible tonic to lift the blues — hell, even if you haven't got the blues, it's an upbeat wave of pop euphoria that's always welcome. This is just another reason to be down with Kishi Bashi,and if you're not already, then chances are this will change your mind.