Her aversion to politics seems brewing away. Though former IPS Officer Kiran Bedi made was involved in different welfare movements but made her passage for a cause during Anna Hazare's Lokpal movement in 2013 accompanying Arvind Kejriwal and others.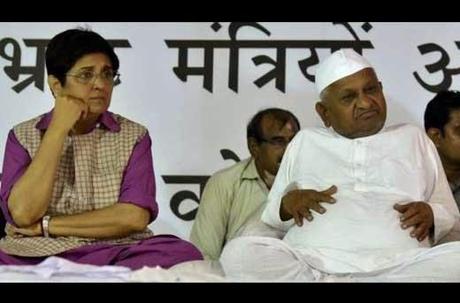 Kejriwal parted his way by joining politics. Thereafter Bedi often criticized Kejriwal 's working style. Ultimately, she has left her negation about joining politics.
"I will consider myself to be ready for it if such an offer is made."
- Kiran Bedi, former IPS Officer
As the general election neared Gen (retd) V.K.Singh was announced the BJP candidate from Ghaziabad LS constituency. Until then she (Bedi) stuck to her words. However, she hailed Narendra  Modi and viewed a competent leader in him. She might have thought or not about the reward but her inclination towards the BJP was visible. And now the time for her reward has come. Her consent brought her desire to fore. After Kejriwal's resignation as the CM, the Assembly of Delhi was in suspended state. Now the L-G is in the wait and watch mood. But the prevailing political situation doesn't allow the assembly to continue except fresh election.
I no more rule out entering indian political service on capability basis. I am moving towards some flexibility in this. @FeminaIndia
— Kiran Bedi (@thekiranbedi) May 20, 2014
Meanwhile, Dr. Harsha Vardhan has won LS election from Chandni Chowk seat. It seems to make a safe passage for Kiran Bedi for the chief ministership of Delhi. As it is known that Dr. Vardhan is the main and strong claimant for the post of CM of Delhi. Now Bedi's consent seems the right strike at the right moment. On the contrary, Dr. Vardhan might not let his aspiration subside. After all he seems to be the main contender for CM of Delhi.
However, in his reply Dr. Harsha Vardhan refuted such possibilities. He said there were no such talks within the party. In this course, the expelled AAP MLA Vinod Kumar Binny on Monday called upon BJP, AAP and Congress leaders to consider Ms. Bedi for the post of Delhi chief minister. He said that fresh Assembly elections would be a wastage of
public money.
In fact, it would obviously disturb Dr. Vardhan. He won't leave his claim easily. Whereas Binny's call would obviously go futile and the assembly election can't be avoided anyway.
# Ujjwal Ghosh
[The author is Sr. Journalist, currently working on his short story book. The views expressed are personal].+