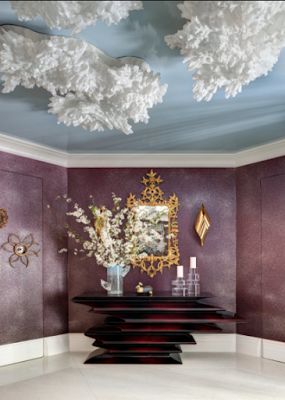 *
Walking thru the doors of a Kips Bay Showhouse is always special.  You know you are in for a treat, and this year on the Kips Bay organization's 100 year anniversary it is no exception.
 Jamie Drake's foyer grabbed our attention as soon as we stepped over the threshold.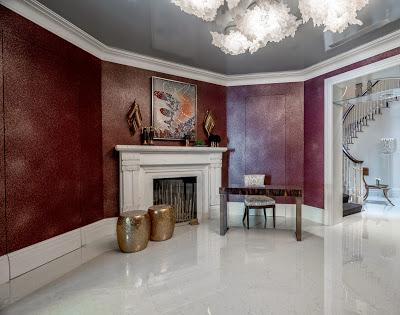 Its dark wine walls mixed with Japanese mica is magical.  The furniture was few but strong, important, and held the space.  The cloud-like lighting floating below a beautiful blue lacquered ceiling are by Ayala Serfaty.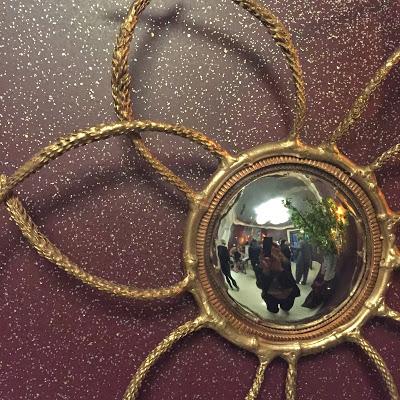 I kinda fell in love with the kitchen.  Never more just a utilitarian space, the design and execution were sublime.  Christopher Peacock's mastery of finely outfitted kitchens is well known. The Tanners Brown, low luster, Farrow and Ball paint was intriguing.  It took on the look of dark brown to charcoal to deep plum as the light changed around the room.  His hand brushed brass hardware was a nice counterpart to the other surfaces; throw in a live edge anything and I am "hooked."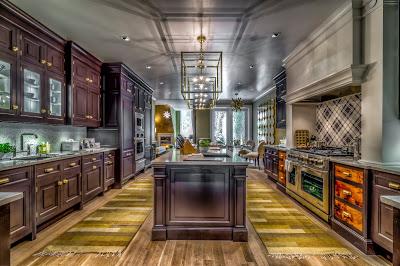 **
Akdo tiles in Balmoral Plaid are a fashionable nod to classic tailoring and warm the hearth behind the stove.  Dacor appliances were featured.  Their smart technology oven is the 1st of its kind.  Synced with your iPhone, you can control its features remotely.  I don't know about you, but there have been so many times I wished I could pre heat my oven while I was still out.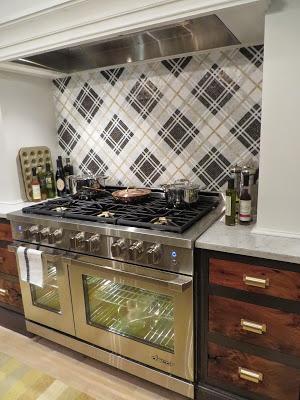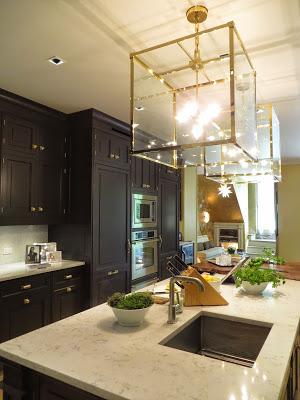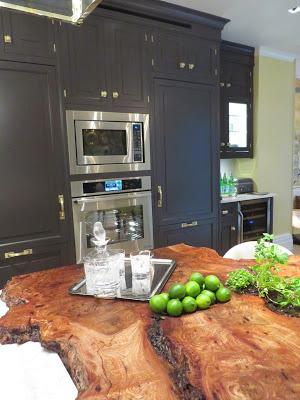 I realized I have been living without a Nespresso drawer which I will have to rectify immediately!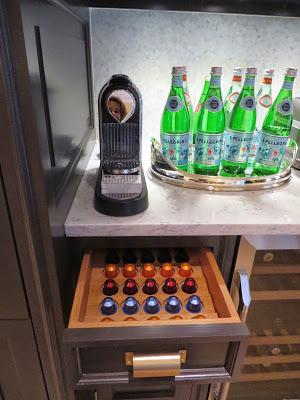 I immediately recognized Christopher Guy's furniture gracefully outfitting the eat in area.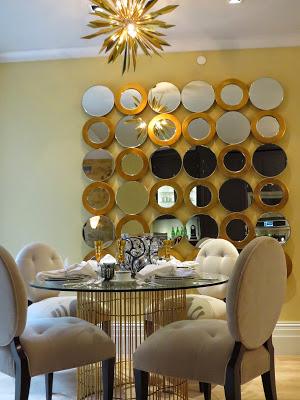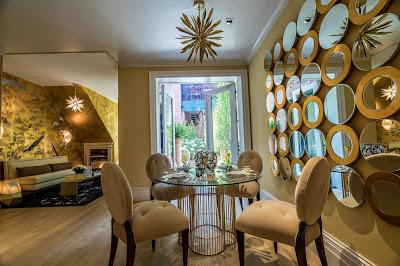 **
Bennett Leifer, one of Traditional Home's "rising star's" created a jewel of a space.  Organic in nature, the lounge packs maximum drama in minimum square footage.  Between the deGourney metallic paper with matching sheers (new to the company), crystal lighting and artful accessories, it is a nice respite from all the cooking you would undoubtedly would be doing (or your professional chef will be doing.)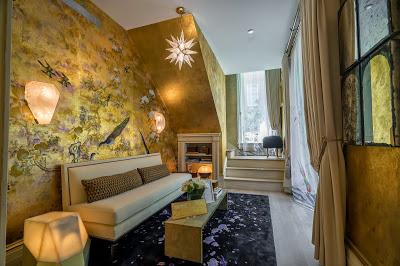 **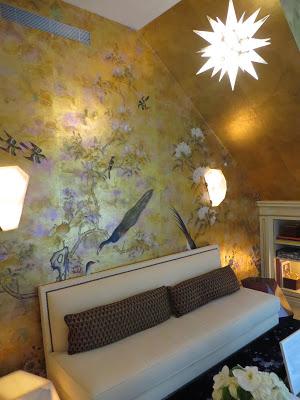 Ascending the back stairs you are whisked  away from the Upper East Side to the Crystal Palace in Pakistan.   An Escapist Retreat by the girls of Tilton Fenwick, who's  pattern on pattern style and color palette always delight, features their fabric from Duralee.  This small space packs a big punch, These ladies are on fire....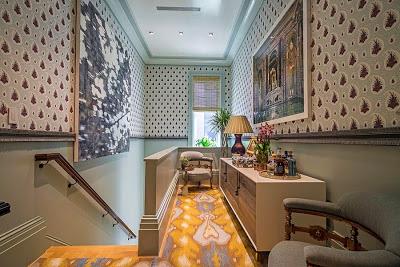 *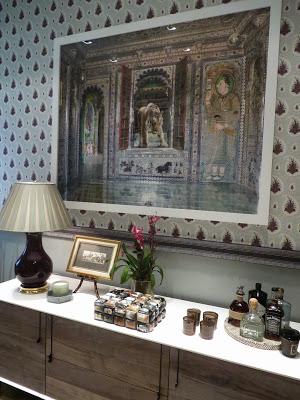 Mark D. Sikes created a cheerful, layered look with equal mix of opulence and casual, Mark was inspired by Italian style icon Marcella Agnelli and features his rattan furniture collection with the British company Sloane.  It's meant to feel timeless and fun. "Nobody wants a stuffy dining room anymore."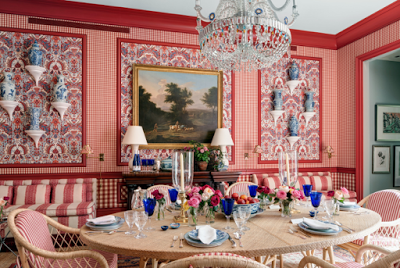 **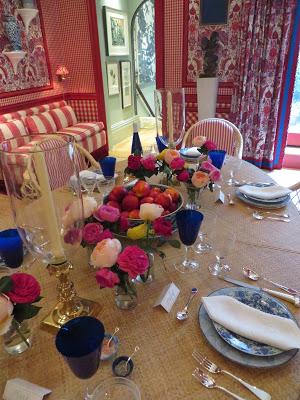 I loved the traditional style mixed with the more contemporary paintings by Harry Cushing above the antique chests.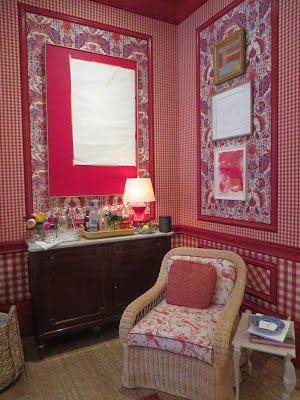 The Princess and the Pea bedroom by Cathy Kincaid began with the bone inlaid bed from John Rosselli & Associates.  This richly layered bedroom, with a document wall covering is seeped in beauty and tradition that also has an escapist quality to it.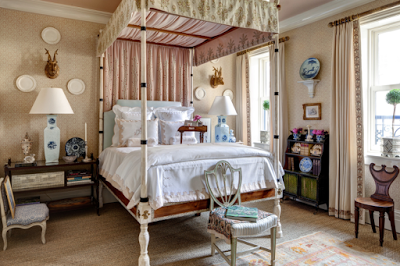 **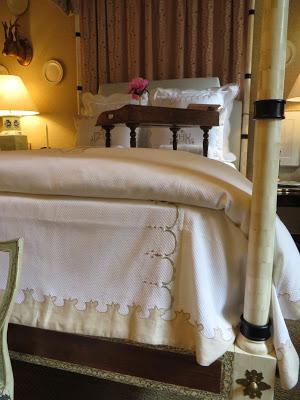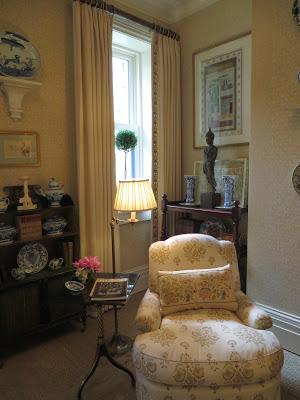 Nobody does embroidery better than Penn & Fletcher.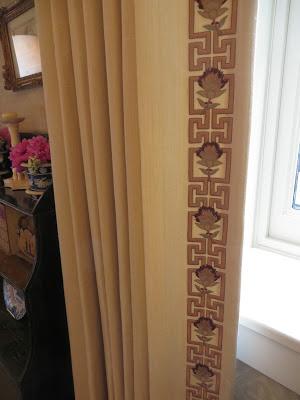 Phillip Mitchell of Toronto created a gallery landing featuring much from his personal collection.  The space is an homage to his mother who recently passed away.  She loved toile and this Mulberry wallpaper is at once deeply meaningful, soft, contemporary. and a good neutral background for all the great art.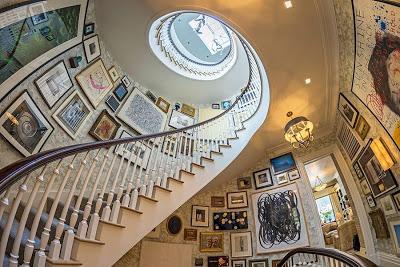 *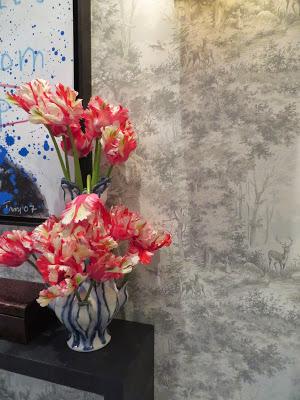 Stop back for part 2
Photos: *Rafael Quirindongo, ** Bruce Buck via NY Times, all others CLI