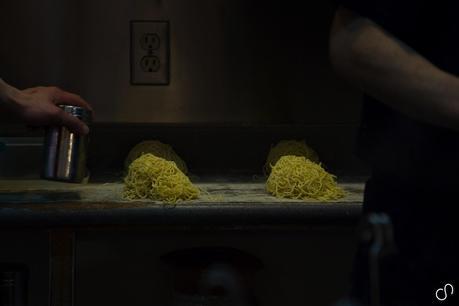 Kintaro is the first name that pops into mind when I think of ramen. Ironically, I haven't eaten there until just recently. For the most part, the hearsay of block-long queues deterred me from visiting. Luckily when Kiely and I went, we beat the rush as there were only 2-3 parties ahead of us.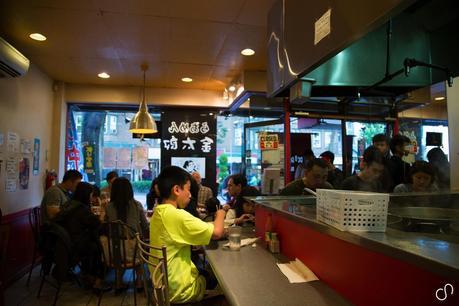 It's a tight space so larger groups would probably have more difficulty landing a table. We sat right next to the open kitchen, which allowed me to peer over the counter and check out the four boiling pots broth made from a pork bone base.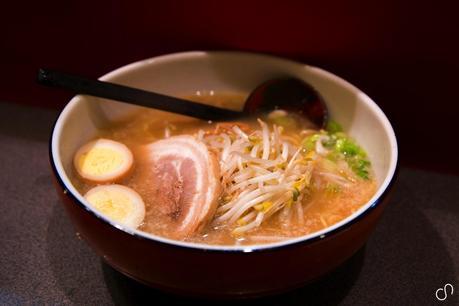 I ordered the Shio Ramen ($7.95) with Medium soup (vs rich and light) and Fat BBQ Pork (vs lean). It came garnished with green onion, bean sprouts and an egg.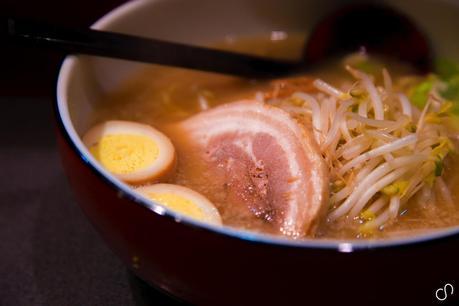 The soup base was much milder than I'm used to, since I usually order miso at other places. It still tasted pretty good though. The fatty pork was indeed fatty, but didn't explode with grease – that's a plus! My only gripe with this bowl was the egg… It was completely hardboiled. No flowy, yolky eggs here, folks.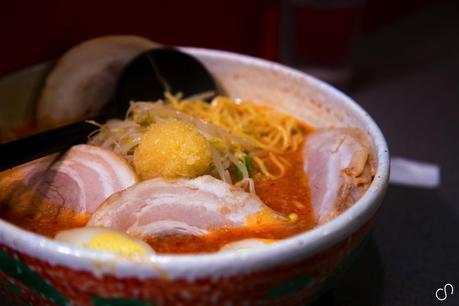 Kiely ordered the BBQ Spicy Garlic Ramen ($11.45), which came with more fatty pork. Holy, Kintaro totally over-delivered on the "garlic" part of the dish. You see that yellow ball in the centre? Yeah, that's a ball of garlic!
I tried this on another visit with hippoCHAN. She was not happy… because of the irremovable garlic breathe, seriously. I brushed my teeth and tongue, as well as gargled mouth wash two separate times, to no avail. Oh well! I would still order the Spicy Garlic Ramen again because I love spicy and I love garlic!
Final Bytes
Long line ups (try going on a weekday, earlier in the day)
Staff is surprisingly attentive despite being so busy
Gyoza's a pretty good appy
Foodobyte's Rating

---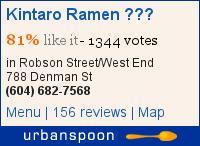 Google+

Curtis Ng