Title: Kinship One and Two
Author: Caroline A.Gill
Genre: Paranormal, Urban Fantasy
Expected Release Date: Oct. 28
th
, 2016
Hosted by: Lady Amber's PR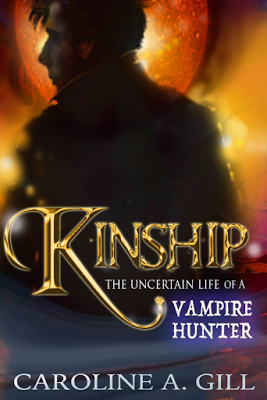 Blurb:
Valen Kildrake has a problem:

Vampires are real,

and they are very, very hungry.




Armed with ancient spells, weapons of pure silver, holy water, and deep-dish pizza,

Valen hunts down the monsters who feed on humans,

confronting death in battle after battle.

But he is only one man against a horde.




Worse, his enemies are getting smarter and bolder.

What will he do when a new force of unknown power appears?

Who can he trust when other hunters hide secrets of their own?

Clever and greedy, vampires are slowly winning the ancient war against

the razor-sharp blades of the trained warriors of Mars Alator.

One by one, skilled Hunters are being torn to shreds by fangs and claws.




Valen fights on, determined to honor his father's memory,

vowing to destroy as many leeches as he can before the inevitable end.




Soon, no one will be left to stop the overwhelming tide of leeches.

Something has to change.

Who will defend humanity if the last vampire hunters fall?




When a mysterious woman crosses his path of destruction,

Valen must decide between honor and hope, between life and death.

And so must she.

And what they choose will change the war.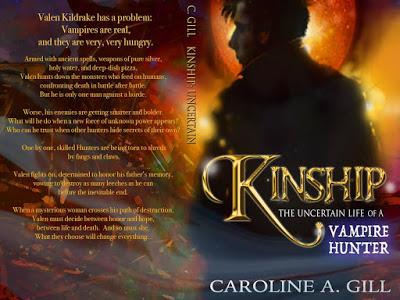 Kinship 2: The Unpredictable Life of A Vampire Hunter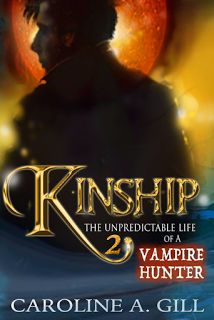 Blurb:
Kinship, Book Two: The Unpredictable Life of a Vampire Hunter
Vampires are here.
Hungry, they strike from the shadows...
Only human blood will feed the monsters, stealing away lives, emptying the cities.
Very few men and women are left to stop the massing horde: the Hunters of Mars Alator.
If it takes his very last breath, Valen Kildrake will track down every last monster, destroy every nest, rescue any survivors, fight, slash, and burn anything in his path.
Valen refuses to fail even as other Hunters die in the centuries-old conflict.
Trained since childhood to fight the leeches, Valen Kildrake hunted alone
until he met the mysterious Adelinde.
Together, on the run, the two vampire hunters must learn to work together.
Secrets define them both.
Secrets that can destroy everything.
When faced with the choice, will Valen's pride let Adelinde in?
Together, can they find a pathway to save humanity
from the bloodlust of the growing vampire horde?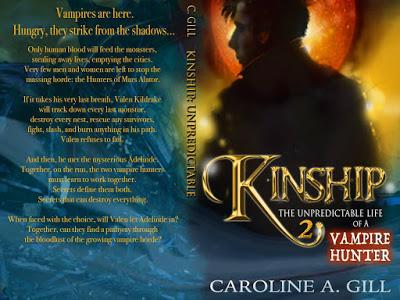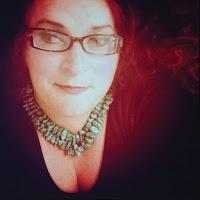 Caroline A. Gill loves eight things in this world: Five oddball children, One husband, and chocolate. A graduate of UCLA, BFA, and Northern Illinois University, MFA, MA, in Fine Art and Art History, Caroline realized that knowledge is personal and so are dreams. And it is the dreams of extraordinary people that enchant her. A story is only worth telling if the ending is new and the journey is an exploration. Find your own voice. Tell the story you have, the one you know best, as only you can. In the words of Firefly: Be SHINY.




Author Links:

Twitter: https://twitter.com/writesuntildawn

Facebook: https://www.facebook.com/Author-Caroline-A-Gill-545423068830114

Amazon: http://amzn.to/2chgwZQ

Goodreads: https://www.goodreads.com/author/show/7121830.Caroline_A_Gill

Newsletter:

Fan Group: https://www.facebook.com/groups/1113704608709346/

Web:

http://www.authorcarolineagill.com/


Excerpt, book one: Uncertain:
"Carefully placing each foot, Valen skirted the hedges, stepping in and out of the little fairy gardens planted by tiny fingers that decorated most of the front yard. There were strings of long, silver Christmas tinsel around the mailbox and across the porch of the bright yellow house. When the wind blew, the little bits of metal refracted the light and made the place cheery and whimsical. At least, they once had.
Valen could smell death: the specific scent of rot and burst intestines that sent cadaver dogs into a frenzy. It leaked from the house like the waft of blossoms from a gardenia tree. It hung in the air for anyone to recognize. Not that many would come here without purpose. There wasn't much traffic down the small country dirt road marked Wilder Way. Prairie weeds flowered in waving fields for miles in most directions. Jackson, Ohio was a small town with only three day cares.
Two now, Valen winced at the correction."


a Rafflecopter giveaway