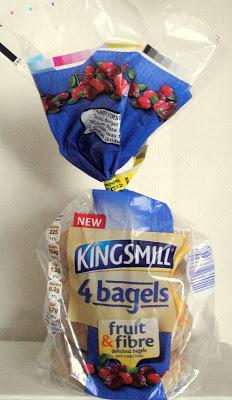 When I reviewed the new Kingsmill Fruit & Fibre bread a few months ago I was also keen to try the other products in the range, especially the bagels. They have proved extremely hard to find, but I finally spotted them in my local Iceland for £1 a pack (4 bagels).
These bagels are described as "bagels with delicious mixed fruit -they're a source of fiber and each bagel provides you with 50% of your daily wholegrain". The mixed fruit in this case is a combination of cranberries and raisins.The high fiber content comes from the mixture of wholemeal wheat and white flour used.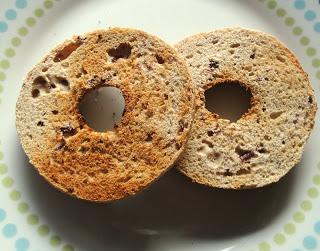 I kept it simple with these bagels and tried one lightly toasted with some butter (or rather some soya spread!). There was no fruity smell coming from these bagels, which I found surprising. There is also none of the usual fruity bread spices such as cinnamon added to these bagels, which makes them much more similar to a regular bagel.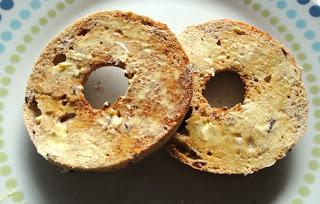 The taste was akin to a wholemeal bagel but with added sweetness from the fruit. However, all the fruit pieces were quite small and I could almost forget I was eating a fruity bread, apart from the occasional sweet hit. I did enjoy these bagels and I would definitely buy more from this range but I would have preferred a bit more flavor to the fruit, especially the cranberries. The Kingsmill Fruit & Fibre Bagels are a good option for anyone who wants to try a sweet bagel but doesn't like the usual non savoury bagel option of cinnamon and raisin.
Nutritional Information (per bagel) :  225 calories, 8.3g protein, 43.2g carbohydrates (of which sugars 10.4g), 1.2g fat, 4.4g fibre, 0.29g sodium
You may also be interested in:
Warburtons Winter Loaf Review
Mission Breakfast Bread Review