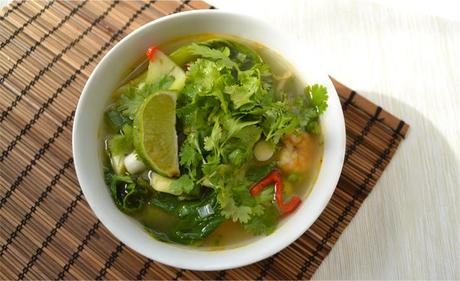 I LOVE pho. I first discovered it when I was working near Camden Market, and I used have lunch at a stall there that did the most amazing Vietnamese food. My favorite was the king prawn variety, so that
'
s what I
'
ve recreated here. If you
'r
e ever in the Camden area, you should totes give them a go, and try some of their other versions. You'll find 
"
KIM
'
s Pho
"
 near Camden Lock in the Stables market.
Pho
 i
s a great healthy option for lunch or dinner, and it
'
s full of flavor.
My recipe takes about 35 minutes to make, so it
'
s nice and quick too. It
'
s also very versatile: light enough for summer, but also warming in the winter. I make mine with king prawns, but it
'
s just as tasty without if you'd prefer a vegetarian option.
Although I haven
'
t tried it with this recipe, you can substitute the prawns for another type of meat all together: Char Sui, Chicken, Beef
...
 Oh the possibilities!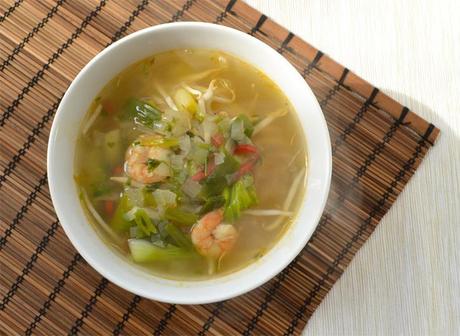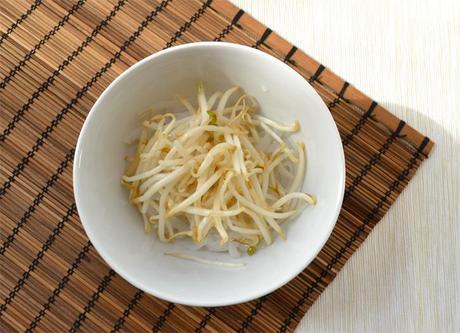 You will need:
1 small onion
3 large garlic cloves
A thumb sized piece of root ginger, bruised
1-2 chillies (I don

'

t like it super hot so I just use normal red chillies, but if you

'

re not scared of some spice you can use a bird

'

s eye chilli)
1 liter of good quality vegetable stock
1 lemongrass stick, crushed
150g king prawns, you can used cooked or raw
5-6 spring onions, cut into 2cm lengths, save one or two to chop up more finely to use as garnish
3 tbsp fish sauce
2 pak choi (bok choy), leaves separated
150g rice noodles (or as per packet for 2 people)
150g bean sprouts
1 lemon or lime, cut into wedges
Method
In a saucepan, fry a small onion until it starts to soften, then add the ginger, garlic and chillies and fry them very briefly until fragrant.
Pour in the stock and add the lemongrass.
Allow to boil for 10 minutes, then lower the heat and simmer, covered, for about 15 minutes. This releases all the flavours into the broth.
Add the prawns, spring onions, fish sauce and herbs (save some herbs to use as garnish) and simmer for 4 minutes.
Add the pak choy and continue to simmer until it

 ha

s wilted and the prawns are cooked through.
Meanwhile, cook the rice noodles as per the packet instructions, and divide them between bowls. On top of them, add a small handful of bean sprouts.
Remove the ginger and lemongrass from the soup, then ladel it into the bowls, so that the noodles and bean sprouts are covered.
Serve with the finely chopped spring onions, coriander, mint, lemon/lime wedges and chilli oil/sauce on the side, and allow everyone to garnish they own bowl as they wish.