RapidShare, one of the most-visited file-sharing websites on the internet, managed to survive the US government piracy hunt for a long time. But now the company has finally decided to give up the battle and join the other dead file-sharing sites, MegaUpload, Hotfile and FileSonic, by ceasing all its operations on March 31st.
Since its launch in 2002, RapidShare served millions of users around the world with its one-click file hosting services. Of course it didn't take long before users start storing and sharing pirated content over the website. This brought in plenty of lawsuits for RapidShare.
The company did make several upgrades and improvements to its' privacy policies to avoid these legal threats. However, even those didn't help them stay out of trouble.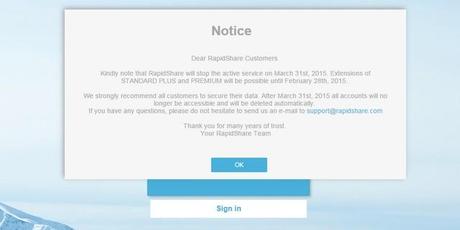 Visiting the RapidShare website now presents users with a notice saying that the active service will stop on March 31st, 2015. Existing customers are advised to backup their data.
Read Also: The British Government Opens Doors to Online Piracy
Some might say it's the end of an era. Although, with today's impressive offerings of cloud-storage services, file-sharing sites are slowly becoming obsolete. RapidShare is making the right move by shutting down.
[Via: File-Sharing Icon RapidShare Shuts Down TorrentFreak ]
(All images, trademarks shown on this post are the property of their respective owners)
Follow @nrjperera – Roshan Jerad Perera