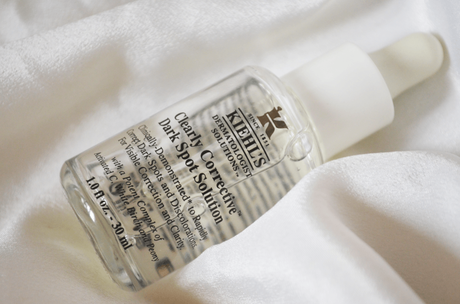 Product Description
Clearly Corrective DARK SPOT SOLUTION is a fast-acting serum that evens skin tone and diminishes dark spots to impart overall radiance and luminosity to the skin: In as little as 2 weeks, 55% of women clinically demonstrated a significant reduction in dark spot intensity. In 4 weeks, 69% of women clinically demonstrated a continued reduction in dark spots intensity and 73% of women showed a significant reduction in acne scarring. Reduction in other skin discolorations was clinically evident among 69% of women.In 8 weeks, 87% of women clinically demonstrated more uniform skin tone to deliver breakthrough clarity. With continued daily usage, Clearly Corrective helps to prevent the formation of future dark spots and other skin discolorations. No Silicones. No Parabens. No Fragrance. No Colorants. No Optical Diffusers
Rs 4650 for 30ml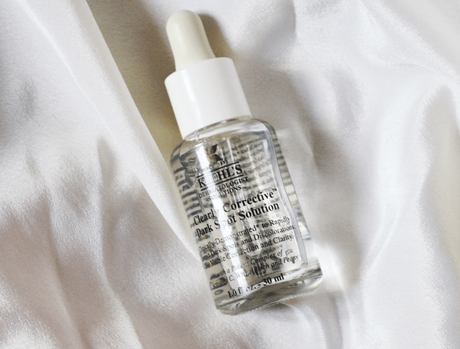 INGREDIENTS
Activated C A potent next-generation active, works faster than the leading dark spot ingredient. Penetrates rapidly to attack deep-set dark spots while preventing the formation of new discolorations for visibly more uniform skin tone and clarity.
White Birch Extract A sugar derived ingredient known for its ability to restore hydration and nutrients to the dermis and epidermis layers of skin . This potent active increases skin elasticity levels and collagen production resulting in restored skin density, volume and thickness.
Works synergistically with Activated C to facilitate discoloration correction for skin clarity Peony Extract Works synergistically with Activated C to facilitate the reversal of discoloration for skin clarity.
No Silicones. No Parabens. No Fragrance. No Colorants. No Optical Diffusers.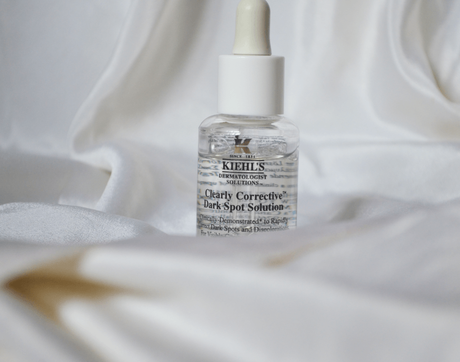 My Take on the Product
Packaging/ Availability: The Kiehls Clearly Corrective Dark Spot Solution serum comes in a glass bottle with a dropper. As the serum is made by doctors it looks like a medical product but with a touch beauty and sophistication. As Kiehl's products are expensive it's advisable to try their sample first and then the product. The samples will be given by any kiehls store after consultation.
Texture: The Kiehls Clearly Corrective Dark Spot Solution serum is runny in texture, has a slight sticky consistency and gets absorbs into the skin very easily. At times i do find it a little oily.
How to use : I apply this right after my CT (cleansing and Toning) routine in morning and at night. I use about two drops where ever there are acne or acne spots.
The Kiehls Clearly Corrective Dark Spot Solution is meant for clearing acne spots, blemishes or on fresh acne. The serum helps in subsiding the acne / pimple over night. The beauty of this serum is that it might not show immediate effects but it eventually builds and makes skin clear and reduces the appearance of dark spots and pimples. The serum does not completely helps in getting rid of pimples but as months pass by their growth gradually reduces, it makes skin appear clearer and also add a nice glow to the face. I use the serum along with my Kiehls Midnight recovery oil and in the morning my skin feels so well nourished and acne free.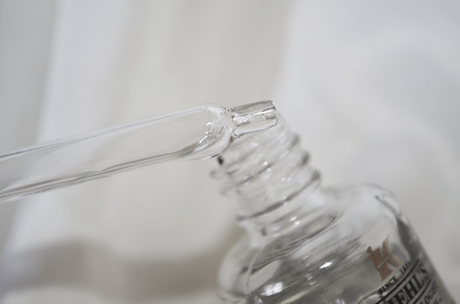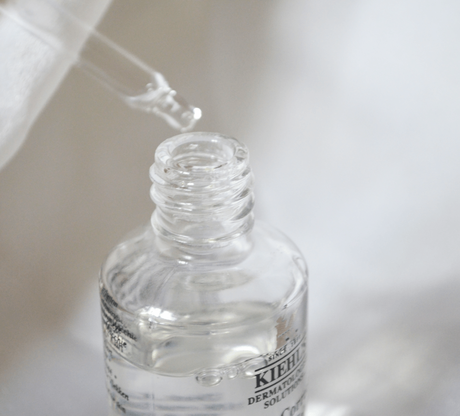 Final Recommendation: Kiehls Clearly Corrective Dark Spot Solution an expensive dermatological product.. if you are looking for good investment for your skin and if the specific concern is acne and the darkspots.. this is one of the best investments you will make for your skincare.. be patient as it will takes time to build on one's skin as per the age and severity of the problem...Miracles don't happen overnight.