Like any boy, mine are infatuated with firefighters.  And firefighter trucks, sirens, gear, etc.
It was time they had some firefighter jackets to wear for pretend play.  I didn't have a pattern (not like that'll stop me), but I had made a kids 'jacket' before with the doctor's coat tutorial, so I figured I'd wing it.
And because I love to share my how to's with you.. here's this tutorial!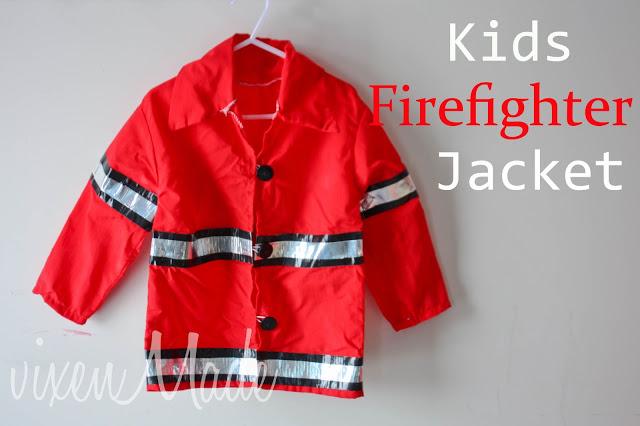 What you'll need:
red cotton blend fabric (anything from a broadcloth to a canvas material)
black & silver duct tape
black buttons
thin elastic 
felt pieces
embroidery thread
coordinating thread
existing sweater/jacket to use as pattern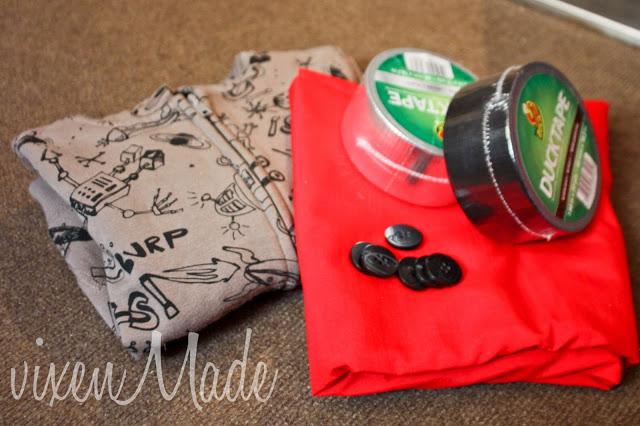 Lay your fabric out and fold over.  Fold your existing sweater in half and lay over top of your fabric.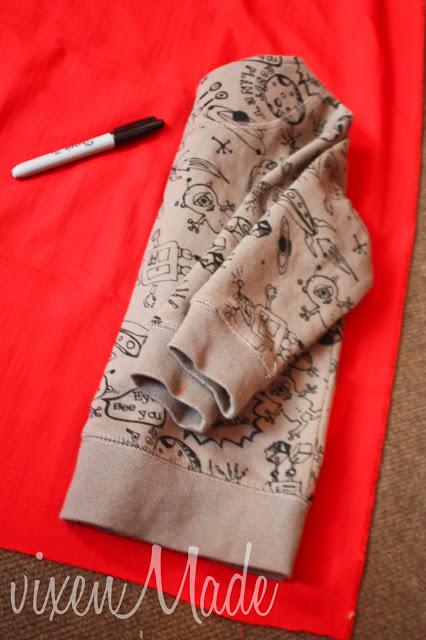 Use a fabric marker or sharpie to trace over your sweater as a pattern.  Add extra so that your jacket is loose.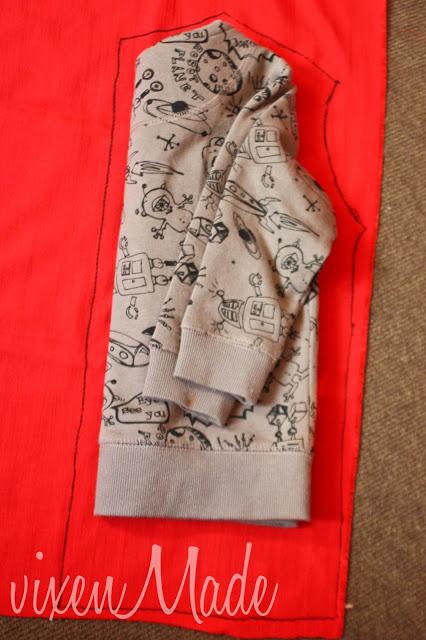 Cut it out and do it again, these are your front pieces.  Then lay one of the pieces over a folded portion of your red fabric.  Line it up with the fold.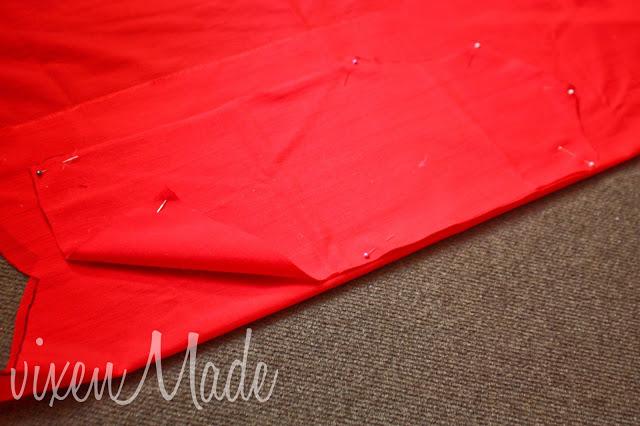 Trace and pin the layers together before cutting it out.  This is your back piece.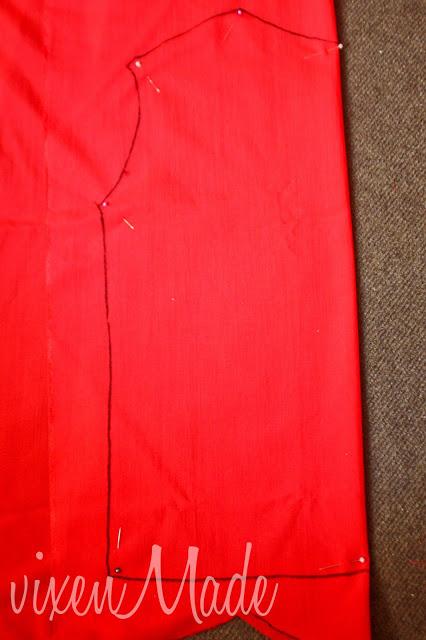 For the sleeves, fold the fabric in half again and lay your sweater sleeve down like this, the top in line with your fold.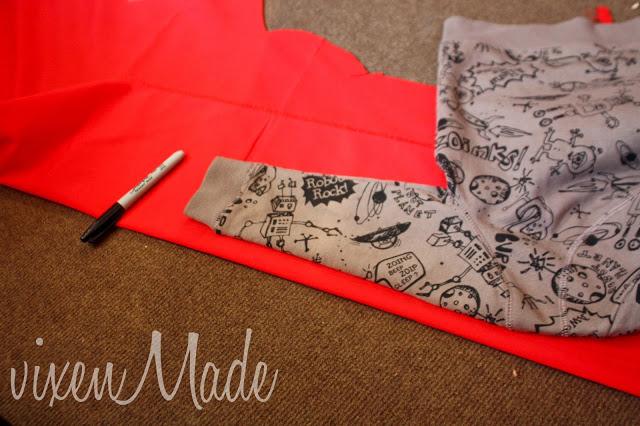 Remember to add a little to keep the jacket a little loose on your child.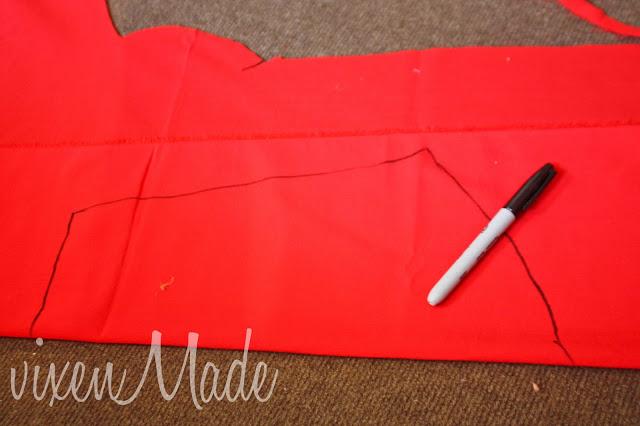 Cut it out and trace another piece for the other sleeve.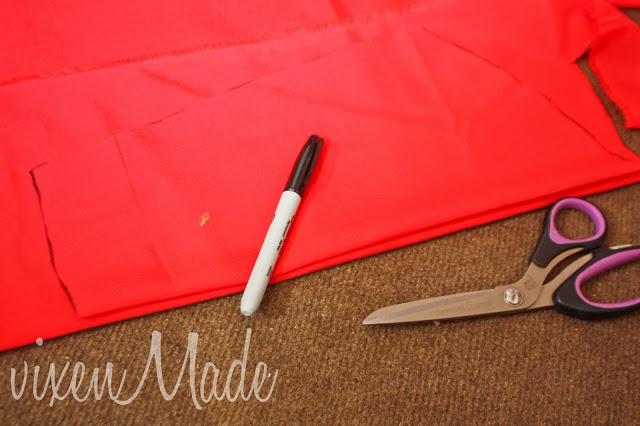 You should now have two sleeve pieces.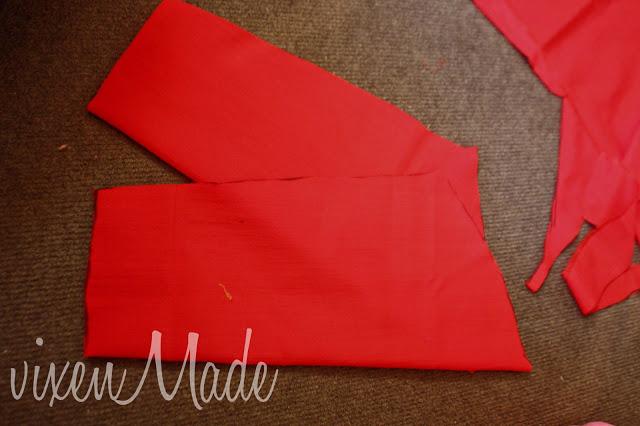 Lay the two front pieces over the back piece, like so.  Pin together.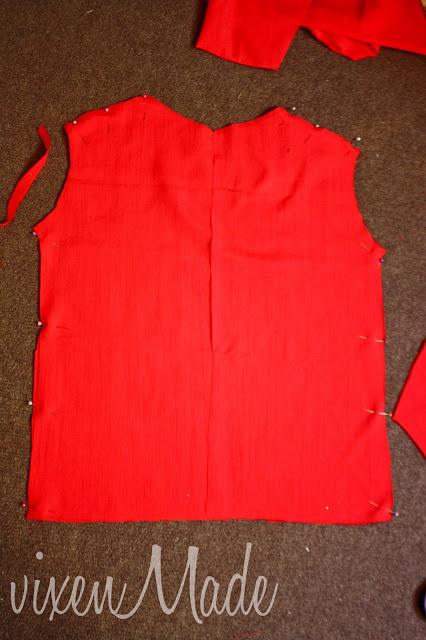 Sew the shoulder portions together using 1/4 to 1/2 inch seam allowance.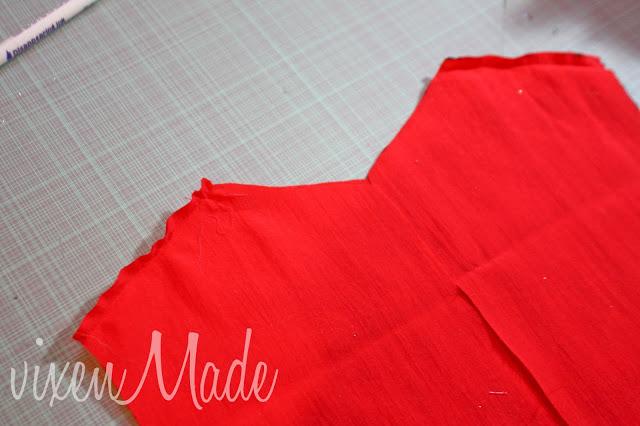 Open up the jacket.  Then open up your sleeve pieces and pin onto your arm holes.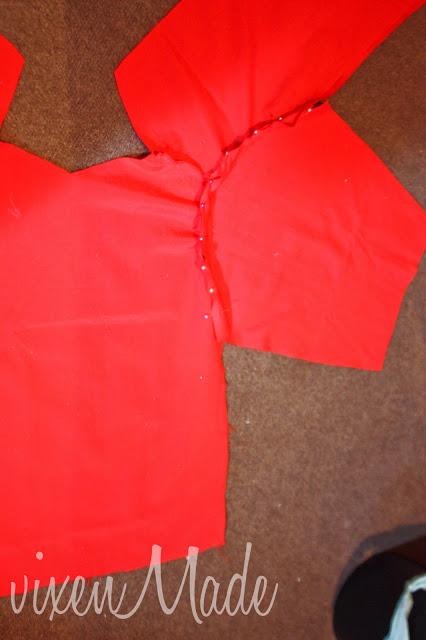 Sew each sleeve on, then serge or use a zigzag stitch to prevent your seams from fraying.Your jacket should look like this.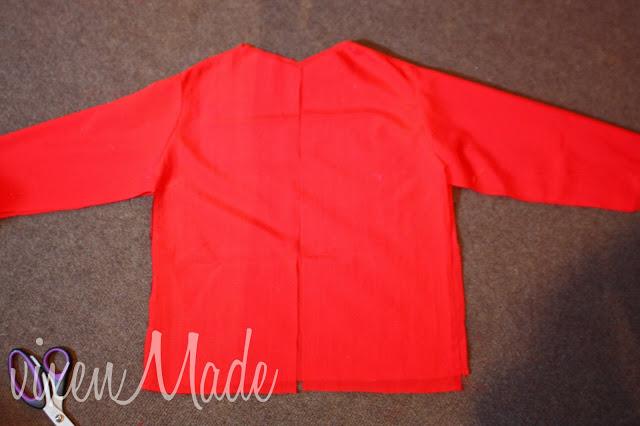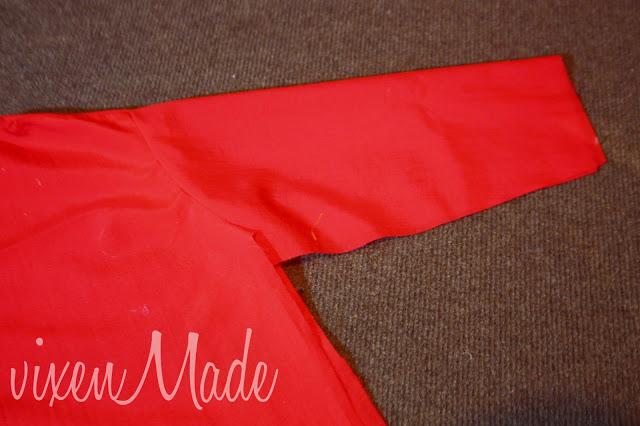 While jacket is inside out pin along the sides of your jacket and sleeves.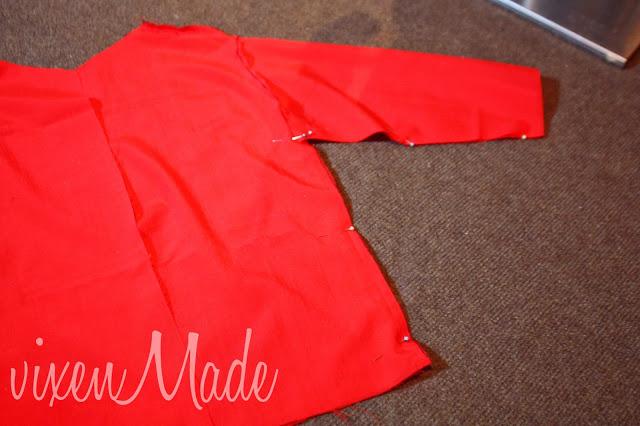 Sew them closed, then serge the edges.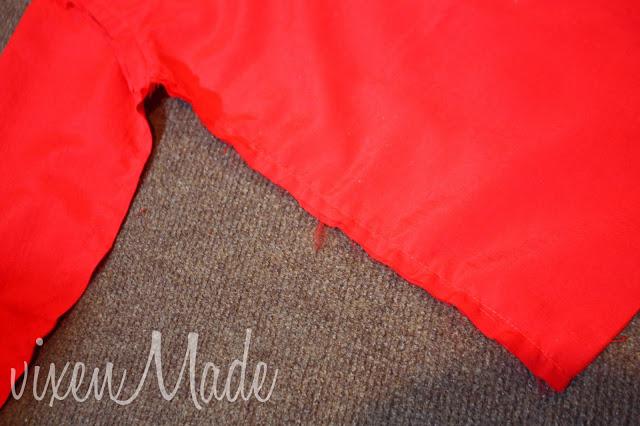 Now you can serge/zigzag stitch the rest of your edges.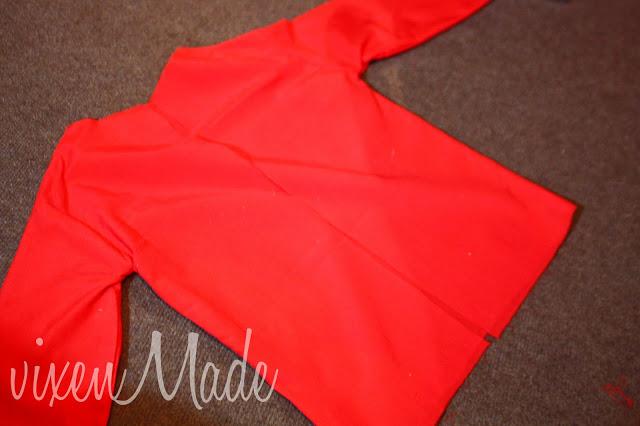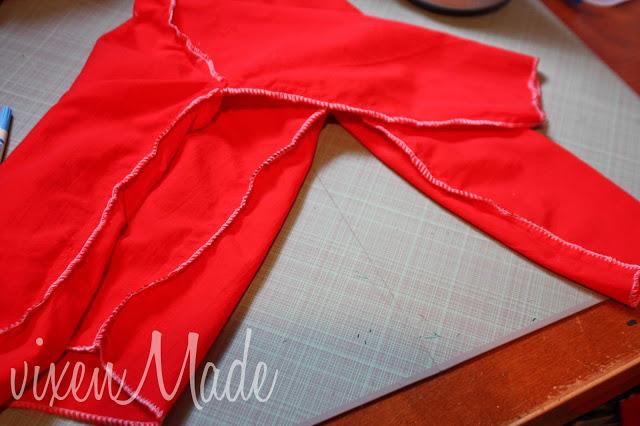 To create a collar, open up your jacket and lay the neck portion over your fabric.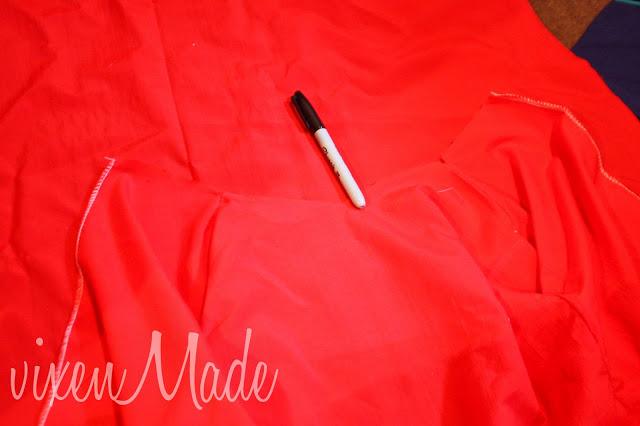 Trace the line, adding 1/2 inch.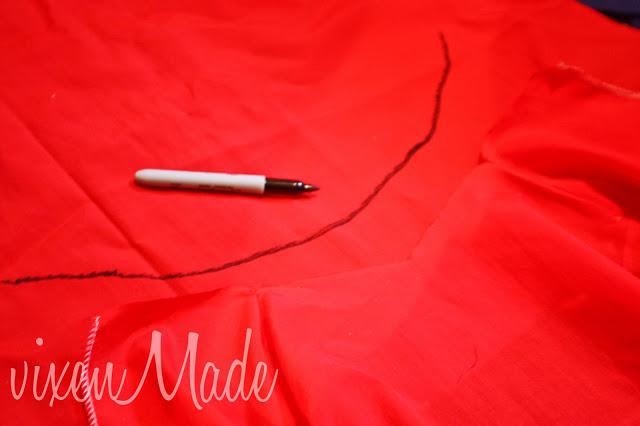 Add a 2 to 3 inch line extending from each end of the line your just traced.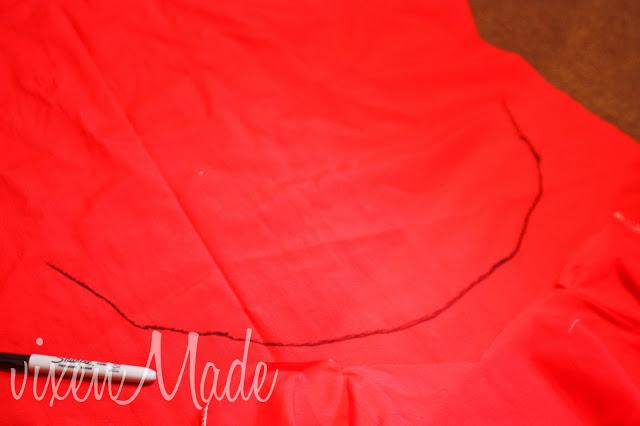 Then connect the ends with a line across the top, like this.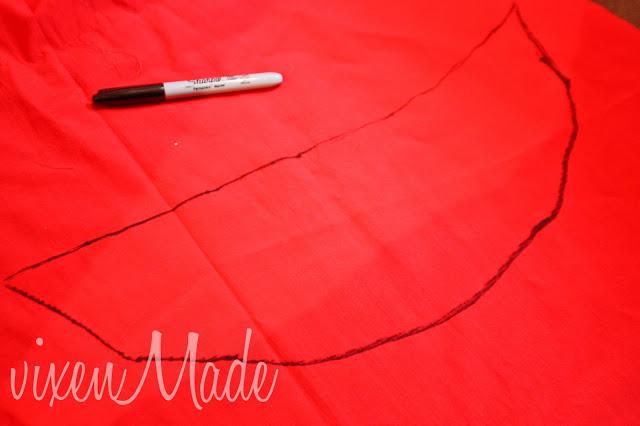 Cut out two of these pieces.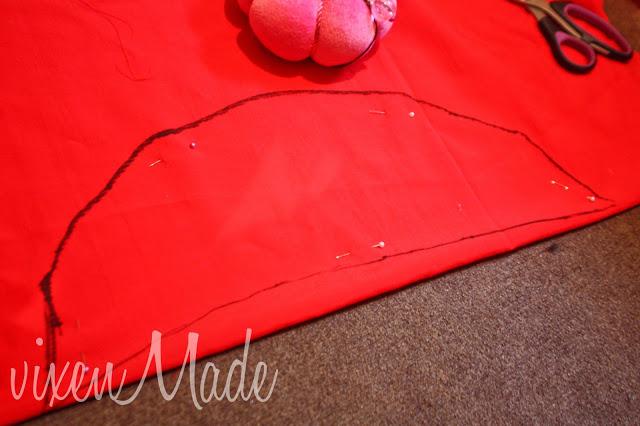 Pin together and sew around the outer edges, leaving the curved bottom end open.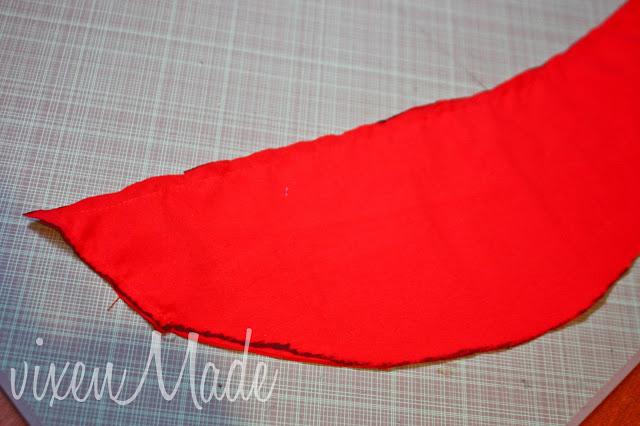 Clip the corners of your collar.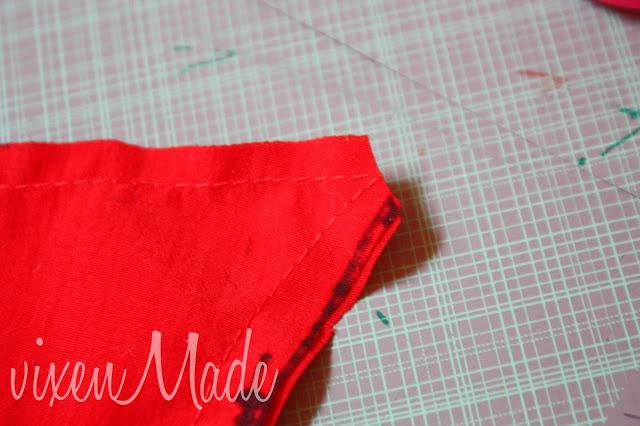 Flip it right side out, poking out the points of your collar.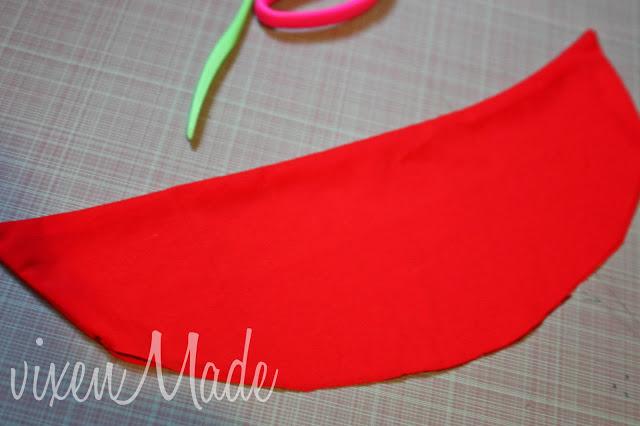 Press the seams with your iron.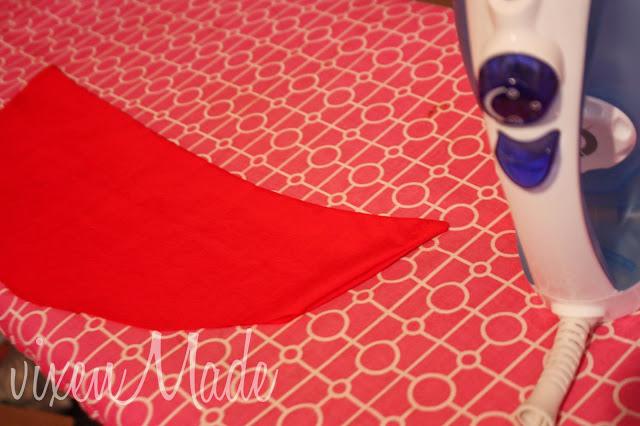 Then pin the open end of your collar piece to the neck of your jacket.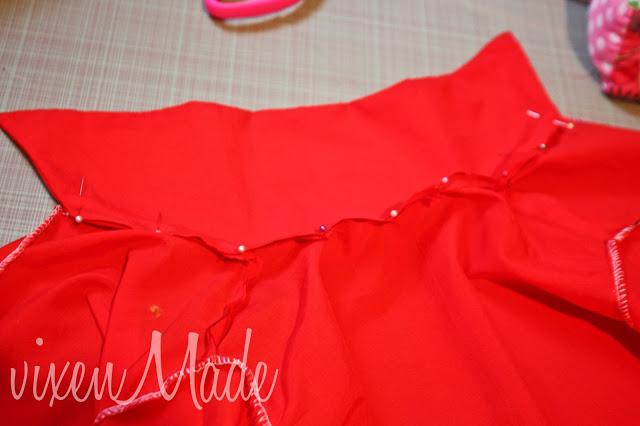 Sew along that edge.  Then serge.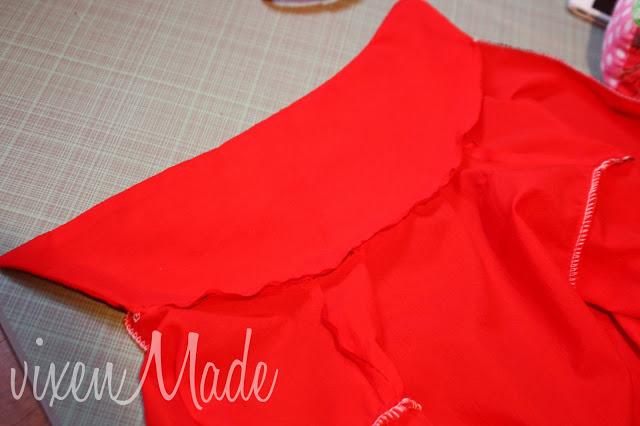 Now fold under and press the bottom and opening of your jacket.  Pin in place.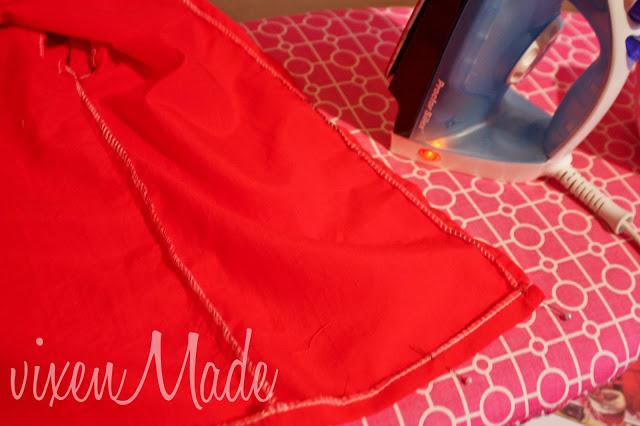 Do the same with your sleeve hems.  Sew all your hems.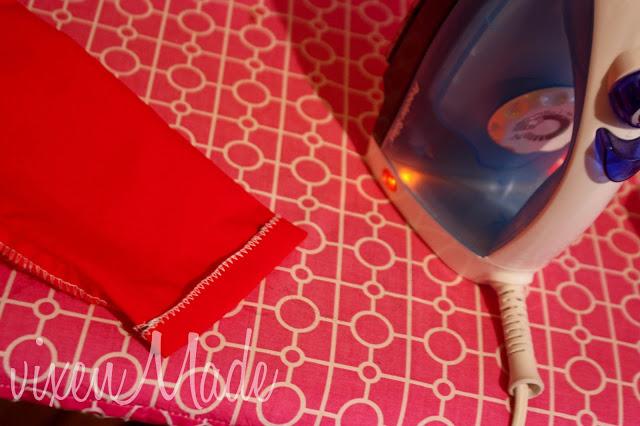 Now you can add the black duct tape.  Measure and mark where you want your middle stripe to be, then apply the tape all around your jacket.  Being sure to flatten your fabric as you go to prevent folds or wrinkles.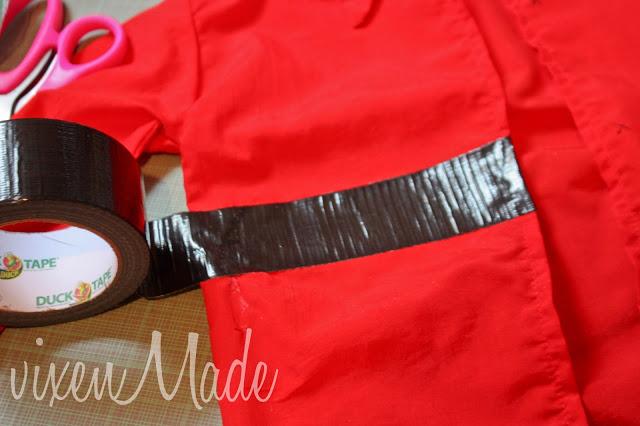 Using a ruler can help ensure you are applying the tape straight.  As for the ends, just fold the tape under your hem.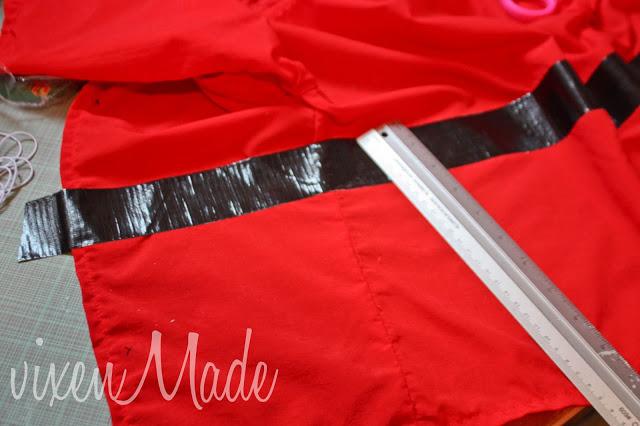 Then do the same for your bottom stripe.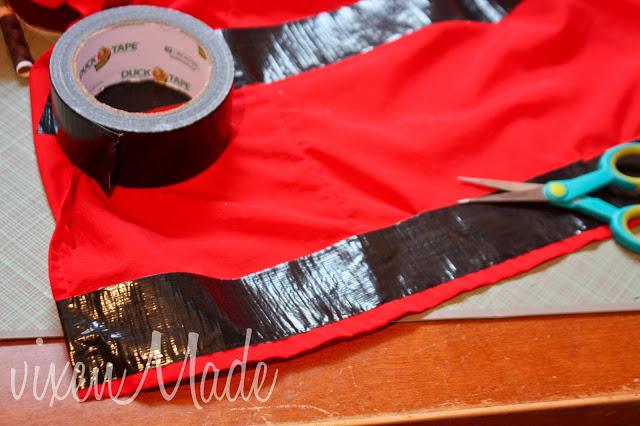 Now you can do the silver strip.  Take the duct tape, and using an exacto knife, cut along the middle of the tape all the way around.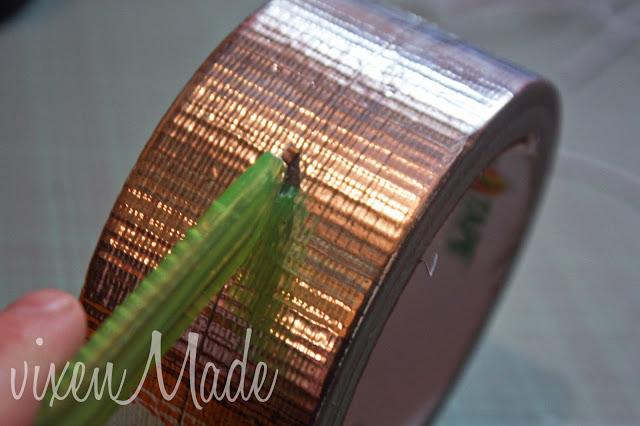 Then you can start applying it overtop of the black.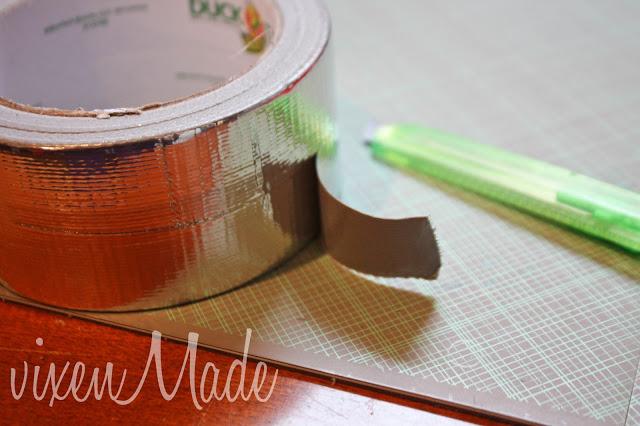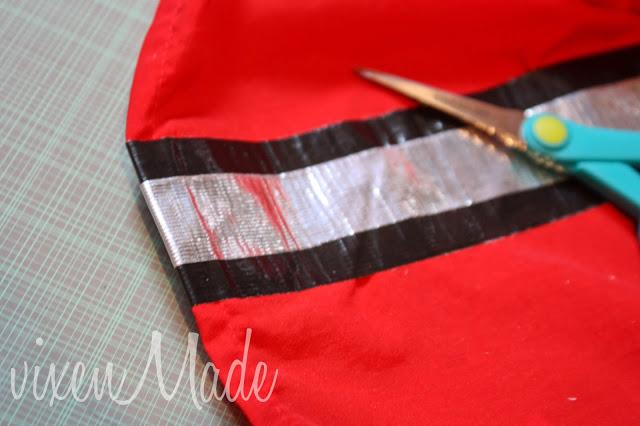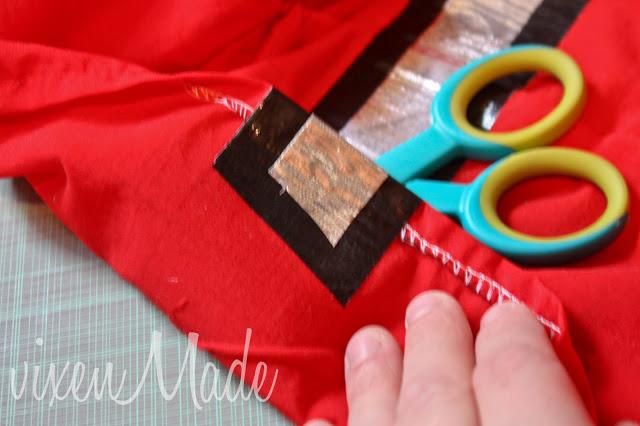 Continue on doing both stripes on your jacket.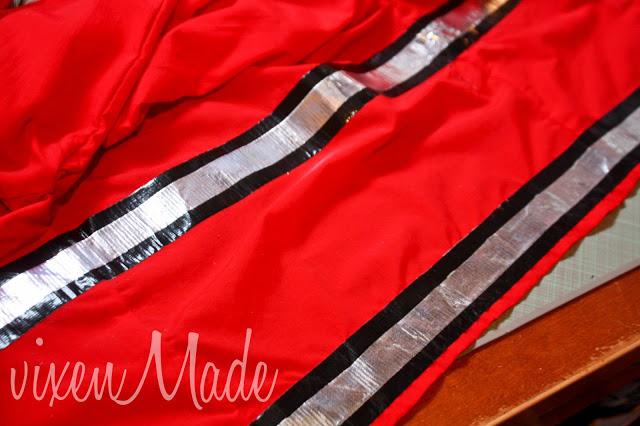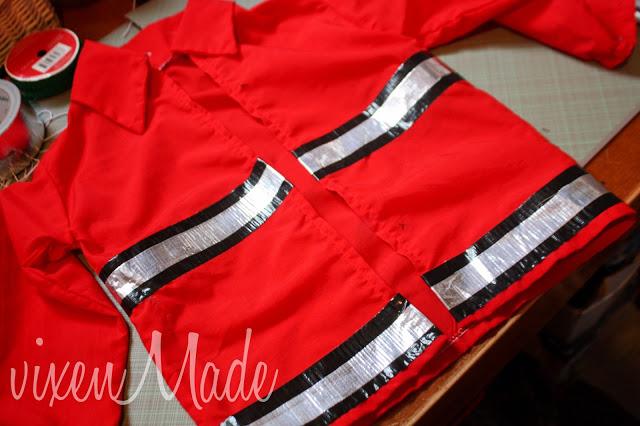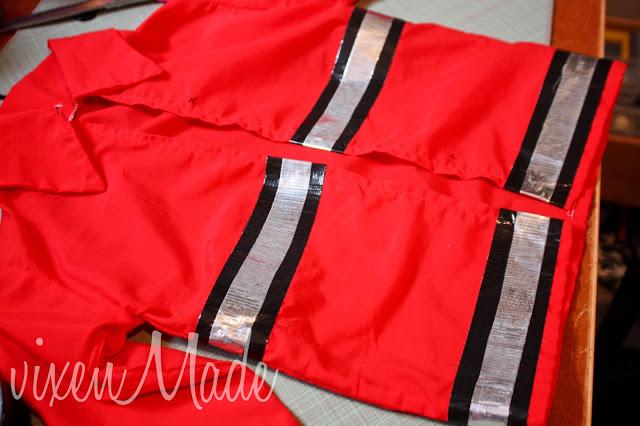 Get your thin elastic and your buttons.  (If you want to be more authentic, purchase toggle buttons instead).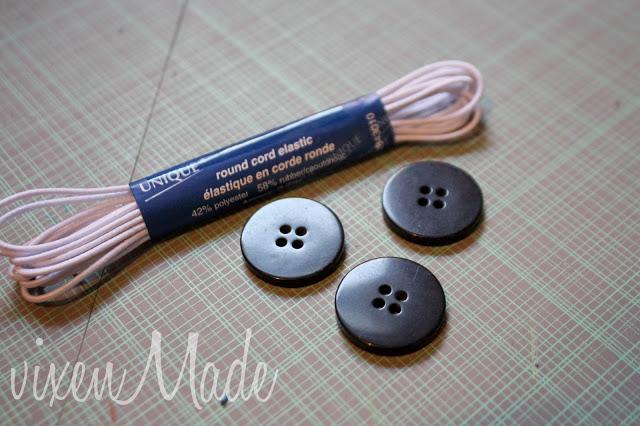 Cut your elastic to be about 3 inches long.  Mark where you want your buttons and elastic on each side.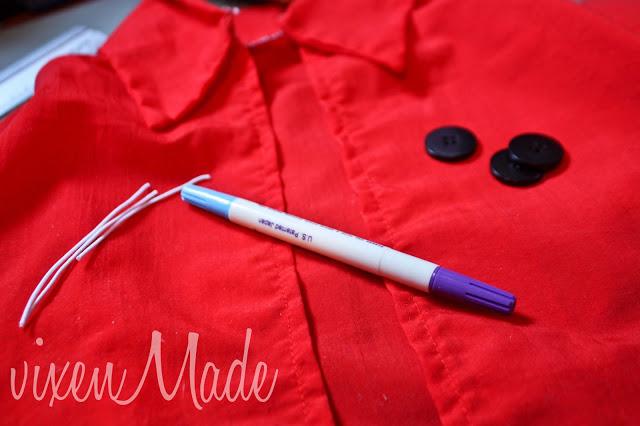 Sew your buttons on using coordinating embroidery thread.  I find the thicker thread keeps the buttons on longer (especially because these are for boys dress up!).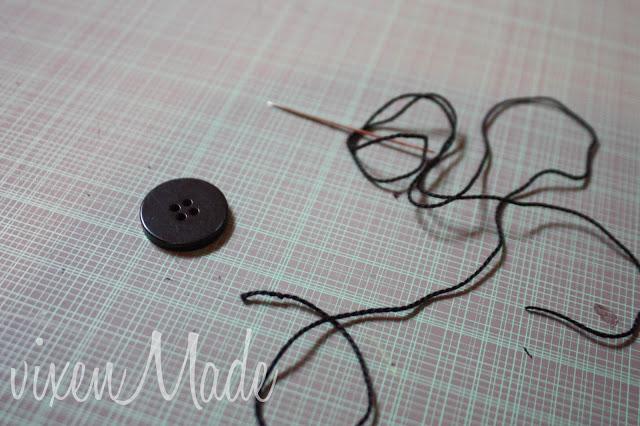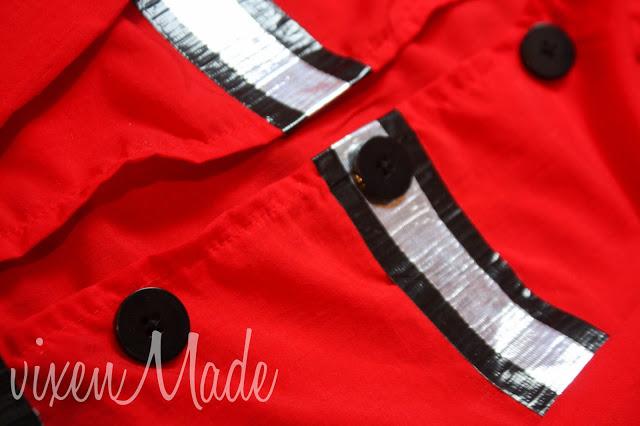 Next cut 3 squares of felt.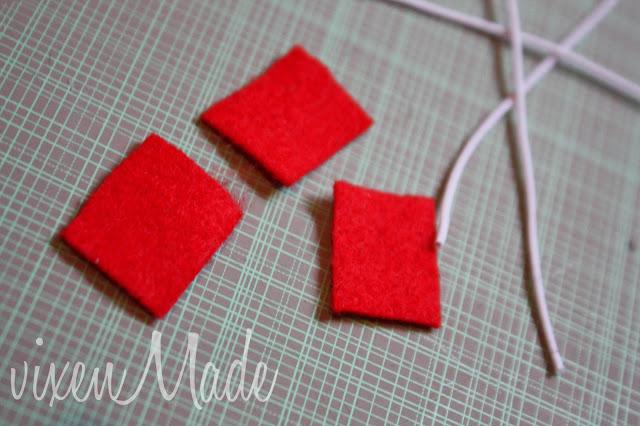 Loop each elastic at your marking and pin the felt piece over the elastic ends.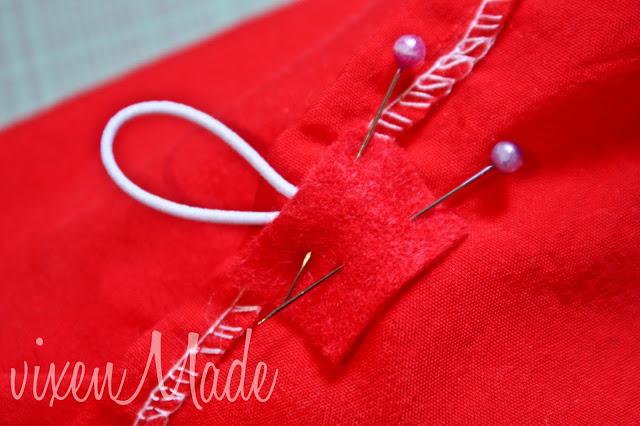 Sew around each felt square, going back and forth over the elastic portion.If you have to sew over the duct taped areas, use vaseline to coat your sewing needle, otherwise the needle tends to get sticky and will not sew properly.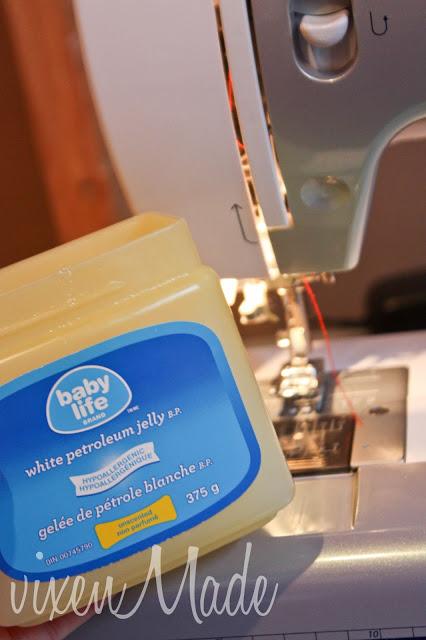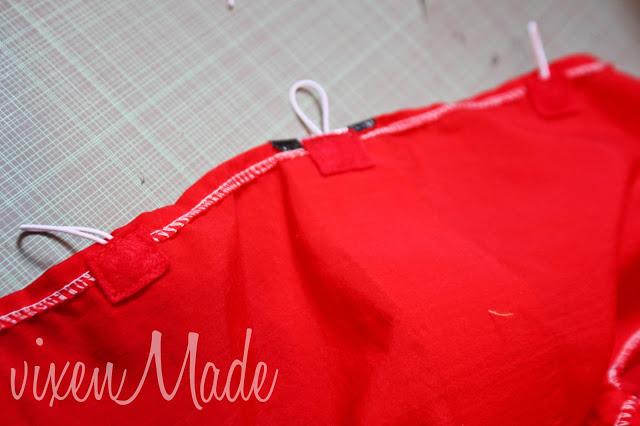 You are finally done!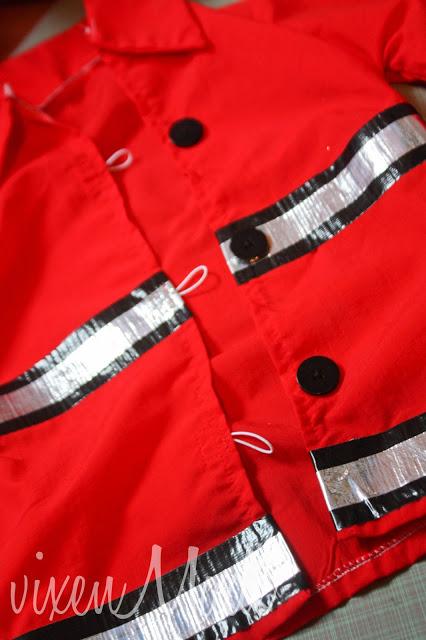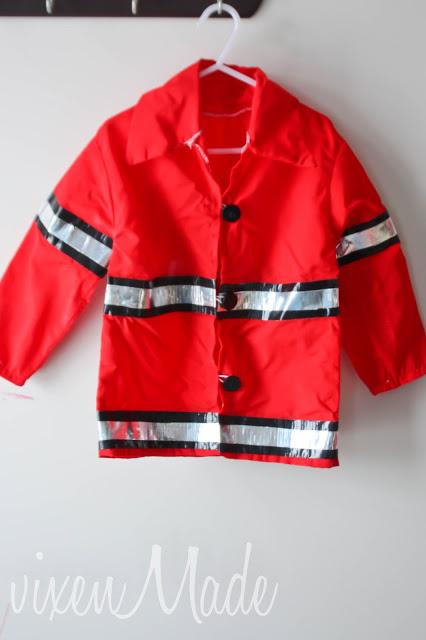 I have twin boys that are nearly 3.. they don't particularly like to share.  So it was only fair that I created two, one for each of them!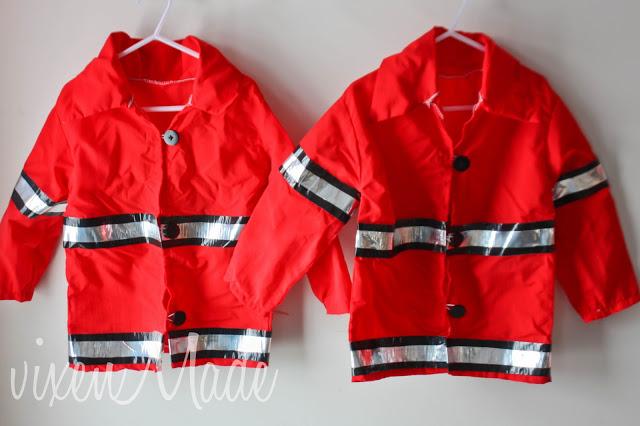 I hope they like them... these are going under the tree for Christmas!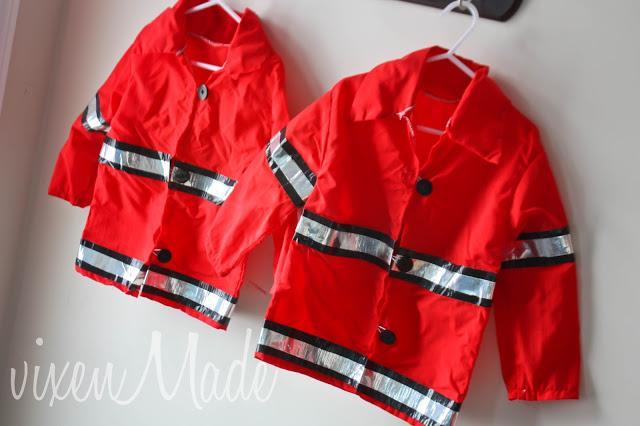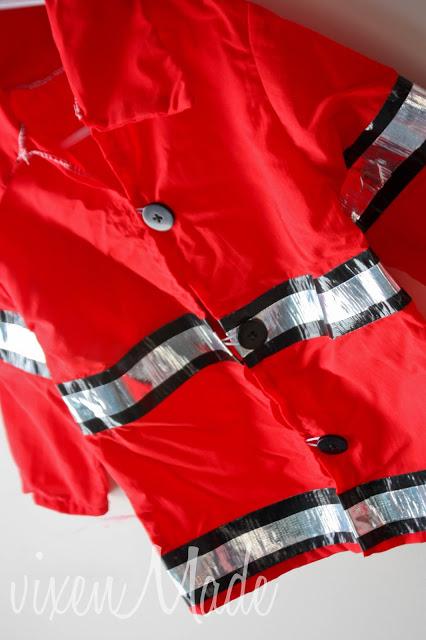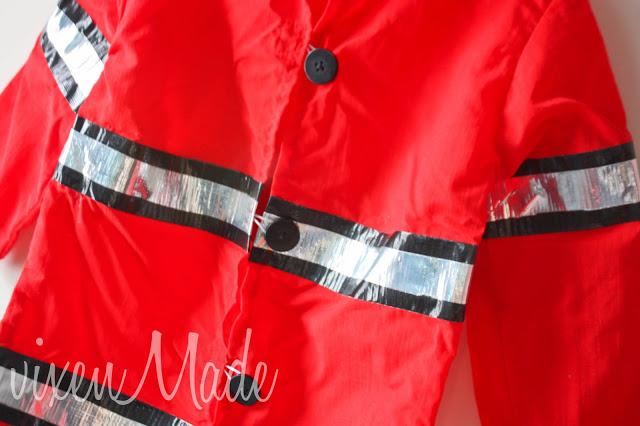 Have fun and thanks for stopping by!!