If you love gardening, teaching your children how to tend the earth is an excellent way to bond and share with them. The quality time spent within a garden is an opportunity for growth–not only for your plants and flowers but also for your relationship with your kids. There are plenty of ways to include children in your home gardening routine. Child-size tools, watering cans and gardening gloves allow your kids to feel that they are an integral part of your gardening team. Here are a few ideas to get you and your children started in the garden.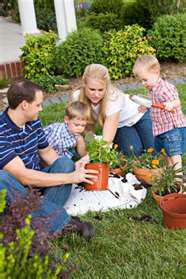 Maintain the fun in gardening. Yes, there are plenty of laborious gardening chores that must be completed, but your child should only help if he or she wishes to. If gardening is to retain its interest for small children, the tedious activities should only be introduced through demonstration and explanation. If a child wishes to help pull weeds, allow him or her to do so, but allow them to move to another activity when it is no longer interesting.
Allow your children to play in the dirt and mud. Most every child enjoys playing in the soil, and it is a great way to naturally introduce your child to the concept of gardening. Use this innate fascination with dirt to your advantage. When you dig up a patch of soil for planting, allow children to work it around with their gardening tools and hands. Younger kids may be fascinated by turning dirt to mud by adding water, so it may be a good idea to leave a small area or empty pot with which they can experiment.
Ask your children to select a few plants or flowers they are interested in growing from seeds. Make colorful garden markers with foam cutouts glued to wooden craft sticks with which to mark their plot. These items are often found on sale at craft stores for very modest prices. Monitor the plants and keep a journal so that children can gain insight about plant life on a daily basis. Measure, draw and describe the plant in the journal and compare the plant's progress as it grows. Your child will feel proud to have grown his or her very own plant from a seed.
If you have indoor or porch-dwelling plants, get children in on the potted fun. Terra cotta pots are excellent for painting and decorating. Allow your child to create a masterpiece with shells, leaves, paint, stones, sand or other decorative elements. Visit a nursery or discount gardening center and give your child a small budget. Let him or her select a flower or plant to keep within the pot.
Explore your garden's natural habitat. There are insects, birds and small mammals that may be making a home in your lawn or garden. Identify and compare species, allowing children to capture safe insects in their hands, if they are unafraid to do so. If you have animal feeders or birdbaths, discuss with children how they attract wildlife to visit the garden. Your child may even wish to sketch or describe these garden inhabitants in his or her journal.
Holly Adams, of Coupon Croc, is the author of this article. If you're searching for gardening tools and supplies, you can find the best coupons on CouponCroc.co.uk.
The Real Supermum
USA
[email protected]