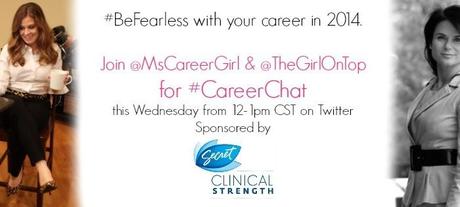 As part of my collaboration with Secret, I have been compensated for my time.
It's January 13th today, which probably means most of America has already abandoned their New Year's Resolution. I've always found it interesting that so many women are quick to set fitness goals each year, but not career goals. Why do you think that is?
Here are a few of my guesses:
• They thought graduating from college was supposed to take care of that whole career thing. No further action needed.
• They don't feel they deserve career fulfillment.
• They are terrified of change.
• They feel "lucky to have a job in this economy." In other words, "if it isn't broke don't fix it."
• They don't love their work, so they avoid the topic of their career all together.
• They doubt their ability to handle something more.
• They feel their career is in control of their company, boss or the economy so they can't change it.
• They've been raised to believe, "work will never be fun or fulfilling."
• They think wanting to earn more money is greedy.
• They feel career goal setting can wait until after age __.
Do any of these mindsets sound familiar?
I think many women avoid setting career goals because they are scared and lack the confidence they can achieve them. Setting a few career goals can build-up your career confidence and when you do make progress on them, will give your overall happiness a major boost.
If this sounds like you, we NEED to talk!
Luckily, I have just the place for you to get the (FREE!) career coaching you need to face your 2014 career goals head on.
Please join me and career author/expert Nicole Williams for a #CareerChat this Wednesday, January 15th , from 12-1pm CST on Twitter.
I'm excited to be hosting this #CareerChat thanks to Secret Deodorant – a brand that is truly committed to empowering women to #BeFearless. This commitment makes perfect sense considering stress sweat is a sure way to zap a girl's confidence at work. Check out these facts revealed by a recent Monell study, in partnership with Secret:
• Stress sweat is the worst smelling type of sweat (really bad news for your co-workers when you're on a tight deadline!)
• When people smell you stress sweat, they negatively judge your competence, confidence and trustworthiness.
In honor of Secret's new Clinical Strength collection (which provides 100% odor protection, now in all the forms women love, for 100% confidence every day) Nicole Williams has partnered with Secret as their Career Confidence Coach. Nicole will help women whip their business and career goals into shape through a series of Career Bootcamp events this year, starting with our #CareerChat on Wednesday 1/15!
What's better than an hour of access to the amazing Nicole Williams, you ask? Secret is giving away career confidence boosting prizes every 15 minutes during the chat too!
Get your career questions ready and think about what you'd like to accomplish in 2014. Then follow @MsCareerGirl, @TheGirlOnTop and @SecretDeodorant on Twitter. For an even better Twitter chat experience, we recommend following #CareerChat on TweetChat.com (TweetChat will block out the noise and add "#CareerChat" to each of your tweets to ensure you stay in the conversation too!).
If you'd like to discuss your career goals with me before the chat, email [email protected] or send a tweet!
See you Wednesday!