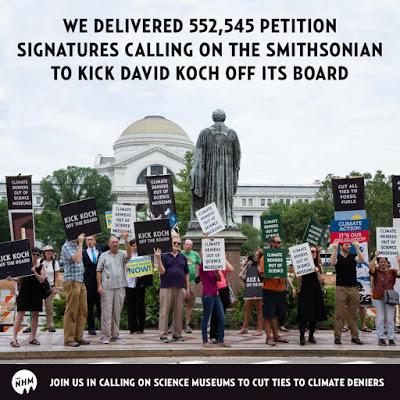 More than 100 demonstrators braved a Washington D.C. heat wave at high noon on a workday to join us outside the Smithsonian National Museum of Natural History's board meeting on June 15th. Together we delivered a whopping 552,545 petition signatures calling on the museum to kick David Koch—a climate denier who has spent tens of millions to fund lobby groups that spread climate science disinformation—off its board.
The event was organized by
The Natural History Museum
and Interfaith Moral Action on Climate, a network of faith leaders calling for bold action on
climate change
. Reverend Lennox Yearwood, President of the Hip Hop Caucus, delivered a speech called "Fossil Free at Last," and climate scientist Joe Romm offered a critique of the Smithsonian's Koch-funded Hall of Human Origins exhibit, which has come under fire for making misleading statements on climate change. Read about the demonstration  here.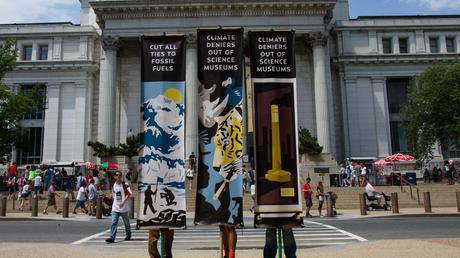 ---
Field Expedition: Toxic Risk, Climate Change, and Human Health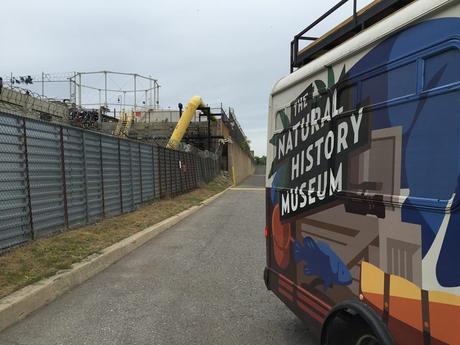 On this recent field expedition,
The Natural History Museum
staff, scientists, and local community members explored the coastal community of Sunset Park, Brooklyn—an environmentally overburdened area within New York City's storm surge zone. The neighborhood is a designated Significant Maritime Industrial Area (SMIA) with a clustering of heavy industrial and polluting infrastructure along the waterfront. Scientist Linda S. Birnbaum, Director of the National Institute of Environmental Health Sciences (NIEHS), joined the expedition with an interest in assessing contamination exposure risks to human health and threats from extreme weather events such as Hurricane Sandy.
The expedition was led by Elizabeth Yeampierre, Director of local community group UPROSE, and Eddie Bautista, Director of the NYC Environmental Justice Alliance. In addition to mapping environmental threats, these organizations are advocating for an overhaul of NYC's coastal zone management plan in light of climate change impacts.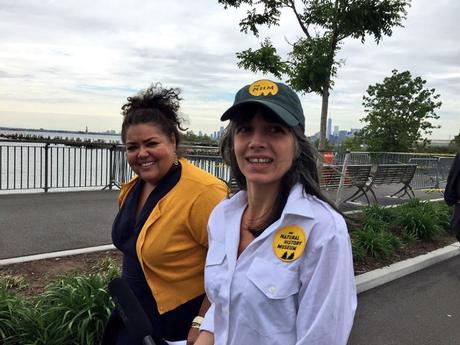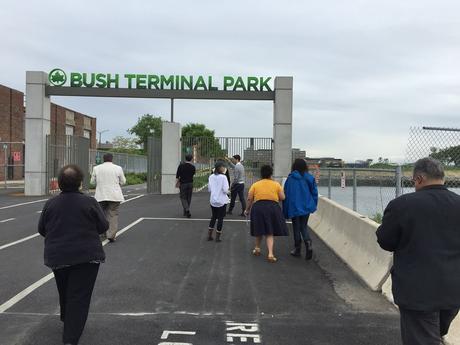 ---
Exhibit and Video: This Changes Everything
At the end of May,
The Natural History Museum
developed an exhibition inspired by author Naomi Klein's bestseller
This Changes Everything: Climate Vs. Capitalism
, as a backdrop for a programming series of the same name, organized by The Foundry Theatre. The series featured an international group of thinkers, activists, journalists, policy-makers, and artists who examined the impacts of climate change at the scale of the body, the community, the country, and the planet.
The Natural History Museum's
Beka Economopoulos moderated a fascinating conversation with scholar, journalist and author Vijay Prashad and Paulina Helm-Hernandez, activist and director of the movement-building organization Southerners on New Ground (SONG). The panel explored the role of nation-states in both mitigating and propelling the climate crisis. How should we transform our relationship to our countries in order to safeguard a sustainable and equitable future? Check out  video from the panel discussion here!
------------------------------------
The Natural History Museum is a new, mobile museum that highlights the socio-political forces that shape nature. The museum made headlines this Spring when it released a letter signed by dozens of top scientists, including several Nobel laureates, calling on science museums to cut all ties to the fossil fuel industry. The Natural History Museum is an independent museum that does not take money from the fossil fuel industry or corporate polluters. We rely on individual donations from people just like you. Please consider making a donation to support our work: http://thenaturalhistorymuseum.org/donate.