It was about a week ago that I returned the two rented DVDs that I'm going to write about briefly this evening.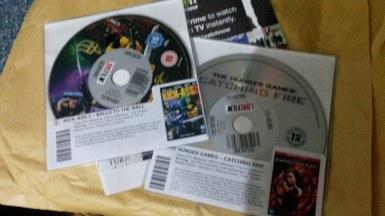 I wasn't at all aware of the Kick-Ass franchise until they showed the first film on Film 4 (in the UK) maybe a couple of years ago now. Apparently, it's not a spurious creation inspired by real-life events but it is in fact based on a series of comic books. Most surprising of all, was the fact that I enjoyed the film, considering that while I can watch a bit of Batman or Spiderman, there are too many other 'superheroes' that I just cannot be bothered with.
Perhaps the appeal of Kick-Ass is that Dave doesn't have a Spidey-Sense or even a discreet cave equipped with all manner of high-tech tools and gadgetry. He may be a British actor putting on an American accent (seriously, why do they do this?!) but he's more of a real boy than Pinocchio could ever have wished to have become.
To clarify how much I liked the original Kick-Ass film… It's the one film where I have enjoyed a performance from Nicholas Cage! (Let's not talk about Ghost Rider – or its sequel!!)
That was the first film and what follows in the second film is much of the same (along with the same level of gore), albeit with a cast that's around four-years older (Hit Girl's had a growth-spurt while Dave's voice has finally broken). but Kick-Ass, as a superhero, has inspired a new generation of crime-fighters (no-one any more spectacular than the next), some of whom he eventually teams up with – including an almost-shock appearance from one Jim Carrey! I've read other reviews where people slate this sequel as one of Carrey's worst performances but this did pre-date Dumb and Dumber To… While in my own opinion; he's not Ace Ventura in this movie but we see another side to character of Jim Carrey that is entertaining and slots in superbly with the universe this series has created.
I enjoyed Kick-Ass 2: Balls to the Wall a lot more than some of the other sequels that have been released within the last five-years. Sadly, the franchise looks unlikely to reach trilogy status any time soon.
The Hunger Games: Catching Fire – three simple words and I no longer have to justify my decision to rent any one of the titles in this series!
It was about a year ago that I saw the first Divergent film at the cinema and I enjoyed like, quite unidentical to anything I had seen before. People were telling me then that it was very similar to The Hunger Games so, when it popped up on Channel 4 one evening, maybe a couple of months later; I gave it my time.
It was hard to ignore the similarities and I enjoyed the experience all the same. I didn't find myself hungry for a sequel to learn 'what happens next'; I was thirsty for a repeat experience. A few more months passed and I noticed Mockingjay: Part 1 was being released on the big screen – I very nearly went to watch this, until a YouTube video casually made me aware that it was not a direct sequel to the original film and that I had another to catch up on first of all.
This sequel runs along similar lines to the original film, with both Peeta and Katniss thrown immediately back in to the Hunger Games for the very next year, with a selection of former winners to compete against. It was never going to be a 'happily ever after' affair to follow the first film now, was it? Along with that, you get to learn a bit more about where this world is now and the truth of the relationship between to two main protagonists. It's enjoyable still and, without intending to spoil anything; Catching Fire ends in a manner quite unlike the film before it. In left me in a position where I genuinely did want to see what happens next – and that'll have to be a future DVD purchase, as Part 2 (which will confusingly be the fourth in the series) should arrive in cinemas by the end of the year.
I never know whether these reviews make a lot of sense or how useful to others they're actually going to be but I thank you very much for reading.