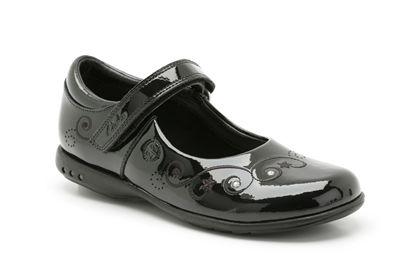 Kia's New Clarks Shoes
My darling little 4 year old starts big school after the summer holidays and I have to say I am definitely ready for her starting school. They get to a certain age where nursery is no longer doing enough for them and they need more.
There was only one place in mind to go shopping for her first ever pair of school schools and that was at Clarks. As she will now be on her feet most of the day at school and running around in the playground at least I know I little feet are protected.
There was a large collection of  school shoes in her size available to my delights as she is only small I did fear her feet would be too small.
Kia chooses her own shoes as it's just not worth the argument and yes the ones with flashing lights won. I have to say I was more than happy with her choice. They were from the enchanting Shoe Fairies range and are very pretty with the star and diamanté details. These shoes come complete with an  agion anti-microbial linings also help keep bacteria at bay.
The gentleman who measured Kia was very professional and helpful and I was very happy with the customer service.
We even bought her a Peppa Pig school bag too from Clarks too, saved me having to go shopping elsewhere as that was the last item left on the back too school list.