Hot jewels + colorblocking = hot! These jewels could be a perfect gift or an awsome plus in any wardrobe. The designer's vision is over the top.
"My name is Kalina and I am the designer behind the brand Kia Fil. My lifelong love of the original and extraordinary combined with my passions for jewelry, fashion, crafting, and art has driven me to create Kia Fil — a brand that entirely represents me, my affection for color, and my outlook on life and style. The design of my jewelry is an eclectic mix of materials and styles incorporated together to create unique and contemporary designs with their own aesthetics. To sum up the vision of my brand with two words it could be modern ethnic. All Kia Fil designs are bold statement pieces that evoke desire, confidence, and individuality for the modern brave and free woman. I would like my pieces to complement a woman's character and body, to inspire them to be wilder about their appearance and in tune with their personality. The brand celebrates individualistic women and their spirit and style. I think of some of my designs as an object which could decorate the house when not worn. The brand embodies heritage, unifying the Eastern and Western, ethnic and contemporary into a new fashion forward silhouettes which are influenced by color, people and culture."
What's the concept of your latest collection? My latest collection, Tropico Dreamer focuses on the energy of life expressed through bold, fun, empowering colors and a mixture of different textures. I researched many different cultures, specifically the traditional African tribal necklaces, clothing, and prints, for color palette ideas, and focused on layer development in textures to reflect my observations.
The collection is a personal reinterpretation of traditional handcrafting techniques like beading and weaving into statement jewelry pieces. The signature use of vibrant colors and intricate textures runs throughout the collection, including industrial metal detailing combined with soft tassels and colorful beads.
Currently I am finishing my fw collection, which is called Urban Tribe. It is again inspired by my core source of inspiration – the African tribes and their traditional clothing, but it is referred to the modern woman and their everyday life. It consists of several basic elements which construct the pieces and create a cohesive look of the collection. The industrial parts in different colorful coating complete the pieces and add an individualistic, urban look to them.  It also has designs which are versatile and unisex and can be worn by men as well. Kia Fil's urban tribe is independent, conscious, brave, they are influencers with their own style and point of view.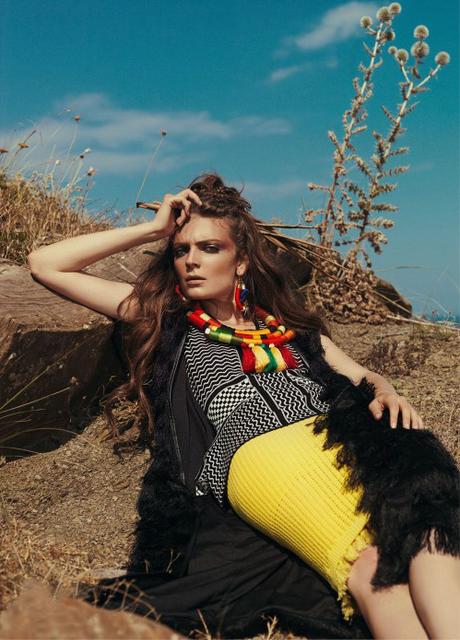 What inspires you the most? I am always surrounded by inspiration. Anything from a flower to a walk in the park, to the geometry of a building, an art object, painting or a good exhibition – I can find inspiration in anything I am surrounded by. Often I am inspired by the materials I am hunting. Curiosity and a constant flow of ideas keep me motivated to explore new materials, techniques and unexpected combinations. Inspiration is everywhere and ever changing, but the greatest and most constant source of inspiration is color and the different cultures and their heritage, which is the core source of inspiration of the brand. Also traveling to exotic and vibrant places where you can get taken away by the completely different and magical vibe of the place, nature and people with their native clothing and crafts, customs and traditions.
What technique do you use and how do you choose your materials? My signature material is rope, which I combine with semi-precious stones, industrial parts, and different textiles, reflecting the idea and the concept I would like to convey in each collection. When I have a seed of something in my head that I want to create I draw a few sketches and start to think what materials would accompany it best. Sourcing new materials is like a treasure hunt for me.
The main approach I use to design my jewelry is creating a contrast, using color blocking, different textures, layering various materials. The main technique I am using to make my designs are hand-weaving, beading and stitching. Being an admirer of the slow sustainable fashion movement, all pieces are handcrafted using high-quality, often upcycled materials in limited editions.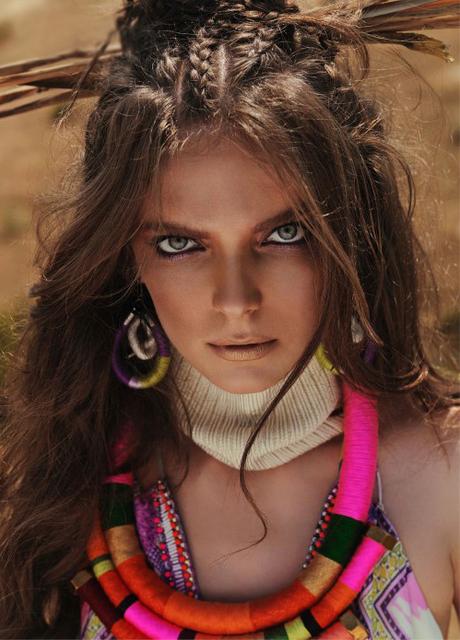 What's the future of fashion according to you? I imagine a world where the technology and the traditional craftsmanship is united, developing a new sustainable way of producing, using new biodegradable and organic materials. A world where no one has to work in non-humane environment, a world where we cherish the nature and live consciously.  I also imagine the customers' interest for fast fashion to go down and people to be able to see the merits of buying a hand crafted item which is equivalent to quality, individuality and value.
What's your next project? Along with the finishing touches of my current collection I already have a vision for my next project. I would like to incorporate more metal detailing in my following collections which I think would develop a very nice contrast between the softness of the threads and ropes and roughness of the metal. So stay tuned! Also I am always open to collaborations. I am fascinated with the idea of working with a fashion designer and both to create a complete story with clothing and jewelry
http://www.kiafil.com
Instagram @kiafilstudios
Facebook @KiaFilStudios
Etsy @KiaFilStudios