A sweet post for all to celebrate beautiful moments in life, which goes unnoticed!!
This is also a great festive sweet...as it is easy to make and loved by everyone :)

These days life is so short,so unpredictable, and so hectic that we tend to forget how to celebrate tiny moments which bring smile on our lips...this post will definitely bring some smile on every one's lips as everyone loves Gulab Jamun and not ready-made but homemade and that too made of Khova!!

Gulab Jamun is my loved sweet....well sweets are my weakness :) I love sweets.
Never had interest in having store bought or ready-made packet jamuns, but wanted to make perfect Gulab Jamuns with Khova/Mawa.
I love most of the dishes with Mawa, such as kulfi,ice-cream and cake :) list is endless...
Today is Nagpanchami and I didn't find any Haldi Leaves to make traditional Patoli so this is an alternative for me. :)
Try out everyone, indulge in this bowl of heavenly sweet jamuns and enjoy!!!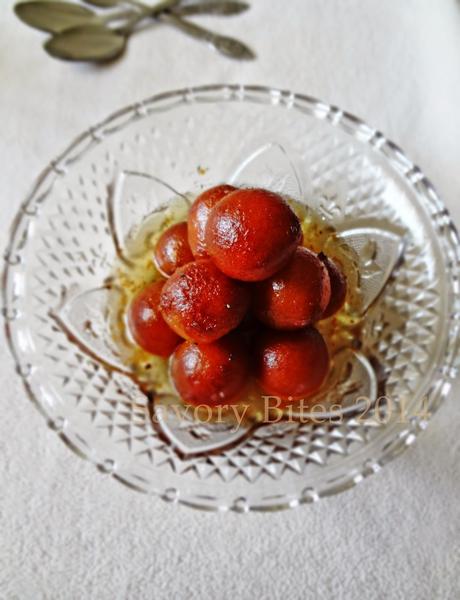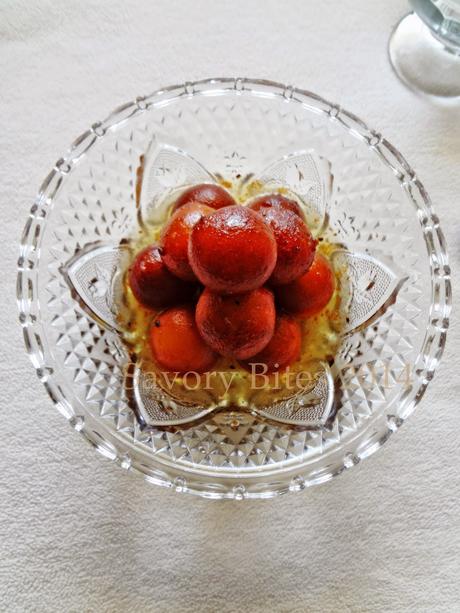 1 & 1/4 Cup Mawa/Khoya/Khova
1/3 Cup Maida
a pinch of Baking Soda
Milk as per need
2 Cups Sugar
2 Cups Water
1 Tsp Cardamom Crushed
1 Tsp Rose Essence
Oil + Ghee for frying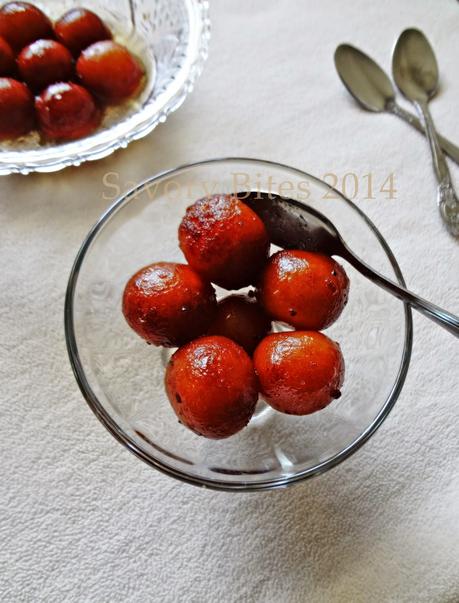 Method:

In a bowl, add Khoya, maida,baking soda and mix well. The Khoya will be of crumbled texture so knead well with milk.
Add milk little by little to make soft dough of the mixture.
In a pan, add sugar and water and boil it. Let the sugar dissolve completely. Boil this for around 10 mins or till the syrup is slightly thick and still will be easily soaked up by jamuns. Turn off the gas.
Add cardamom crushed and rose essence. Keep it aside.
Make small round balls of dough. Make sure there are no cracks in the ball.
In a frying pan, add oil and ghee. Use equal quantity of both.When its hot drop in 4-5 jamuns at a time and fry on low flame.
Do not overcrowd the frying pan.
Keep turning the jamuns frequently. When they are golden brown in color, take them out.
Drain them on tissue paper. Drop the jamuns when they are warm in the sugar syrup. Make sure the sugar syrup is warm too.
Serve chilled and enjoy!!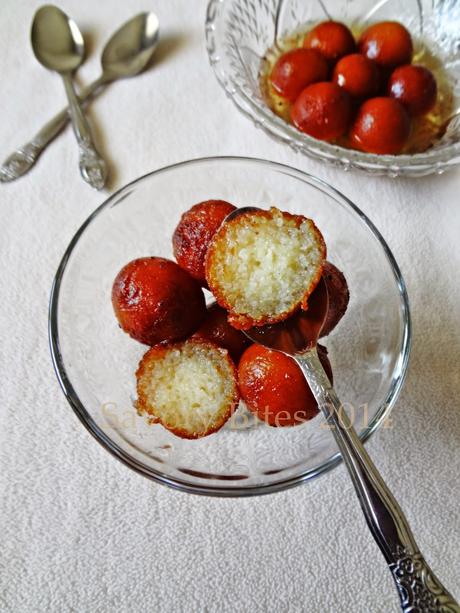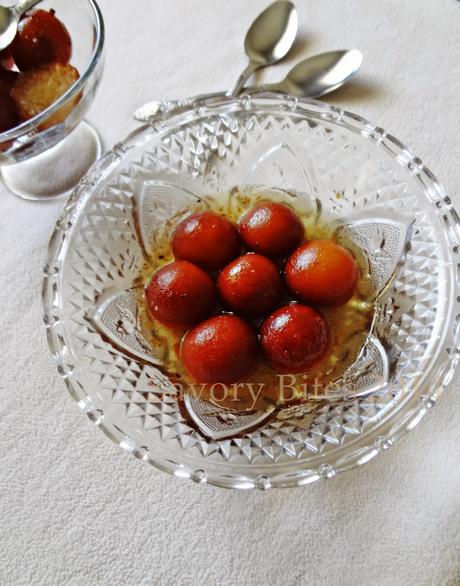 Tips:

If you don't want to use milk in making dough then you can use water too.
If the dough gets dry, then apply little ghee to your palms and roll the ball again. There should be no cracks in balls or else the jamuns will break.
I used half oil and half ghee to fry jamuns. You can use only oil or only ghee too. Sometime you don't know when the store bought ghee was made and the jamuns might break if the store bought ghee is not recent.
Always fry jamuns on low flame. It might appear that jamuns turn brown outside but inside they might be still raw. So best option is to cook them on low flame. Keep turning them.
Jamuns and syrup should be both warm when adding jamuns to syrup or jamuns wont absorb syrup so well.
Sugar syrup consistency should not be watery or too thick.
Enjoy Eating!! :)