Is Your Customer Relationship Built on Sand or Rock?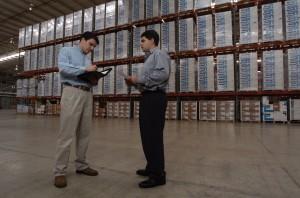 Today's business is fast-paced, ever-changing and infused with a lot of "bells and whistles" technology, which can make it easy to overlook the foundational elements that are important for a strong customer delivery model.  Technology, especially, can be relied on so heavily that it provides a false sense of comfort or contentment for account managers, creating a diversion from the true building block components.  As a former athlete, I am familiar with how the importance of the fundamentals can be overlooked as success and experience build. The same can be said for account managers in a professional setting.  It is important that we step back and re-assess the "blocking and tackling" elements to ensure they are in place and performing well.
So what are the basics to managing a customer relationship? It really comes down to having the right people and processes in place.  While this probably isn't a surprise, let's take a look at what that really means. There's a saying that's been used in reference to implementing technology that says "don't pave the cow paths."  Technology can be a wonderful thing; however, without the willingness to change current state processes and engagement of employees to change, technology will only make you more efficient at poor processes. So here are five foundational concepts that should be considered on a quarterly basis.
5 Critical Basics of a Business Foundation
Build the Right Team.  Getting the right people in the right position is critical for any high-performing team.  To do this, it is important to identify the required skills and competencies (soft skills) needed for each position to ensure delivered results and exceed expectations for the customer. Remember you are building a team of various roles, no different than a football team where you have receivers, blockers and runners.  Each position brings a different dynamic to the team.  Additionally, it's important to evaluate "fit" both with the internal team's culture and that of the customer.  This is a critical success factor for building the right team.
Know the Plays

.  All good teams have "bread and butter" plays they become very good at due to repetition and practice.  Similarly, all standard processes should be documented and maintained in a central location accessible for all who need them to use and reference.  Documenting processes provides many benefits such as ensuring consistent results, building in quality, providing people with clear and concise instruction, basis for continuous improvement and shortening learning curves for new employees.

Keep Score

.  Ensure the team is measuring the right things.  Cost, service and quality levels are the starting line.  It is easy to get lured into measuring too many performance metrics in pursuit of maintaining control.  This results in losing sight of the forest.   As we all have heard, "you can't manage what you don't measure" which is a good recommendation, but limits the top-level measurements to between three and five to drive the greatest focus and results.  Other sub-level metrics and analytics can be used to determine root cause in explaining any variance to the plan.

Game Plan

.  To get where you are going, you have to know how to get there.  Every successful team should have or develop an account plan.  First, confirm and align the joint team with key targets or goals.  This should be done collaboratively with the customer.  Second, hold a brainstorming session to develop and prioritize strategic initiatives that will provide a road-map for accomplishing the defined goals.  Position your team as the "operating consultants" by preparing initial ideas and recommendations to fuel the discussion.

Be a Good Coach

.  Tied closely with building the right team is nurturing and cultivating the team.  Make sure team members are provided the training and tools they need to accomplish their goals and be successful.  Huddle up daily with your team to set direction and provide motivation

. 

Continually challenge players to excel and provide feedback as to their performance.  Feedback cannot be over-stated.  It is critical to maintaining a high performing team. 
Maintaining strong customer relationships is at the core of commerce today.  Take time out at least quarterly to confirm the fundamentals are being practiced.  If there have been any fouls or fumbles, correct them immediately to maintain a strong foundation!
To learn more about the importance people have on a company's success, download the first White Paper from our Lean Guiding Principles White Paper Series on People Involvement now.
Written by Scott W. Nemeth. 
Mr. Nemeth is a Group Director of Transportation Management (TM) at Ryder. He is a logistics and operations professional with 22+ years of experience in transportation management solutions, business development, implementations, product development and account relationship management.  Throughout his career Mr. Nemeth has implemented and operated numerous TM solutions for customers across a variety of industry segments.